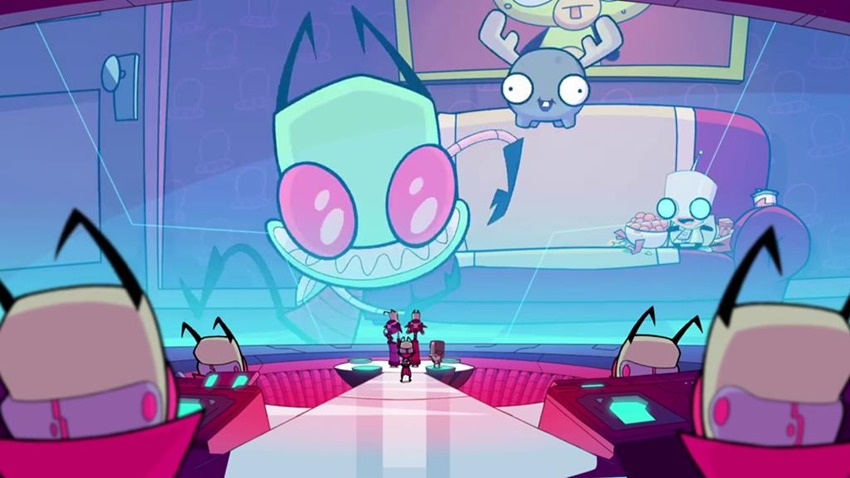 DOOM! DOOOOOOOM! If you grew up watching TV in the early 2000s, you probably know exactly what that word means. It's not a portent of destruction, but rather a battle cry for fans who suckled on the teats of Nicklelodeon's greatest masterpiece: Invader Zim. The teat is DOOM-flavoured by the way. The concept was simple: A lone alien comes to our planet, hellbent on conquering it for his masters and the only person standing in his way is one big-headed conspiracy theorist boy that nobody believes.
Wacky hijinks ensue!
In many ways, Invader Zim was light years ahead of the curve. It was dark, it's Jhonen Vasquez-developed art style was morbidly colourful and the rampant stupidity of the series was deceptively cunning. Only two seasons of Invader Zim were ever made, before the show was cancelled and lived on years later in some fantastic Oni Press comic books that reunited the talents of the original cast.
You can't keep a good invader down for long though, because Zim is coming back. Here's the first doom-filled teaser for Invader Zim: Enter the Florpus:
ZIM discovers his almighty leaders have no intention of coming to Earth and he loses confidence in his own amazingness for the first time in his amazing life – which happens to be the big break his human nemesis, Dib, has been waiting for!
Invader Zim: Enter the Florpus wouldn't mean much without its original voice actor cast, and I'm happier than a fat kid on Easter Platypus day to confirm that most of the series originals will be back: Richard Horvitz as Zim, Rikki Simmons as GIR and Andy Berman as Dib and his gigantic head. While it's not the full TV series that many fans were hoping for, I'll gladly take any Invader Zim TV content over zero Invader Zim TV content.
DOOOOOOOOOOOOOOOM!
Last Updated: July 21, 2018