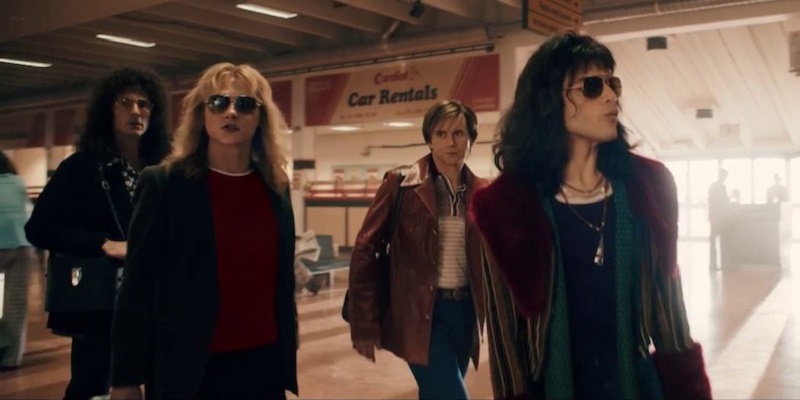 The first trailer of the upcoming Queen biopic, Bohemian Rhapsody, dropped a few weeks ago and showed us what had been hinted on ever since we first saw images from the movie – that Rami Malek looks to steal the show with a remarkable performance that really captures the spirit of the late, great Freddy Mercury. It was also a trailer though that appeared to celebrate the music and live performances of the band rather than deal with the many personal issues the band faced, which made it feel like a movie a little light on substance.
This second trailer for the film has dropped though and this time shines a light on all those strong personal issues, like sexuality and AIDS that was missing from that first trailer, making this movie now appear like a real tour de force to be reckoned with when it releases this November:
It appears to have a little bit of everything: exceptional acting and direction, a compelling and gruelling story and some epic moments of fun and music. It's a movie that looks to be hitting all the right notes so far and should be massive when it is released. Something which didn't look likely to happen with all the drama the film has faced in production, with Bryan Singer being fired midway through filming and replaced by Dexter Fletcher.
What I love about the brief glimpses shown in the movie is that it seems to give a story behind some of the best moments of the greatest songs ever written and it would be exciting to view these from a different perspective. And while normally I would pass this off as a film just trying to build a narrative out of thin air, the original members of Queen have reportedly been very involved in some of the creative direction of the movie, which makes you think there is a lot of truth behind these moments. Or the truth is actually worse and they're simply just sugar-coating it in a not so obvious way.
You always felt with the popularity of Queen's music and the nostalgia that this is likely to bring that this was going to be a movie to look out for at the box office. If it looks as good as the trailers, it could be a film to look out for come award season as well. Personally, I can't wait to be rocked when it finally arrives.
Last Updated: July 18, 2018