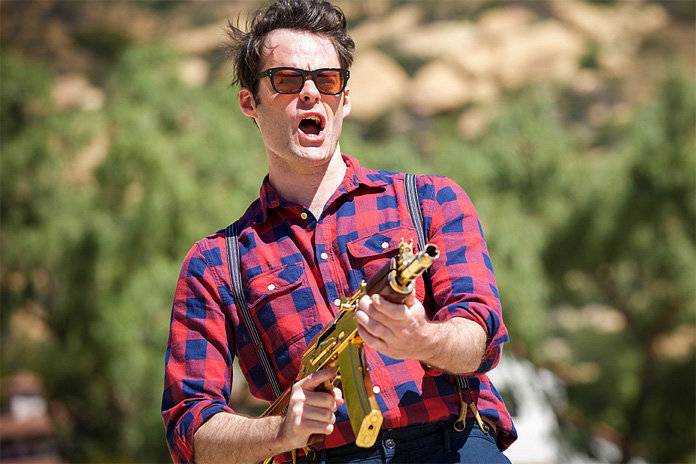 A new year always brings new TV, and for cable channel HBO that's no exception. With the exception of Westworld the once-king of no-holds-barred entertainment hasn't had a breakout hit series for some time and they're sorely in need of something that gets people talking, and have released teaser trailers for two upcoming series to whet people's appetites.
Let's take this alphabetically because, as I always tell Znick, I don't want to show any favouritism:
First up is Barry, a new comedy series from Bill Hader (Saturday Night Live, South Park) and Alec Berg (Silicon Valley, Seinfeld). Hader stars as the titular Barry, a lonely and miserable ex-Marine turned low-tier hitman who travels from the Midwest to Los Angeles in order to assassinate someone, but who find acceptance when he accidentally gets involved in the local amateur theatre scene.
It features an eccentric cast of gangsters and theatre hopefuls, and also stars the likes of Henry Winkler, Stephen Root, Sarah Goldberg, Anthony Carrigan, and Glenn Fleshler. It's due to air in the US Spring of 2018, so expect to see it being airing sometime between March and May next year.
Secondly we have Here And Now. It's a drama series from Alan Ball, the man behind Six Feet Under, Banshee, and True Blood – that's an eclectic mix right there, just like the family at the centre of the series.
Holly Hunter (The Piano) and Tim Robbins (The Shawshank Redemption) star as the parents of four children in a multi-racial family, with three of the children adopted from Somalia (Jerrika Hinton – Grey's Anatomy), Vietnam (Raymond Lee – Mozart in the Jungle), and Colombia (Daniel Zovatto – Don't Breathe), and one biological child (Sosie Bacon – 13 Reasons Why). That's an impressive cast headed up by two Oscar winners.
The family members are all very successful in their chosen careers or with their studies and seem to have it all, but their bonds are tested when one of the children begins to see things the rest can't. It'll start airing on HBO in February next year.
Both of these look like they have promise to me. Barry certainly comes across as funny, and Hader seems to nail the world-weary look of his character. Here And Now definitely doesn't look funny, everything looks so perfect and happy in the teaser that I was waiting for the other shoe to drop and for all the darkness to be revealed.
What do you think?
Last Updated: December 5, 2017