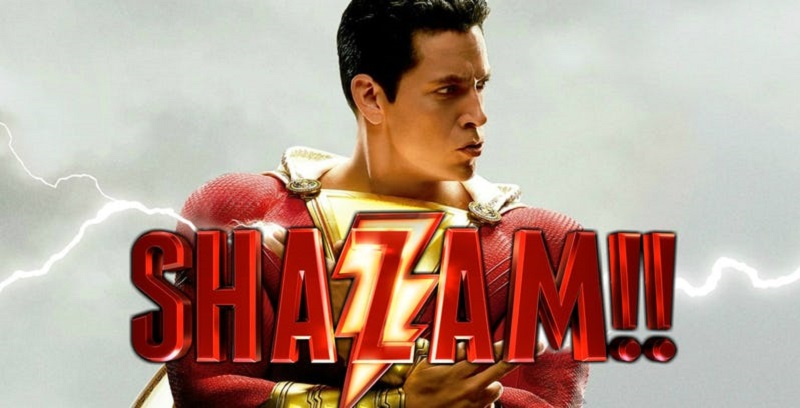 Shazam! may not have had as big an opening as the likes of Wonder Woman or Aquaman in the US, but it's still a bigger success than anyone expected. And thanks to its lower production costs, it means the film is already making a profit after only one week in cinemas. So, it should come as no surprise that the film has one been confirmed for a sequel. A good thing if you stayed for the end-credits scene which teased some exciting things to come.
This is obviously great news for fans and the average cinemagoer because if there was one thing which Shazam! did that was refreshing to the DCEU, it was to bring a strong sense of fun. After all, the story of a kid that suddenly receives superpowers should bring with it massive excitement, something which this movie did in spades, even if it didn't always hit the mark. I personally would love to see more of Zachary Levi, playing the older Billy Batson (Asher Angel) discovering secret powers and accidentally causing mischief as a result.
According to The Wrap, Warner Bros, New Line and DC are all ready to move ahead with a second movie and have already roped in writer Henry Gayden to start penning the script. The article also reports that both director David F. Sandberg and producer Peter Safran are expected to return, though there is no official word around this. It probably goes without saying that Zachary Levi will also be returning and I can only assume the host of other stars from the movie will be returning too.
WARNING: SPOILERS FOR SHAZAM! BELOW. DON'T SCROLL PAST THE PIC IF YOU HAVEN'T SEEN MOVIE YET!!!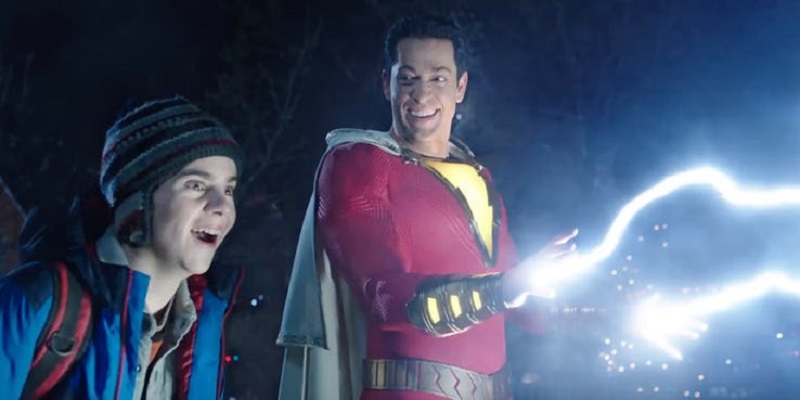 Speaking of those other actors, Shazam! also featured a surprise ending to those not familiar with the comics as Billy's young foster siblings –
Freddie (Jack Dylan Grazer), Mary (Grace Fulton), Eugene (Ian Chen), Pedro (Jovan Armand) and Darla (Faithe Herman) – are also transformed into adult superheroes. Adam Brody, Michelle Borth, Ross Butler, DJ Cotrona, and Megan Good are revealed as their respective adult alter-egos, even though the actors were not listed on any cast list prior to release.
In a world where spoilers are easily forthcoming from big films such as this, director Sandberg shared with Screen Rant exactly how he was able to keep news of the older actors starring in the film a secret.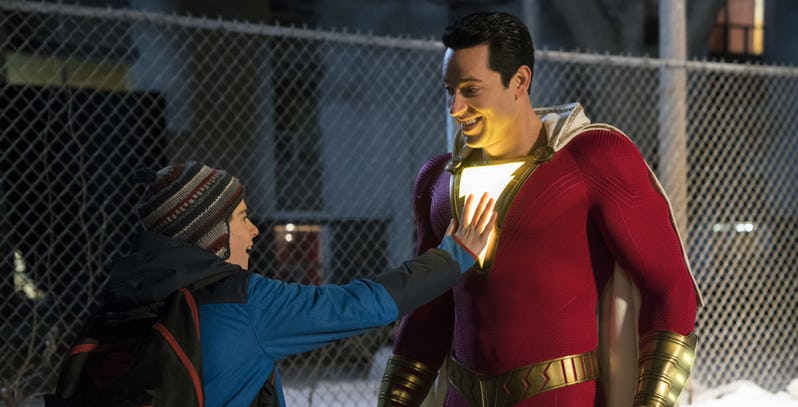 We cast the kids first, and then sort of looked for a physical resemblance. And then, to keep thing under wraps, just because things leaked as much as they do, we actually wrote custom scenes for each character that weren't from the movie. So the people who came in to audition had no idea that they were basically reading for a superhero.
It was just sort of everyday scenes with characters that had the traits of them. So for Darla, Meagan Good, she read for a scene with a girl that's doing a driving test, and she's like a fast-talking character… I hope we can maybe put that on the Blu-ray or something, because they're fun scenes with these great actors.
Whatever is in store for future Shazam! projects it definitely appears as if Warner Bros and DC have upped their game and are taking the fight to Marvel to bring the world great superhero movies. They are still some way behind Marvel at the moment though, but with recent efforts proving to be hugely successful and a lot of fun at the same time, it's certainly encouraging signs for the rest of the upcoming DC movies and comic book fans overall.
Last Updated: April 9, 2019