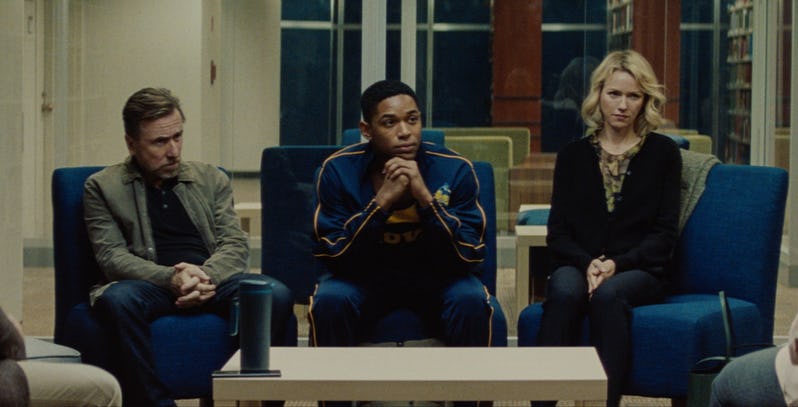 People aren't always who they appear to be. Often, we need need to think the worst of people in order to ensure our expectations are always low and we won't end up being disappointed in others. It's an approach which may help when you meet people for the first time, but for any loving parent, they can't think of anything other than the very best of the kid they so lovingly raised. So, if suddenly, a potential dark side to their child gets raised, expect them to have doubts about the people raising these suspicions too.  
Luce tells a similar story as we see Tim Roth and Naomi Watts play a married couple that adopts a young boy from war-torn Eritrea as their son. Now, over ten year's later their son Luce (Kelvin Harrison Jr.) is a model student, and a star athlete at their local high school and things couldn't be better for them as parents. Better, that is, until Luce's teacher (Octavia Spencer) makes a shocking discovery about her prized pupil, it forces everyone to determine whether he is or isn't the person they thought he was or if perhaps she is out to destroy his hard-earned reputation.
On the face of it, the plot sounds like the kind of family drama that could be quite off-putting for many at the cinema, but evidenced by the new trailer we now have for the film, it looks like something else entirely as the film plays out like a clever psychological thriller that keeps you guessing on who to believe:
Luce is directed by Onah (The Cloverfield Paradox) from a script he co-wrote with J.C. Lee (based on the latter's stage play) and certainly looks like a mind bender. This trailer does a superb job in setting up a taut and suspenseful atmosphere and makes you want to watch the movie to try to make sense of it all, which is what trailers are supposed to do.
The movie got great reviews when it premiered at the Sundance Film Festival, which is hopefully a great sign of things to come. Luce is scheduled for release in August this year
Last Updated: June 5, 2019