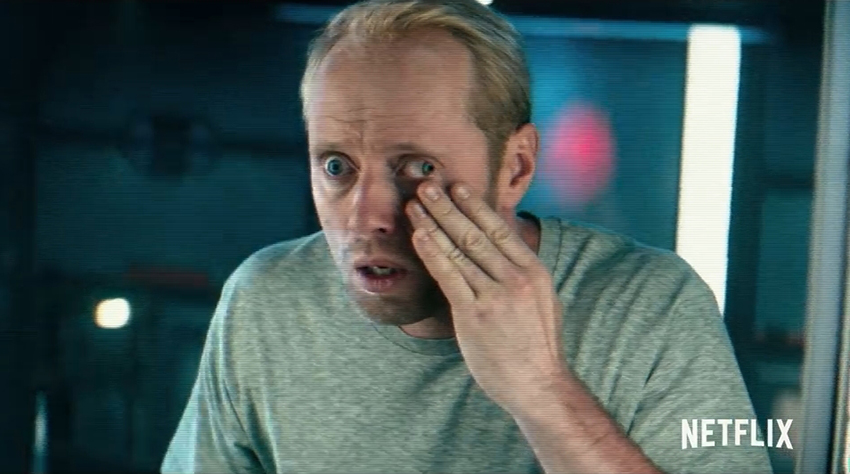 We knew a third Cloverfield film was coming. Despite J.J. Abrams' Bad Robot Productions and Paramount Pictures being very secretive with the production for this movie – par for the course with this franchise that relies on viral marketing campaigns – we kind of figured it was going to happen anyway.
After the first two Cloverfield films (Matt Reeves' 2008 debut and Dan Trachtenberg's 2016 follow-up, 10 Cloverfield Lane) both kind of sprung upon us out of nowhere – Cloverfield's first trailers didn't even reveal the title, while 10 Cloverfield Lane was just announced and then released a month later – people started to become a lot more aware of the different secrets and hidden messages in finding information for this next Cloverfield. (A film which originally was titled The God Particle before Abrams decided to turn it into the next chapter of this sort-of-but-not-really connected movie universe and has now been officially renamed to The Cloverfield Paradox) And with all the cinematic sleuths following the breadcrumbs it was with little surprise that the trailers (yes, plural) for the film were finally revealed at Super Bowl this morning, which you can see below:
Only it seems that the surprise was still on us! Because this is not a trailer for a film that is on its way, it's a trailer for a movie that is out RIGHT NOW on Netflix for everyone to watch. In perhaps the biggest coup that any streaming service has yet to pull off in the movie world, Netflix struck a deal with Paramount Pictures to bring the new Cloverfield film directly and exclusively to the streaming service the moment the Super Bowl was finished.
But that's not the only surprise here if that first teaser is to be believed. As Kervyn predicted last week (hey, even a broken clock is right twice a day) it appears that The Cloverfield Paradox's premise (which I won't spoil here just in case it's a spoiler for this secretive movie) may just allow Abrams and writer/director Oren Uziel the means of tying together the previous films in this franchise despite them not existing in the same timelines.
Considering this potential the movie brings to answering questions about the franchise, and its stellar cast of Daniel Brühl, Elizabeth Debicki, Gugu Mbatha-Raw, John Ortiz and David Oyelowo, it really means that you have no excuse but to fake a cold, sneak away from the office early and go watch what looks like an incredible movie. Well played, J.J. Abrams and Netflix. Well played.
Last Updated: February 5, 2018