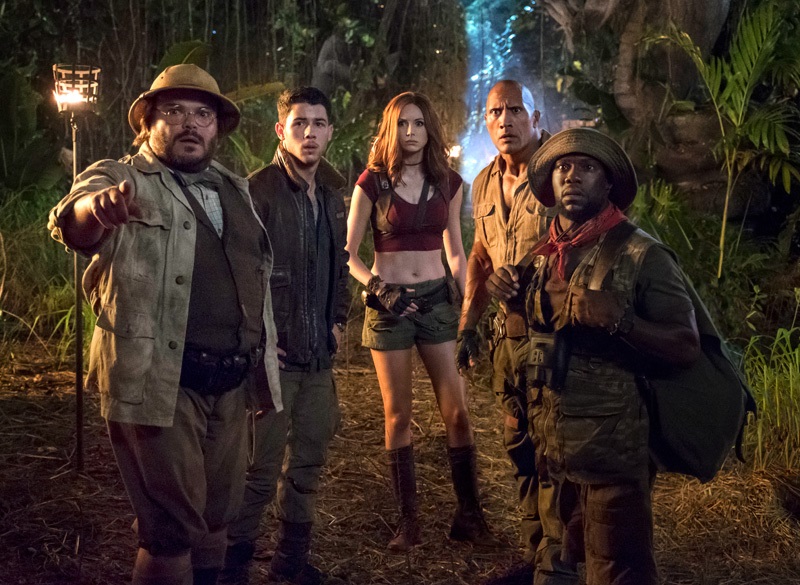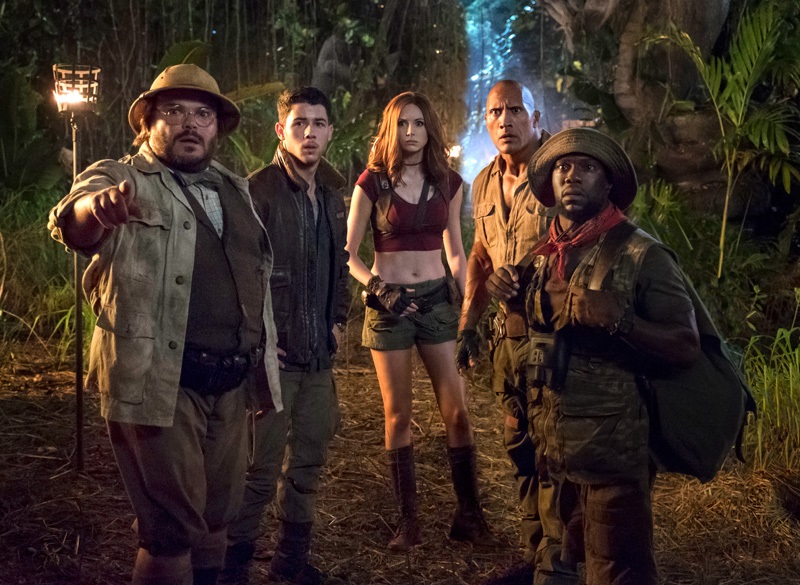 Hey, what pairs better with crow, white or red wine? If you wondering about my avian culinary question, it may have a little something to do with Jumanji, the upcoming sequel/reboot of the beloved 1995 Joe Johnston directed fantasy reboot starring the late, great Robin Williams. While I am a fan of Dwayne "The Rock" Johnson and Karen Gillan – castmates Kevin Hart and Jack Black are very hit-and-miss for me – and while director Jake Kasdan is the guy who gave us the brilliant Walk Hard: The Dewey Cox Story, the early trailers for Jumanji didn't fill me with confidence.
Yes, this film looked like it could be fun, but it also looked like it could be a soulless CGI-driven spectacle that forgoes the heart and charm of the original for a barrage of noisy set pieces filled with Kevin Hart screams. I've mentioned this a few times before to which Gavin promptly pointed out that I was a big dumb poopface (maybe not in those exact words) as this film apparently looked like a cinematic blast. Well, it turns out – and it physically pains me to say this – that Gavin may have been right. At least when based on the early reactions that hit the net after the first press screening for Jumanji last night.
Now it has to be pointed out that these quick social media reactions, sent out in the heat of the moment right after a screening, tend to sway a little more positively than what a proper in-depth review would. Even so, what we're hearing is a hell of a lot better than I was expecting. Heck, it's even a lot better than the people who saw the movie were expecting. /Film's Peter Sciretta has been just as pessimistic about Jumanji as I am, but even he walked out of it saying that he "was expecting the worst but have to admit the new #JUMANJI movie is a lot of fun. I'd even say it is one of the best "video game movies" ever made…". Many people are also surprised at how well it works as a sequel that modernizes the franchise while still paying homage to the original, and there's apparently even a very short but tasteful tribute to Williams.
Now I've actually filtered out the social media reactions I've seen thus far to just the professional critics, as they tend to be a bit more critical of these sorts of films. Even with that caveat though, things still look great as you can see below.
Saw #Jumanji! It's light on nostalgia (besides a handful of Easter eggs), but a lot of fun. The body swap stuff is SO good. Could watch Jack Black play a teenage girl stuck in Jack Black's body, or @TheRock newly discover his muscles, forever. #WelcomeToTheJungle pic.twitter.com/yRIoQsWASV

— Mike Rougeau (@RogueCheddar) November 27, 2017
It's better than the trailers indicate – trust me, you'll have fun with this

— ErikDavis (@ErikDavis) November 27, 2017
got to see #Jumanji and it is fun as heck! @TheRock totally steals the show, but everyone gets a chance to shine.

— Zachary Ryan (@ZachariusD) November 27, 2017
Caught an early screening of new #JUMANJI film and must say it's better than expected. Kevin Hart is still the same KH but it works here and the chemistry with @TheRock, Jack Back and Karen Gillan makes the film a pleasure to watch pic.twitter.com/GHxvh4ZiME

— Wilson Morales (@blackfilm) November 27, 2017
Hey, about that new #Jumanji: It's fun! It's the kind of family-friendly outing that should help settle a lot of debates this holiday season. Jack Black is very, very funny, and I kinda love how they attempt to make it a true sequel to the original with some wonky engineering.

— Kate Erbland (@katerbland) November 27, 2017
There's a lot of laughs and heart in #Jumanji. Cast has some pretty special chemistry and the game angle totally works. Props to @TheRock @KevinHart4real @karengillan and Jack Black for playing kids so well!

— Rob Keyes (@rob_keyes) November 27, 2017
The new #Jumanji is a ton of fun and succeeds by not trying to make a film even remotely similar to the original. It's vindicated of comparisons, while also giving a nice nod or two to Robin Williams. #WelcomeToTheJunket pic.twitter.com/EsPGoTAM0Z

— Corey Chichizola (@corey081590) November 27, 2017
Was expecting the worst but have to admit the new #JUMANJI movie is a lot of fun. I'd even say it is one of the best "video game movies" ever made, maybe under only King of Kong, Scott Pilgrim, Edge of Tomorrow & Wreck It Ralph (none of which are adaptations).

— Peter Sciretta (@slashfilm) November 27, 2017
#Jumanji was a ton of fun. Great nods to the original. Jack Black steals it. @TheRock and @KevinHart4real need to keep working together.

And YO I love @karengillan!

— Brandon Davis (@BrandonDavisBD) November 27, 2017
I can now say that the biggest surprise of the holiday season is #Jumanji. It's super entertaining & very funny w/ terrific cast chemistry (especially b/t @TheRock & @KevinHart4real). Video game fans will dig it even more. See it w/ the whole family pic.twitter.com/e6FOPwjsB5

— ErikDavis (@ErikDavis) November 27, 2017
Jumanji: Welcome to the Jungle also stars Nick Jonas, Ser'Darius Blain, Madison Iseman, Alex Wolff and Morgan Turner, and is scheduled for release on 22 December. Here's the official synopsis:
In a brand new Jumanji adventure, the tables are turned as four teenagers are sucked into Jumanji's world – pitted against rhinos, black mambas and an endless variety of jungle traps and puzzles. To survive, they'll play as characters from the game: meek Spencer becomes a brave explorer (Dwayne Johnson); hulky jock Fridge becomes a tiny genius (Kevin Hart); It-girl Bethany becomes a bookworm professor (Jack Black); and unathletic Martha becomes an amazonian warrior (Karen Gillan). To beat the game and return to the real world with their lives, they'll have to start seeing things in an entirely different way.
Last Updated: November 28, 2017