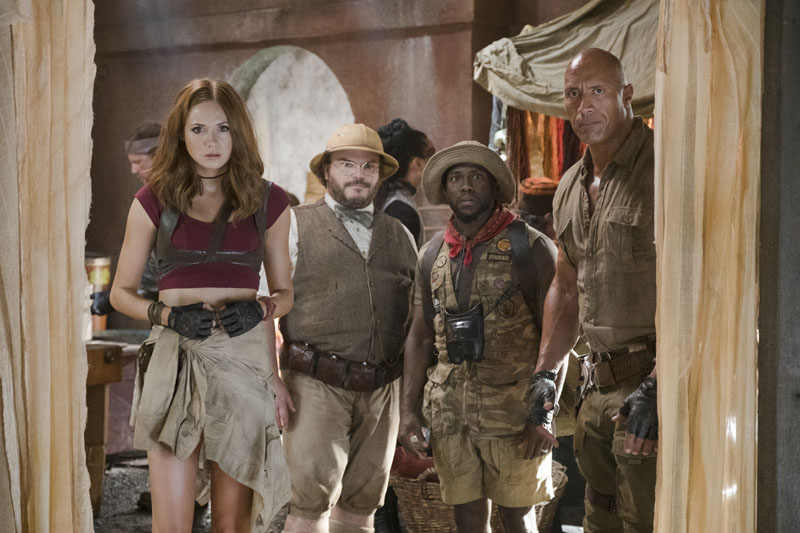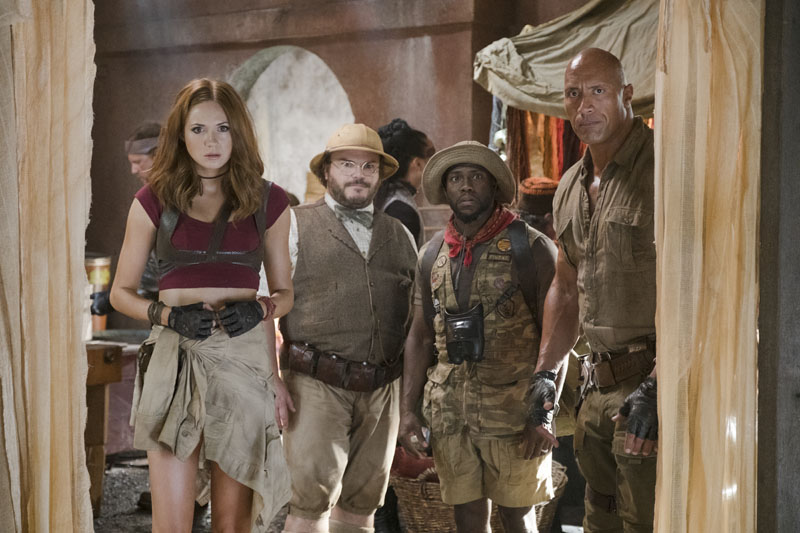 Sony Pictures has released two new trailers for upcoming sequel/reboot (seboot? rebooquel?) Jumanji: Welcome to the Jungle, and I have to say I'm a bit meh on them. Which is actually perfectly in line with how I felt about the first trailer. Now before I get accused of hating fun, I'm not saying that this looks like a terrible movie. I don't think the combination of Dwayne "The Rock" Johnson, Karen Gillan, Kevin Hart and Jack Black are actually physically capable of making a movie that doesn't have some redeeming entertainment value (although Baywatch really put a similar concept to the test). So yes, I'm sure that I will have some fist pumps and laughs (I mean, Rhys Darby is in the cast!) with this one, but there's still a big problem: This doesn't look like Jumanji.
Director Joe Johnson's absolutely classic original 1995 adventure film starring the late Robin Williams was stuffed from start to finish with character and heart. I actually rewatched it just a few months ago, and I loved how the movie took its time to set up the characters before throwing you into the deep end. This looks like it's all deep end.
As in the trailers below – and I will admit the first one is a lot better than the second – I'm basically expecting the full movie to be nothing but big CG-driven setpieces from start to finish, with shouty Kevin Hart jokes and Dwayne Johnson punches thrown in between them. That might work as yet another modern day big budget summer blockbuster, but it feels like a real step backwards from the timeless appeal of its predecessor.
Or I'm a salty old man desperately holding on to nostalgia while unfairly judging all of this and it's actually going to be a riot. It is directed by Jake Kasdan, the man behind the brilliant Walk Hard: The Dewey Cox Story and the son of legendary Star Wars writer Lawrence Kasdan after all.
Have a watch below and let us know in the comments what you folks think.
Jumanji: Welcome to the Jungle also stars Nick Jonas, Ser'Darius Blain, Madison Iseman, Alex Wolff and Morgan Turner, and is scheduled for release on 22 December. Here's the official synopsis:
In a brand new Jumanji adventure, the tables are turned as four teenagers are sucked into Jumanji's world – pitted against rhinos, black mambas and an endless variety of jungle traps and puzzles. To survive, they'll play as characters from the game: meek Spencer becomes a brave explorer (Dwayne Johnson); hulky jock Fridge becomes a tiny genius (Kevin Hart); It-girl Bethany becomes a bookworm professor (Jack Black); and unathletic Martha becomes an amazonian warrior (Karen Gillan). To beat the game and return to the real world with their lives, they'll have to start seeing things in an entirely different way.
Last Updated: September 21, 2017