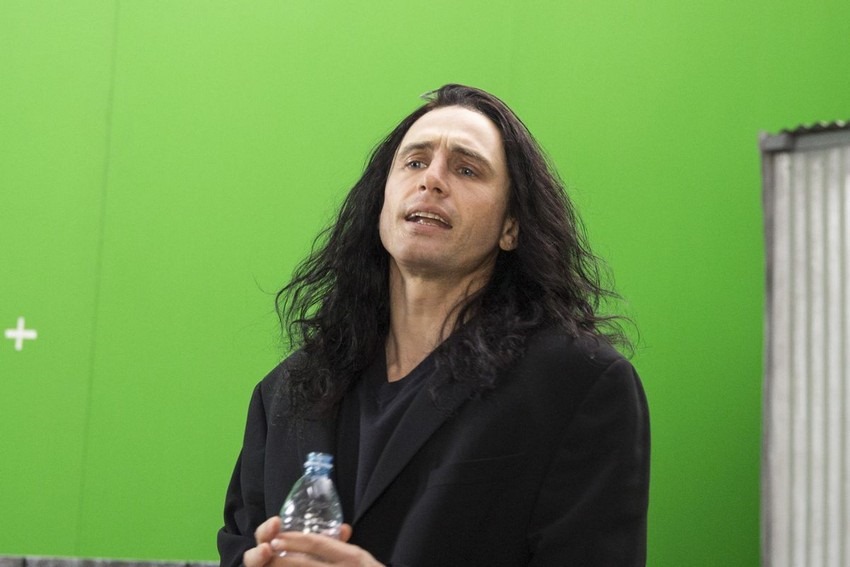 The old adage states that "art imitates life", but sometimes art has nothing on just how crazy and surreal life can be. Crazy and surreal are also two of the many, many adjectives one can use to describe The Room, weirdo filmmaker/actor (and I use those terms very loosely here) Tommy Wiseau's cult 2003 drama which is widely considered to be one of, if not the worst movie ever made. The Room returns to the big screen this year, but in an unexpected way in James Franco's The Disaster Artist, the biographical retelling of how Wiseau and best friend Greg Sestero created this historic piece of cinema trash.
Franco – who directs and stars as Wiseau – has been racking up stellar reviews for his retelling of this absurd story, with quite a bit of awards buzz in the air as well. But while the praise has been rolling in from day one for The Disaster Artist, it also had its fair share of incredulity at first. As is normal studio practice, Franco and co screened The Disaster Artist to test audiences to gauge whether any changes need to be made to the movie. The feedback they received was unexpected though, as co-writers Scott Neustadter and Michael H. Weber – who adapted Sestero's memoir for the screenplay – explained to /Film.
This is our first real true story, and we approached that from a very journalistic, anthropological way, and it was fun. It was a very cool experience where you knew you only go here (draws a line) before you were lying… There had to be some crafting. This is a shoot that dragged on for months. We had to encapsulate this in a short period of time… Everything happened, but we had to cherrypick and craft a little, because again, this could have been six hours. But we didn't want to do that.

I think we were fascinated by the real. In this particular case – I guess in most cases – the real is way more interesting than anything we're going to come up with. It's crazy. It's funny, because when we were testing this movie initially with an audience of people, the one thing that they said at the end, which we couldn't believe, was that they didn't think any of this was true."
One aspect that didn't help in convincing audiences that this was a true story was the fact that also starring the film was Seth Rogen, who in the past has traditionally teamed up with Franco for nutty stoner comedies.
Even though it says, 'Based on a True Story,' they just thought it was another Franco/Rogen [project], making something up and a funny character they were doing. The side by sides – some people still watch this movie and cannot believe, until the side-by-sides, that there is footage out there like what we shot. So that's something that I think we, in telling the story, were cognizant of. Truth is stranger than fiction. Let's lean in on more of what actually went down. And there are enough mysteries that go unanswered that we kept in the soufflé also.
One aspect of The Disaster Artist that apparently just heightened the "Truth is stranger than fiction" angle? Apparently, Franco stayed in character as Wiseau – weird accent and mannerisms and all – while he was directing other actors.
It was weird. He had the accent most of the time, he was dressed like that all of the time, because he was in almost every scene. He would come over and be like, 'Guys, we need to talk about script.' He would come over and do the accent, and we thought he was making a joke, but no, he needed to talk to us about page whatever.

But he wasn't ranting and raving. He wasn't causing a scene… He was still James Franco, but he looked like a crazy person and he talked like a crazy person. But he was directing this movie incredibly well. He was so on top of things.
Unfortunately, we still have a ways to go before we can see all the ridiculousness for ourselves as The Disaster Artist only opens in SA on 9 February 2018.
Last Updated: December 13, 2017