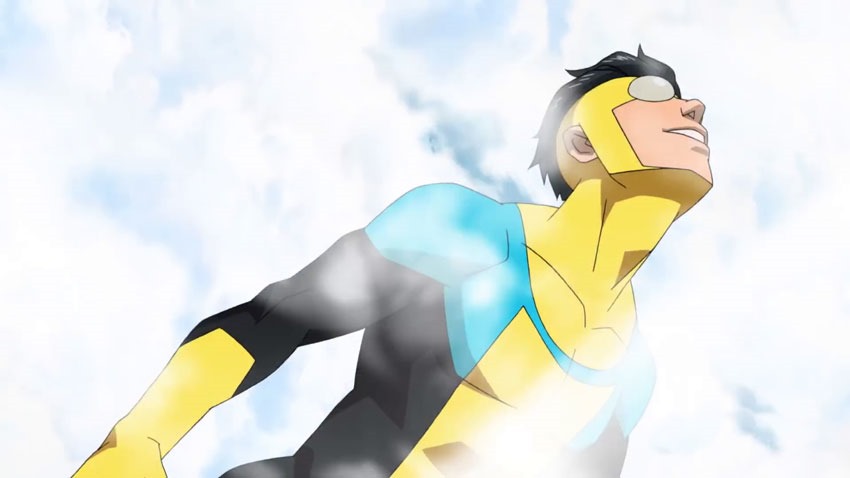 Here's the elevator pitch for Invincible: Imagine the son of Superman had just begun developing superpowers of his own, started forging his own identity as the newest hero on the block and faced all kinds of challenges that actually helped him grow as a crime-fighter and a person. Now throw in one of the best paradigm shifts in recent comic book memory, enough blood to drown a planet several times over, and the most stacked voice actor cast in animated history, and you've got Amazon Prime's Invincible.
After a short teaser back in January, Amazon has just dropped a full trailer for Invincible that serves as the most sizzling of reels for the upcoming adaptation of the comic book of the same name. It has action, mass decapitations in a superhero fight where every punch thrown can only be measured in Chuck Norris movie killcounts, and a young man trying to live up the legacy of his father, who just so happens to be the greatest superhero to ever slip into some tight spandex tights.
From The Walking Dead creator Robert Kirkman, and based on the Skybound/Image comic of the same name by Kirkman, Cory Walker, and Ryan Ottley, Invincible is an hour-long, adult animated superhero show that revolves around seventeen-year-old Mark Grayson (Steven Yeun), who's just like every other guy his age — except that his father is the most powerful superhero on the planet, Omni-Man (J.K. Simmons). But as Mark develops powers of his own, he discovers that his father's legacy may not be as heroic as it seems.
Well, that just looks like Invincible at its best: Effortlessly charming, occasionally goofy, and incredibly intense. The trailer also references what can only be described as the Red Wedding moment of the comic book series, which I definitely am not going to get into because I want people to walk out of that scene with shellshock in their eyes.
Let me put it this way: Man of Steel's fight between Superman and General Zod is going to look like a sorority pillow fight in comparison to what happens in that climactic act in Invincible. The show's not just tight-fitting costumes and city-destroying punches though! Balancing out the action is a story with plenty of charm and genuine heart, which is anchored by Steven Yeun as Mark Grayson/ Invincible, Sandra Oh as Deborah Grayson, and J.K. Simmons as Nolan Grayson/ Omni-Man. They'll be headlining the series when it arrives on Amazon Prime.
The first three episodes will debut on March 26, with a new episode out every Friday afterward until the first season finale on April 30. And then there's the rest of the cast who'll be present in the series, which is simply ridiculous with talent. Deep breath now:
Mark Hammil as superhero tailor Art Rosenbaum, Seth Rogen as Allen the Alien, Gillian Jacobs as Atom Eve, Andrew Rannells as William Clockwell, Zazie Beetz as Amber Bennett, Walter Goggins as Cecil Steadman, Jason Mantzoukas as Rex Splode, Chris Diamantopoulos as Donald Ferguson and Doc Seismic, Khary Payton as Black Samson, Zachary Quinto as Robot, Malese Jow as Dupli-Kate, Kevin Michael Richardson as Mauler Twins and Monster Girl, Grey Griffin as Shrinking Ray, Lauren Cohan as War Woman, Michael Cudlitz as Red Rush, Lennie James as Darkwing, Ross Marquand as The Immortal and Aquarius, Sonequa Martin-Green as Green Ghost, and Michael Dorn as Battle Beast.
Wheeze.
Last Updated: February 22, 2021