It's been a while since we've heard any news about Tomb Raider, the video game adaptation, and big screen franchise reboot, starring Alicia Vikander as intrepid archaeologist Lara Croft. The action adventure finished its South African location shoot back in April, before production moved to the UK. Production then officially wrapped in early June.
Official pics of Vikander's Lara have been revealed before now, but with just 6 months to release  – on 16 March 2018 – it's time to see some actual preview footage. Well, it looks like we can expect the first Tomb Raider trailer later today, as both the film's poster and 15-second sneak peak were unveiled last night.
Let's start with the poster: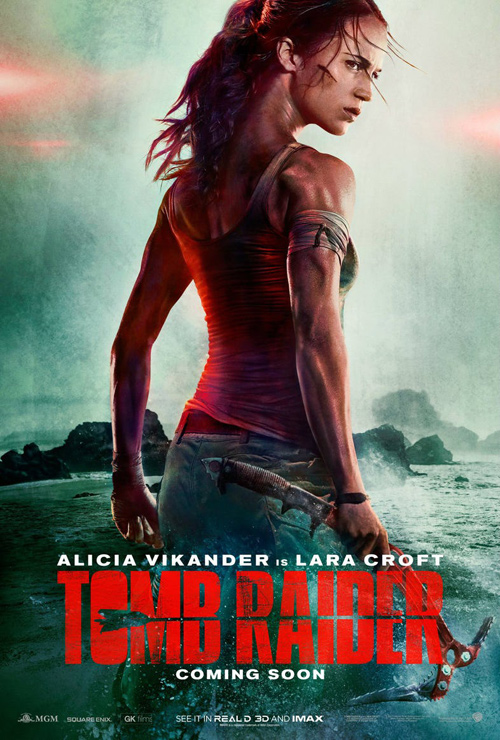 Personally, I like it. I like the scruffy, arrow-pierced logo, with its Rambo connotations, and the fact that Lara is allowed to look so toned. There's no question that the new Tomb Raider movie is taking as its primary inspiration the 2013 video game reboot and its similarly gritty sequel. This is a young Lara Croft discovering her inner strength and proving her chops; as opposed to Angelina Jolie's cool, confident Lara Croft, a seasoned archaeologist evidently coated in teflon.
But, and here's a big but: what have they done to the poor girl's neck in this poster? It's Tomb Raider, not The Land Before Time XXVII: Littlefoot's Island Adventure. And this isn't the first time the upcoming Tomb Raider has "shown off" shoddy Photoshopped imagery. Look at this Entertainment Weekly pic alongside a quick fix done by our very own Kervyn. Please, Warner Bros, unchain your designers from their desks so that they can go outside and see how bodies work, and realistically interact with natural environments.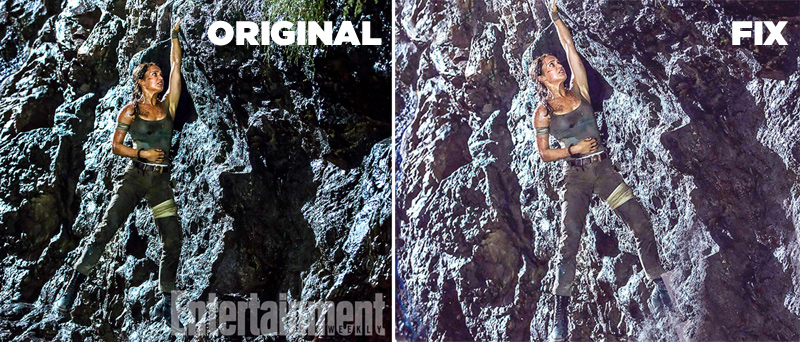 Now, the sneak peek.
Trailers for trailers are notoriously rubbish, but this 15-second glimpse makes Tomb Raider 2018 look like a bottom of the barrel fan film shot in someone's garden. The presence of brutal booby traps is a pleasant surprise, but everything about this looks CW-cheap. How about an establishing shot of the long-lost island of Yamatai, to take our breath away with a sense of epic impending adventure? You only have to look at twenty years of Tomb Raider games to see how to get that simple thing right. And what is with Lara's smug little nod to her Asian sidekick halfway through the preview?
I had high hopes for the new Tomb Raider, with up-and-coming Norwegian director, The Wave's Roar Uthaug at the helm. I still believe Vikander will do an exceptional job as Lara Croft. However, so far everything to do with the production has looked slapdash and underwhelming. I suspect I'm not the only one to feel this way. Here's hoping that later today the full trailer restores our evaporated faith.
Now here's the official plot synopsis for Tomb Raider, if you haven't already given up on the movie:
Lara Croft is the fiercely independent daughter of an eccentric adventurer who vanished when she was scarcely a teen. Now a young woman of 21 without any real focus or purpose, Lara navigates the chaotic streets of trendy East London as a bike courier, barely making the rent, and takes college courses, rarely making it to class. Determined to forge her own path, she refuses to take the reins of her father's global empire just as staunchly as she rejects the idea that he's truly gone. Advised to face the facts and move forward after seven years without him, even Lara can't understand what drives her to finally solve the puzzle of his mysterious death.

From Warner Bros. Pictures and Metro-Goldwyn-Mayer Pictures, Tomb Raider is the story that will set a young and resolute Lara Croft on a path toward becoming a global hero. The film stars Oscar winner Alicia Vikander (Ex Machina, The Danish Girl) in the lead role, under the direction of Roar Uthaug (The Wave), with Oscar-winner Graham King (The Departed) producing under his GK Films banner. The film's production begins on the heels of the 20th anniversary of the wildly popular video game franchise from Square Enix, Crystal Dynamics and Eidos Montreal.

Tomb Raider also stars Dominic West (Money Monster, 300), Walton Goggins (The Hateful Eight, Django Unchained) and Daniel Wu (AMC's Into the Badlands).
Last Updated: September 19, 2017