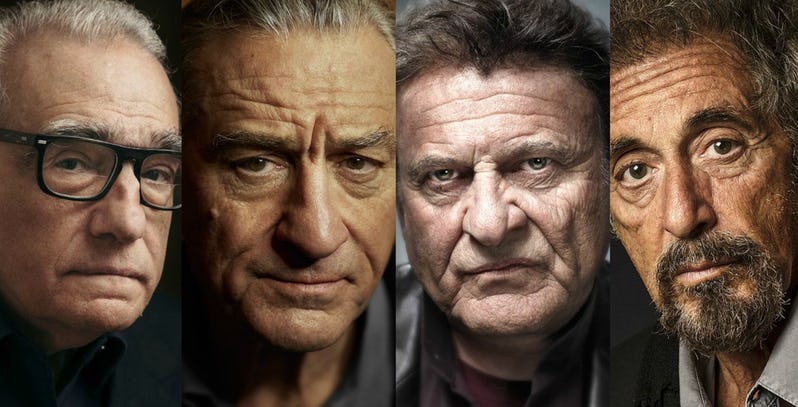 Robert De Niro. Al Pacino. Joe Pesci. Harvey Keitel. No, I didn't just create a list of some of the best actors of all time, though no doubt if I did, these names would appear in them anyway. Rather, this is the cast list for Martin Scorsese's next big mob epic, The Irishman.
Aside from the massive cast, the development of the movie, which is based on Charles Brandt's book I Heard You Paint Houses has been kept under wraps for quite a while. Though given all the names mentioned above, I think it's safe to assume that it will easily fit into the must-watch category. Even if just to see a meet up of some of the greatest male acting talent of all time reprising the mobster type roles we know they all play so well.
Netflix unveiled the first glimpse of the movie during the Oscars ceremony and even though it only contains sound from the movie and no actual footage, it still gets me excited just reading those names. It's perhaps also fitting that Netflix chose the Oscars as the time to drop the short clip, as this movie could easily be in line for the big awards next year if reputations are anything to go by.  
For Netflix, it has been one big investment too, as the movie was initially dropped by Paramount because of a ballooning budget which has reportedly seen Netflix inject almost $200 million into the movie. Just how can a mob movie like this be so expensive though you might ask? Well largely because the film will see all of the veteran actors also portraying younger versions of themselves using visual effects made famous by Star Wars and Marvel movies – and that type of visual effect doesn't come cheap. Still, just to see them all look young again would be impressive and worth watching in its own right.
Whether Netflix can justify such a massive production budget for a movie that traditionally wouldn't be a big bet at the box office is another thing entirely, but given that the company is as much about winning awards as it is in making money, it's clear that they are willing to take big risks.
I was hoping that this teaser would contain the actual release date for the movie, but it seems Netflix continues to be very tight-lipped about that aspect.
Last Updated: February 25, 2019