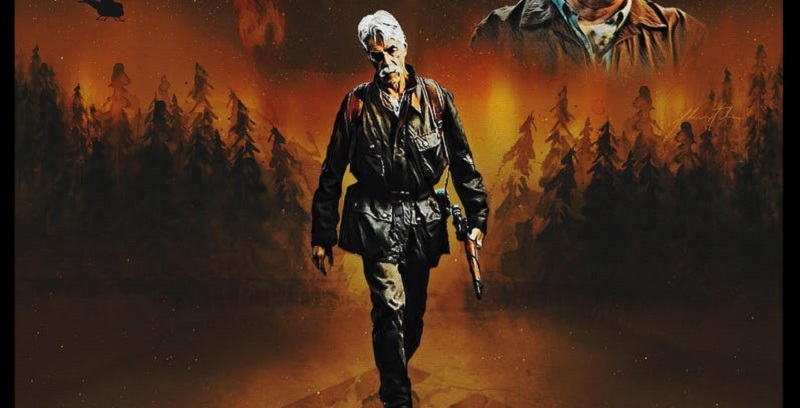 As movie titles go, this upcoming debut feature from the mind of Robert D. Krzykowski is certainly one of the strangest. And the premise is probably even more bizarre. The Man Who Killed Hitler and Then The Bigfoot is certainly a strange story which sees Sam Elliot play the role of Calvin Barr, a WWII soldier who has lived his entire life sitting on a terrible secret: that the official history is wrong and he was actually the one who killed Adolf Hitler. 
Now, decades after his secret mission to assassinate the world's most evil dictator, Barr (who assumedly the character ages slower because even Sam Elliot is too young to have been a solider in WWII) is being called on to once again save the world. A plague has broken out that threatens all humankind, and the carrier is none other than the legendary Bigfoot. And of course, Barr is the only one capable of venturing into the wilderness to take down the mythical monster.
Yes, the movie sounds absolutely bizarre, but hopefully the trailer that released for the movie makes a little more sense out of it all:
The movie might sounds ridiculous but the trailer makes it feel a whole lot more grounded than you would expect. Far from being a wild comedy or cheesy action movie, this actually looks decent and looks to tell the story of Barr, from when he was a young WWII soldier to his now older self, living with his conscience and regrets. Yes, this movie may actually have some depth to it- who would've thought.
The Man Who Killed Hitler and Then The Bigfoot is set to hit US theatres and VOD on February 8th, 2019 and promises to at least provide some decent entertainment, even if nothing else. After all, seeing Hitler being killed is never a bad thing. Alongside Elliott, the film also stars Aiden Turner, Caitlin FitzGerald, Ron Livingston and Larry Miller.
Last Updated: January 17, 2019