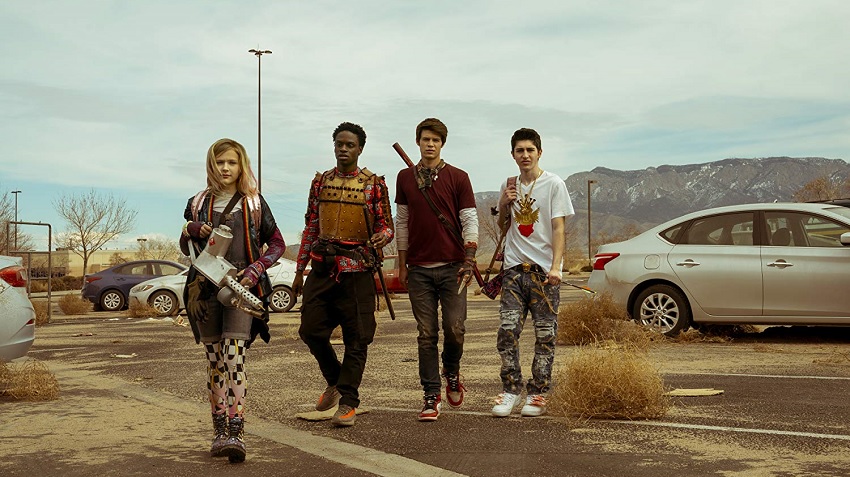 Daybreak is Netflix's upcoming blood-soaked and foul-mouthed post-apocalyptic teen coming-of-age comedy series. It was created by Brad Peyton (Rampage) and Aron Eli Coleite (Heroes), and is based on the graphic novel series of the same name by Brian Ralph which was first published in 2006.
It's set in the city of Glendale, California, USA, in a world devastated by nuclear war – and which has somehow left all adults mutated into the zombie-like Ghoulies and the only humans remaining are… teenagers. Journeying through this post-apocalyptic hellscape teeming with rampaging gangs of Mad Max-inspired jocks, Amazonian cheerleaders, and nerds is Josh (Colin Ford – Supernatural), who's on a never-ending quest to save his girlfriend, Sam (Sophie Simnett – The Lodge), with the assistance of his former bully turned redemption-seeking samurai, Wesley (Austin Crute – Booksmart), and the unstable Tiny Tina Angelica (Alyvia Alyn Lind – Future Man). But their journey also turns them into something more – a family.
The official plot synopsis is as follows:
High school isn't the end of the world… until it is. In this post-apocalyptic, genre-bending series, the city of Glendale, California is populated by marauding gangs of jocks, gamers, the 4-H Club, and other fearsome tribes who are kicking ass as they fight to survive in the wake of a nuclear blast (on the night of Homecoming…ugh). Following an eclectic group of survivors as they navigate this strange and treacherous world, Daybreak is part samurai saga, part endearing coming-of-age story, and part Battle Royale. This Generation A series (A for Apocalypse! Get it?) is rated TV MA.
Let's take a look:
This looks ridiculous and absurd and the show knows that, doesn't care, and is doing it anyway – that's what makes it so funny. The only thing giving me pause is a few hints of cheesy, lacklustre drama, but I can live with that if the humour is on point.
What do you think?
Daybreak will premiere its 10-episode-long first season on 24 October. It also stars Cody Kearsley, Jeanté Godlock, Gregory Kasyan, Krysta Rodriguez, and Matthew Broderick.
Last Updated: October 9, 2019