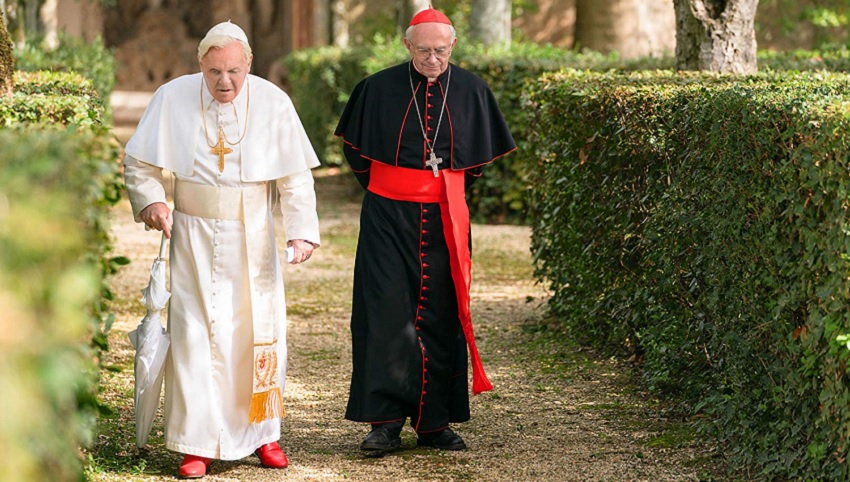 The Two Popes is Netflix's upcoming biographical drama (with touches of humour) from director Fernando Meirelles (The Constant Gardener), and written by Anthony McCarten (The Theory of Everything), that's inspired by the events surrounding the resignation of Pope Benedict XVI as head of the Catholic Church in 2013.
In case you've forgotten he ostensibly retired due to ill health caused by his advanced age, and was the first Pope to retire in nearly 500 years making it an unprecedented event in modern times. However at the time the church was also in the midst of a crisis thanks to declining congregations in many parts of the world, a number of recent scandals around financial corruption, and increasing public awareness of its protection of pedophile priests. It was in dire need of renewal, both internally and externally, and this lead to the election of the fairly-unknown Cardinal Jorge Mario Bergoglio, known since as Pope Francis, as his successor with the aim of reforming the Church.
It stars the superb Anthony Hopkins and Jonathan Pryce as Pope Benedict XVI and Pope Francis respectively, two men who bear a more than passing resemblance to their real-life counterparts.
The official plot synopsis is as follows:
An intimate story of one of the most dramatic transitions of power in the last 2,000 years. Frustrated with the direction of the church, Cardinal Bergoglio (Jonathan Pryce) requests permission to retire in 2012 from Pope Benedict (Anthony Hopkins). Instead, facing scandal and self-doubt, the introspective Pope Benedict summons his harshest critic and future successor to Rome to reveal a secret that would shake the foundations of the Catholic Church.

Behind Vatican walls, a struggle commences between both tradition and progress, guilt and forgiveness, as these two very different men confront elements from their pasts in order to find common ground and forge a future for a billion followers around the world. Inspired by true events.
In case it needs to be said, "inspired by true events" means "not a documentary", so don't take everything you see as gospel. Let's take a look:
I know I just said "not a documentary", but segments in that trailer reminded me of those reenactment scenes you get in documentaries. Those are stitched together with some archive footage and genuine scenes to create a movie that looks quite different from most of its peers. Couple that with two excellent actors in Hopkins and Pryce, and a script which focuses more on the inner struggles of the men involved in this event rather than sensationalising the event itself, and Meirelles has created something pretty unique.
What do you think?
The Two Popes will premiere on Netflix on 20 December. It also stars Sidney Cole, Juan Minujin, Thomas D. Williams, Frederico Torre, and Pablo Trimarchi.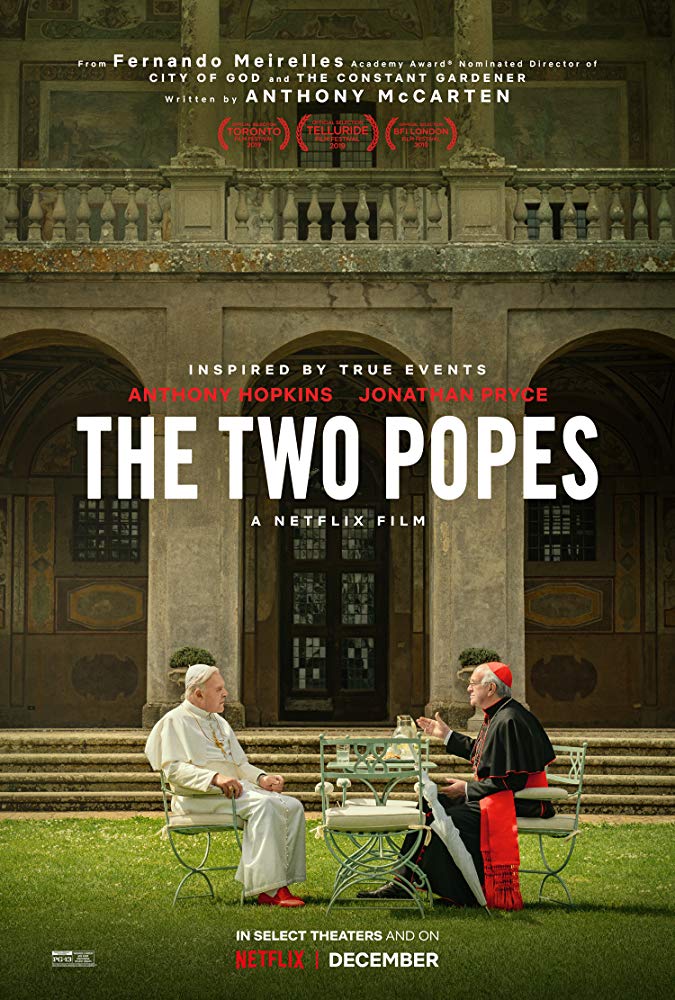 Last Updated: November 6, 2019