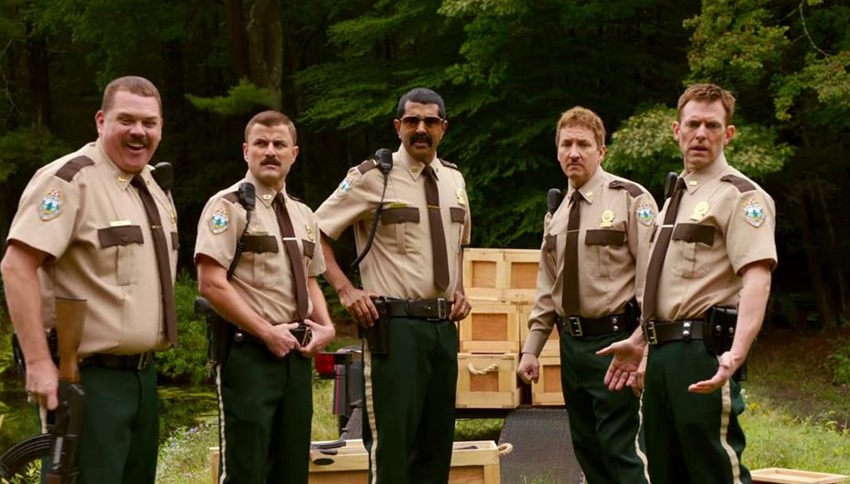 Listen, I may be a fat bastard who weighs more than your crippling financial debt in securing a home loan but…Well, I actually have no rebuttal to that. What I do have, is some blame to throw around. Specifically towards Super Troopers and that damn university drinking game we played based on the antics of the Broken Lizard law enforcers in that film.
You ever chug an entire bottle of maple syrup? It's stupid, fun and the reason why I can't climb a flight of stairs without having a paramedic on standby to resuscitate me from the inevitable heart attack:
There'll be plenty of syrup to chug down later this year when the squad reunites, thanks to crowdfunding on Indiegogo that resulted in a Super Troopers sequel finally being made. You've seen one red-band teaser for the flick. Well here's a proper red-band trailer which you can watch right meow:
Everyone's favorite law enforcement team is back by popular demand with the long anticipated follow up to the cult comedy classic…SUPER TROOPERS. When an international border dispute arises between the U.S. and Canada, the Super Troopers- Mac, Thorny, Foster, Rabbit and Farva, are called in to set up a new Highway Patrol station in the disputed area. Unconventional police work follows, and the result is…SUPER TROOPERS 2.
The usual gang of misfits returns for the sequel: Jay Chandrasekhar as Thorny, PaulS oter as Foster, Steve Lemme as Mac, ErikStolhanske as Rabbit and Kevin Heffernan as punching bag Farva. Alongside them, Brian Cox, Marisa Coughlan, Linda Carter, Rob Lowe, Fred Savage, Emmanuelle Chriqui, Will Sasso, Tyler Labine, and Hayes MacArthur also pop up.
The film drops on April 20, just in time for new fans to learn that desperation is a stinky cologne. Now if you'll excuse me, I'm going to see how much money I need to raise to get a sequel to The Slammin' Salmon.
Last Updated: January 19, 2018