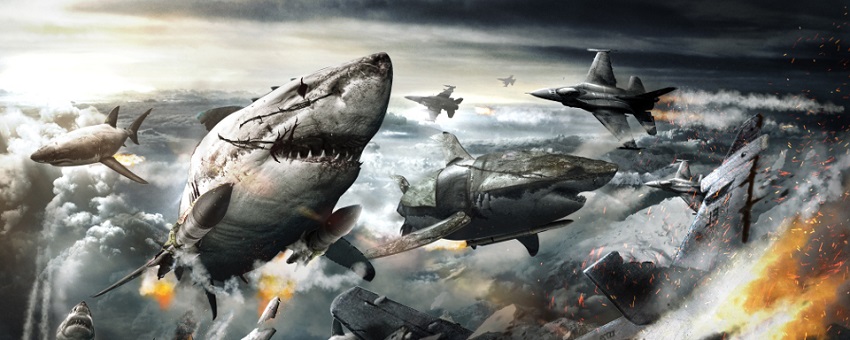 I'm a big fan of Iron Sky, the darkly satirical 2012 sci-fi action movie that saw the Earth under attack by technologically-advanced moon-based Nazis. What I didn't anticipate was that someone would look at that and think, "You know what? It need more sharks!" And so I present to you, Sky Sharks.
Much like the aforementioned Iron Sky, Sky Sharks was also the subject of a successful Kickstarter campaign, scoring just under one hundred thousand Euros from its backers after it launched in May 2015. It was originally projected to have a release date in late 2016 / early 2017, but as everyone who's ever taken an interest in crowdfunding knows, those original release dates are rarely met. The movie is now finally nearing completion and will soon be shopped around for distribution, where I really hope it gets picked up.
But what's it all about you ask? Well I'll just let them tell you, with the official plot synopsis as follows:
In the Arctic a team of geologists discovers a Nazi warship that was thought to be lost: the Himmelsfaust, a gigantic steel colossus from the Third Reich, brimming with unimaginable destruction machines. On that ship scientists researched top-secret, war-critical weapons and created the Reichsflughaie: rocket-powered monsters whose pilots are genetically mutated, supernaturally endowed supersoldiers with supernatural powers.

Dr. Klaus Richter, the spiritual forefather of this experiment, is forced to stop his deadly army of the undead in order to save humanity and the planet Earth from the seemingly certain doom. His daughters Angelique and Diabla face the threat that their father set up 75 years ago…

Time does not heal all wounds!
Super! Let's take a look:
One, this looks bad, and two I don't care because it's also one of the best things I've seen in ages – logic and common sense be damned! This looks like one of those classic cases where a movie is so bad it's actually good.
What do you think?
Sky Sharks will, hopefully, release some time later this year. Directed by Marc Fehse, who also co-wrote the script alongside Carsten Fehse and A.D. Morel, it stars Barbara Nedeljakova, Eva Habermann, Thomas Morris, Robert LaSardo, Lynn Lowry, Tony Todd, and Cary-Hiroyuki Tagawa.
Last Updated: May 13, 2019