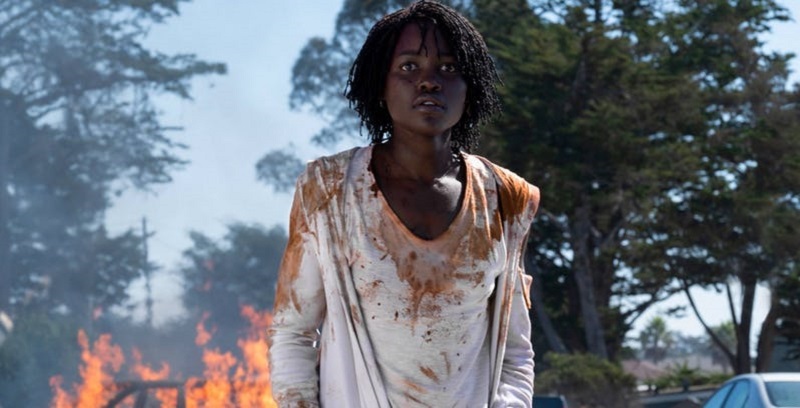 Lightning doesn't always strike twice. In the case of certain movie directors though, it tends to strike multiple times as talent is something you just can't hide for long. Which is one of the reasons why people have been so excited about Jordan Peele following his breakout directing debut Get Out and looking forward to seeing what he could do next.
After many rumours of big projects he was jumping on to, it turned out that his next film project was going to be yet another original horror story, called Us. That name was literally all we knew about the production, but we finally got a look at it as Universal dropped the first trailer for the movie over the Christmas break, while the rest of us were getting fat and being lazy.
Us sees Lupita Nyong'o and her Black Panther co-star Winston Duke as a married couple whose family summer vacation takes a turn for the worst when they encounter… well themselves. Except these doppelgangers are not the kind you want to meet.
Us appears to be less political than Get Out was, but that social commentary appears to have been replaced with outright terror as this trailer definitely paints a horrific view of what this movie could be like. The movie is due for release on March 15th and if this trailer is anything to go by, it looks like Peele has upped his game on the horror stakes – making this a movie to definitely look out for this year.
Along with the trailer, Universal also provided an in-depth synopsis, giving us a little more detail of what we can expect from this exciting new horror film:
After sending shockwaves across contemporary culture and setting a new standard for provocative, socially-conscious horror films with his directorial debut, Get Out, Academy Award®-winning visionary Jordan Peele returns with another original nightmare that he has written, directed and produced.
Set in present day along the iconic Northern California coastline, Us, from Monkeypaw Productions, stars Oscar® winner Lupita Nyong'o as Adelaide Wilson, a woman returning to her beachside childhood home with her husband, Gabe (Black Panther's Winston Duke), and their two children (Shahadi Wright Joseph, Evan Alex) for an idyllic summer getaway.
Haunted by an unexplainable and unresolved trauma from her past and compounded by a string of eerie coincidences, Adelaide feels her paranoia elevate to high-alert as she grows increasingly certain that something bad is going to befall her family.
After spending a tense beach day with their friends, the Tylers (Emmy winner Elisabeth Moss, Tim Heidecker, Cali Sheldon, Noelle Sheldon), Adelaide and her family return to their vacation home. When darkness falls, the Wilsons discover the silhouette of four figures holding hands as they stand in the driveway. Us pits an endearing American family against a terrifying and uncanny opponent: doppelgängers of themselves.
Last Updated: January 8, 2019