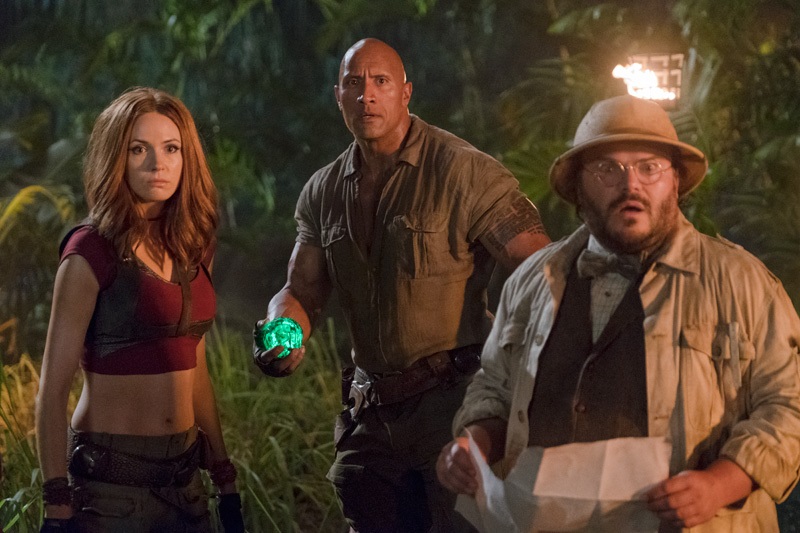 It's hard to imagine anything that Dwayne "The Rock" Johnson stars in to not have big actions scenes and raised eyebrows, which pretty much sums up exactly what we can expect from the upcoming Jumanji reboot film, Jumanji: Welcome to the Jungle.
This modern retelling of the 1995 classic directed by Joe Johnston and which starred the late Robin Williams as a man trapped in a board game which brings its events to life is certainly trying to bring the same magic of that film to a new generation, but with the aforementioned high-action that we've come to expect today thrown in as well.
This new take on the Jumanji adventure, written by Chris Mckenna, Erik Sommers, Scott Rosenberg and Jeff Pinkner takes advantage of the current hype in video games and focuses on four teenagers (Morgan Turner, Ser'Darius Blain, Madison Iseman, Alex Wolff) who are sucked into Jumanji's world – pitted against rhinos, black mambas and an endless variety of jungle traps and puzzles. To survive, they'll play as characters from the video-game that all seem to contrast their real-world personas: meek Spencer becomes a brave explorer (Dwayne Johnson); hulky jock Fridge becomes a tiny genius (Kevin Hart); It-girl Bethany becomes a bookworm professor (Jack Black), and un-athletic Martha becomes an Amazonian warrior (Karen Gillan). To beat the game and return to the real world with their lives, they'll have to start seeing things in an entirely different way. Nick Jonas also stars in this film, though I'm not sure how his character fits into the whole story other than to gain some teen appeal.
A new featurette for the film has been released which takes us on the set of the new movie and shows us some of the efforts that have gone into making this film and its efforts to create a magical jungle world and includes thoughts from some of its films stars and director Jake Kasdan.
I haven't really felt hyped about this film when the trailers for it first came out and this featurette doesn't actually offer anything new either that gets me excited for this movie. Hopefully, its eclectic and diverse cast can create some exciting chemistry between all of the forced action sequences.
Below are some more photos from the film to whet your appetite before the film releases on December 20th of this year.
Last Updated: November 1, 2017