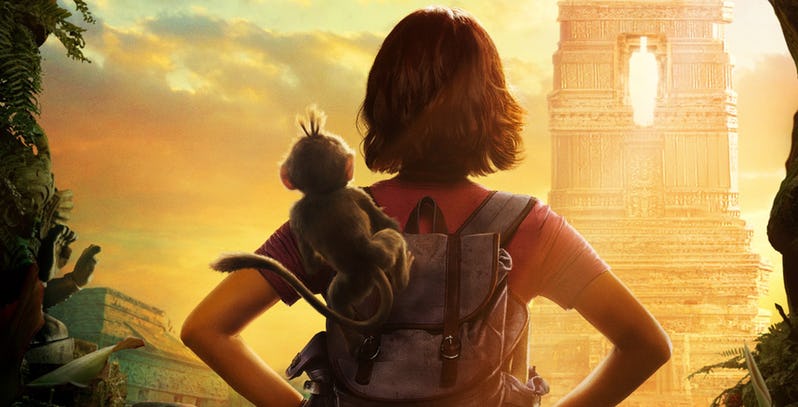 Dora the Explorer may have been the star of her Nickelodeon cartoon show for fourteen years from 2000 to 2014, but now she is a teenager and primed for bigger things by having a movie of her own now. And this time around the challenge is bigger than ever as her parents (played by Michael Pena and Eva Longoria) go missing while trying to find the Lost City of Gold and Dora (Isabela Moner) ends up recruiting her fellow classmates to help save the day.
Not all cartoon characters can translate well into a live-action movie of their own, but the first trailer we saw looked entertaining. Now we have a second one which looks to showcase less of Dora's Indiana Jones-style acrobatics and more of what makes your average youngster laugh – fart jokes:
 I've never actually watched an episode of the animated show (something about me being too old for it or something) and so I can't really say how close to the show it is, but if anything the movie looks like a lot of fun. The jokes definitely fall into the juvenile category but considering this is a movie aimed at the entire family, that is not necessarily a bad thing as these gags are bound to get everyone laughing.
There is a need for some moves to not take themselves too seriously and this is the perfect example of a movie that works better with a little silliness thrown into it. Hopefully, the whole film can contain as much fun as is evident in this short trailer and then it should prove worthwhile. Dora and the Lost City of Gold is directed by James Bobin and written by Nicholas Stroller and is scheduled for release this August.
Last Updated: July 11, 2019