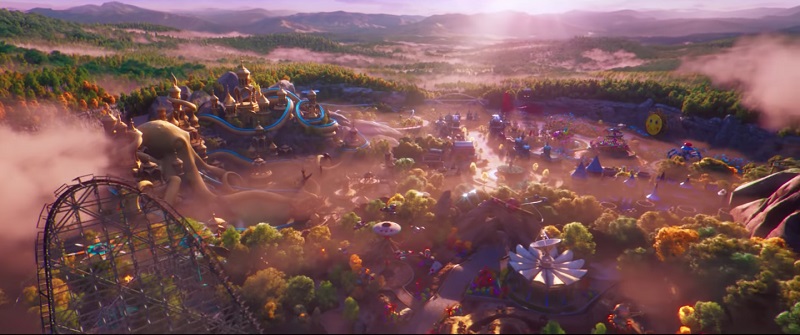 It might be overshadowed by its much bigger and more popular Pixar counterpart, Toy Story 4, but Paramount has high hopes for their big animated event for the year, Wonder Park. It sees a young girl, June Bailey (Brianna Denski),  who loves theme parks and big roller coasters have her dreams come to life when she realises the park she has always dreamed of actually exists.
Well exists until the park gets overrun by a bunch of chimpanzombies. Yes, that's right the next zombie apocalypse is not from humans, but rather our simian friends. However this is not a horror movie about survival, but a kids movie which will instead focus on June and her efforts to restore the park to its former glory as she rebuilds the rides with her animal friends. And putting a kid and a bunch of animals in charge of building dangerous rides goes about as crazy as you'd expect:
Needless to say, as much of a fan of roller coasters as I am, these are rides I would never want to touch given their clearly poor safety measures. Still, this film does look like a lot of fun, especially for the kids who will probably enjoyed talking animals and the fun thrill rides they build here. For adults, it might be a little too much and we will need to wait out for Toy Story 4 later instead before we get an animated movie that we want to see.
Wonder Park is scheduled for release on March 15th this year and stars the voice work of Jennifer Garner, Matthew Broderick, John Oliver and Mila Kunis. Interestingly enough, Paramount also has different voice actors for several of their characters for release in the US, UK and Australia (unsure which version of the move we will get here) in the hope of making the movie more appealing to each territory where people will have characters that speak in different English accents. Considering how animated characters are often based on the likeness of their voice stars, it will be interesting to see how this experiment from the studio works out.
Last Updated: February 4, 2019