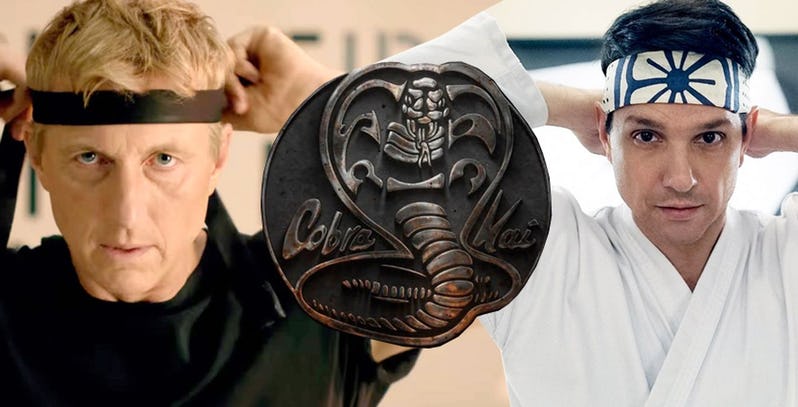 Some stories from the '80s should just stay in that decade. However, YouTube has shown that there is room for people to relive some of their favourites from that generation with the success of Cobra Kai. The series, which reunited Ralph Macchio and William Zabka from their famous roles in the original Karate Kid film, brought them together 34 years after the events of that movie. They're two family men going through very different stages in life, but both still with a passion for karate.
Based on the success of that first season, YouTube went ahead and ordered a second season which is set to only further renew the rivalry of Macchio's Daniel LaRusso and Zabka's Johnny Lawrence. To make things more intense, season 2 brings back Martin Kove as John Kreese, the original owner of Cobra Kai and mentor to the younger Lawrence, who starts to corrupt the mind of the Cobra Kai's new younger group of students.
Well, talk about playing on nostalgia as that trailer truly does take you back into the set of the original featuring a practical recreation of not only Pat Morita's Mr Miyagi's home but the return of all the same training methods and philosophies as he begins to train up his own kids and a few of their friends in the correct ways of karate to balance what is happening over tat Cobra Kai.
I will admit to not having watched the first season of the series but this definitely does look good. Yes, it's predictable and clearly playing on nostalgia, but also features a story and characters that are worth investing in. Something which probably explains h season 1 currently has a 100 percent Rotten Tomatoes score.
Season 2 of Cobra Kai is set to premiere on April 24th and although it is a bit of a bad date considering the movies coming out during that time, it should continue to find success from both fans of season 1 and new people caught up in the additional nostalgia highs from this trailer.
Last Updated: April 5, 2019