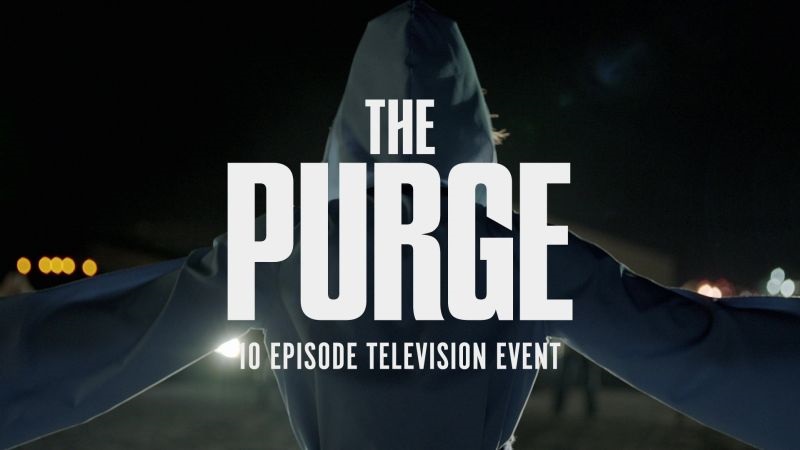 When the first The Purge movie came along I thought it was a great concept, but couldn't quite see it being more than just a one-film idea. It's perhaps a good thing for movie studios that I'm not in charge of making their films though because since then several sequels have come out which have not only expanded on the concept further but have also become even more successful. And now they've gone and created an entire TV series around the concept of the Purge.
So much for my, "it'll only work once" claims then.
For those not familiar with The Purge franchise, it's set in a near-future America ruled by a totalitarian political party that authorises an annual 12-hour period where all crime, including murder, is legal as the folks in charge feel that a population allowed to release their inner urges without fear of repercussion once a year makes for good citizens for the rest of the time (secretly though, it's more about keeping the poor in check). This new series will follow several seemingly unrelated characters living in a small city during one of these purges. As the clock winds down, each character is forced to reckon with their past as they discover how far they will go to survive the night. Here's our first look at that night with this first trailer.
Where this TV show will differ from the films is that it won't just focus on the 12-hour event of The Purge, but through flashbacks into its characters lives, will connect viewers more with these people and perhaps better explain the decisions they make in the night of the Purge as a result. It's a concept that could add a lot of emotional tension and it'll be interesting to see how they turn this one 12-hour event into a full 10 episode story arc.
Based on the trailer though this series doesn't feel particularly different from the movies. Which probably shouldn't surprise anyone considering that the entire team responsible for the movies is behind the TV series as well. Franchise creator James DeMonaco will be writing some of the episodes for the series and will be producing alongside James Blum of Blumhouse studio and the trio from Platinum Dunes – Michael Bay, Brad Fuller and Andrew Form – who all produced the movies as well.
The Purge series is coming to TV on September 4th on the USA Network and will likely make its way to local screens soon after that.
Last Updated: June 29, 2018