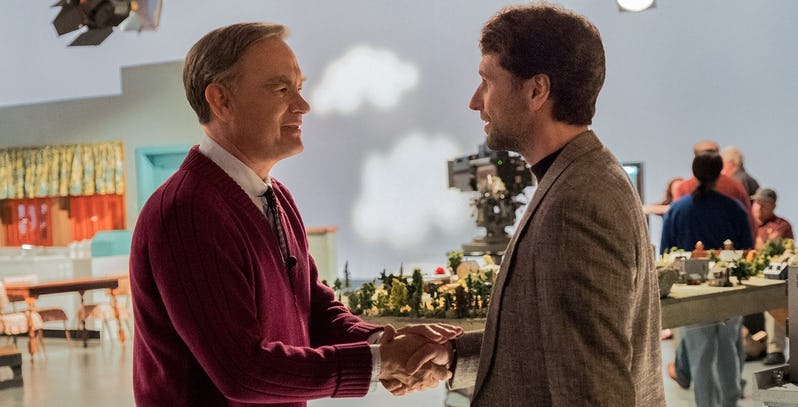 Unlike the nastiness of internet chats today, there was a time when people tried to be encouraging towards those around them because you never knew what they were going through. That was the premise behind the Mister Rogers' Neighbourhood show which debuted in 1968 in America and tried to teach American people some good old-fashioned values and human decency.
And while his efforts where probably outdone by online chat platforms, we get another opportunity to meet the magic behind the person in this new biopic about Fred Rogers, titled A Beautiful Day in the Neighbourhood, which sees Tom Hanks take on the role of Mr Rodgers as only Tom Hanks can. By being an overly nice guy.
The film tells the true story of how journalist Tom Junod – who's renamed Lloyd Vogel and played by Matthew Rhys in the movie – went from being begrudgingly assigned to write a profile about Fred to forming a lifelong friendship with him. The film is directed by Marielle Heller (Can You Ever Forgive Me?) and is being considered one of the frontrunners for the upcoming award season. No doubt Hanks' performance and metamorphosis into the role of Rogers is part of the reason for the acclaim. But with Tom Hanks being so nice in person, I can't help but wonder if he even needs to act to pull this role off.  
Still, this is a film that, much like its main character, is out to make you feel a whole lot better about life. In fact, the only criticism I have for what looks like an otherwise excellent film so far is that it is too nice. And these types of uplifting films generally tend to do quite well with both critics and cinemagoers and given the harshness of this world we live in, who doesn't need a good pickup to help them get through it all? Something which this movie could easily provide when it releases on November 22.  
Last Updated: July 23, 2019