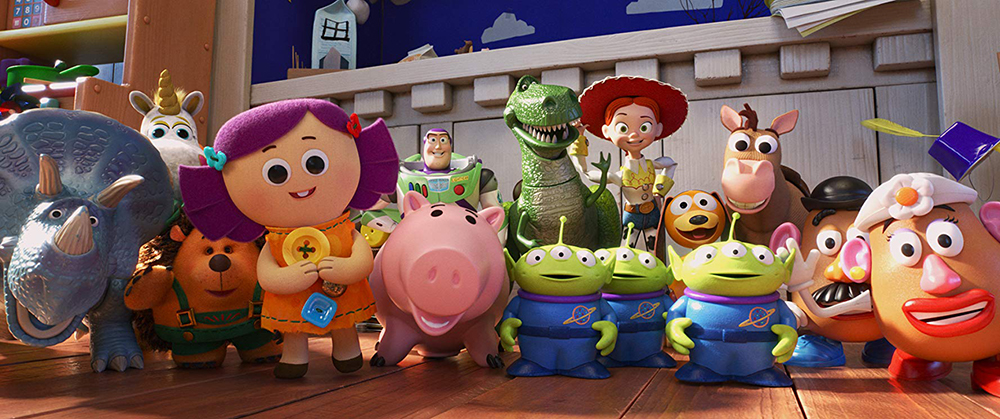 The trailers did not convince me. I was one of those people. I said, "We do not need a Toy Story 4".
Pixar would have to pull off a storytelling miracle if they were to one-up the emotional payoff of the third instalment. The Toy Story trilogy was complete in a manner that other film franchises could only dream of. Three movies that grew up as the audience who started out with them did. It also doesn't help that the studio's record with sequels, or in one case a prequel, is practically hit-or-miss. It's one of the only parts that its movie lineup can be called out on, whether it's a wasted opportunity (Monsters University) or a monetized corporate contrivance (the Cars sequels).
And so, I entered the theatre a little grumpy. 90 minutes later, I was on the verge of tears and cursing my cynicism.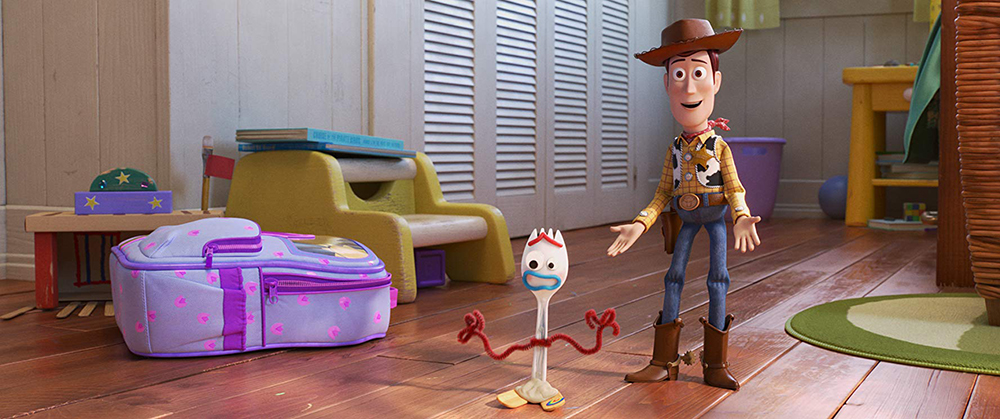 Tom Hanks and Tim Allen reprise their voices as everyone's favourite toy buddies, Woody and Buzz Lightyear. The two of them and their cohort of toy friends including Rex, Slinky, Jessie, Hamm, and the Potato Heads, have settled in being the toys of Bonnie. After the young girl's first day of kindergarten, she returns with a new "friend" she made in class: A repurposed spork named Forky (voiced by Bluster Bluth himself, Tony Hale). Woody now has to contend with Forky's existential crisis of going from trash to toy, all while the two of them and the gang head off with Bonnie and her parents on a cross-country road trip.
Things go sideways though as Forky makes a break for the bin, and he and Woody get separated from Bonnie and have to find their way back to her. But complications arise for Woody as he encounters long-lost fellow toy and lampshade figure Bo Peep (voiced by Annie Potts), and he begins to question his loyalties, all the while trying to avoid some demonic-looking antique puppets and dolls. Good to see Slappy from Goosebumps is still finding work and terrifying children.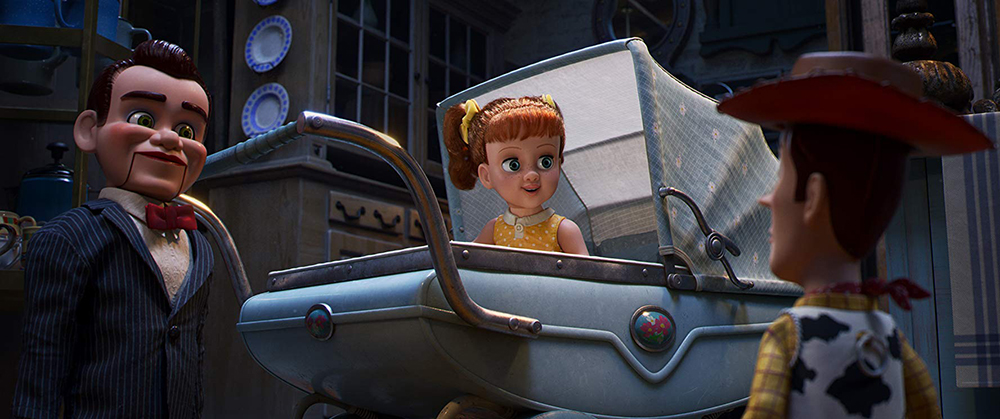 There is a great deal about Toy Story 4 that deserves praise before getting around to scrutinizing its substance. Firstly, the animation. The whole franchise serves as a demonstration of how far CGI technology has come since the early days. Comparing the first and last films are a testament to the visual artistry that has developed over the years and which has reached pinnacle levels of excellence. Fine details like cobwebs and the dust in sunbeams are just as fine as the texturing of both the humans and toys, which they themselves are soft, warm, and work well with each other. It is astonishingly impressive. Same goes for the attention to detail in reinforcing the idea of a Pixar Cinematic Universe. I won't spoil any of them, but the Easter eggs in this movie are a joy to discover.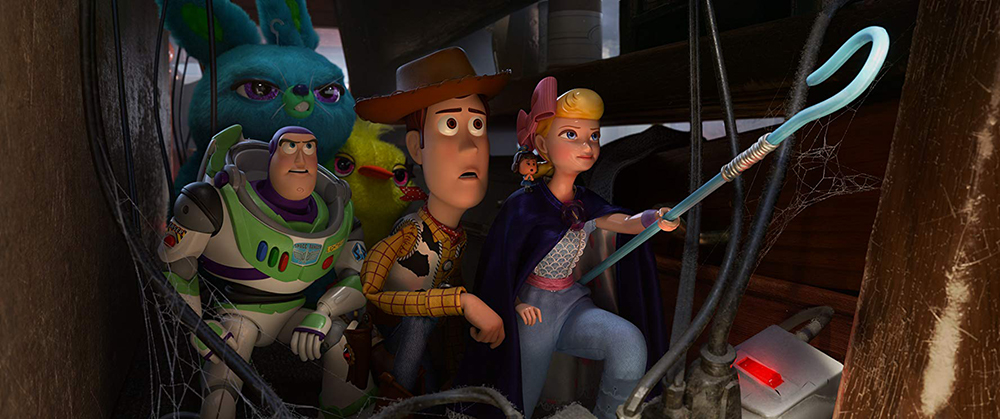 This movie also gets big plus points for its antagonist. Without going into detail, Toy Story 4 successfully subverts a villain characteristic that a huge portion of animated movies have resorted to in their storytelling. It's the biggest criticism that can be laid at the feet of Disney's latest batch of animated outings, and also the trap into which Coco and Incredibles 2 fell into. The villain in the film harks back to a simpler, more straightforward character along the likes of Sid from the first Toy Story and on top of that, it works despite having little to do with the movie's emotional centre.
No, the emotions lie with Woody and his relationship to Bo Peep. And it. Is. Beautiful. Torn between two kinds of living, the cowboy is having to deal with issues of abandonment, responsibilities in life, and his very own happiness. All the while spending his screen time with a fabulous female lead. Bo Beep is a go-getter, she is fearless. She does not wait for the world to deliver unto her. She lives her own life which is a great counter to Woody's desire to be somebody's beloved plaything. It is a relationship that shines a light on how one has to deal with changing times and taking charge of one's destiny and self-satisfaction. And it is expertly handled.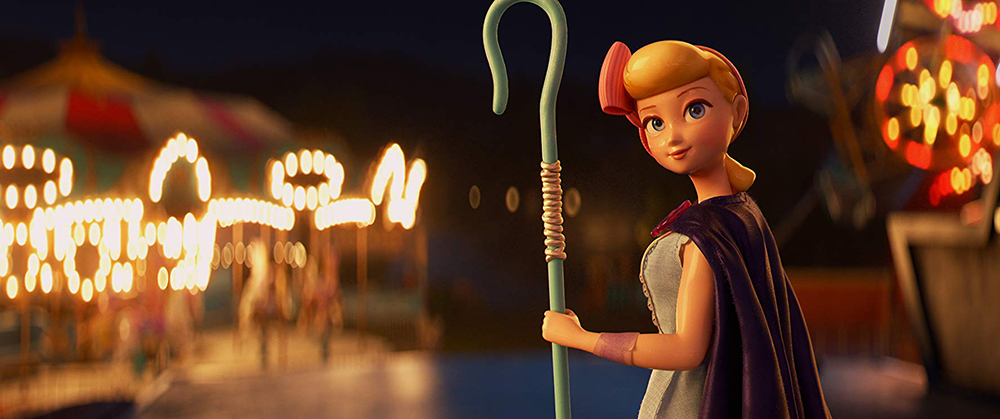 To top all of this off, the movie is very funny. Easily the most comedic in the franchise, it is held up by hilarious performances from a batch of new characters. Keegan-Michael Key and Jordan Peele's Bunny and Ducky are hilarious in their support of Woody and Buzz's plans, while help is at hand from the internet's current bae Keanu Reeves, voicing a stunt motorcyclist who himself is having his own existential crisis. All of this however, pales to the final gag in this movie. I won't reveal it here, but it is priceless.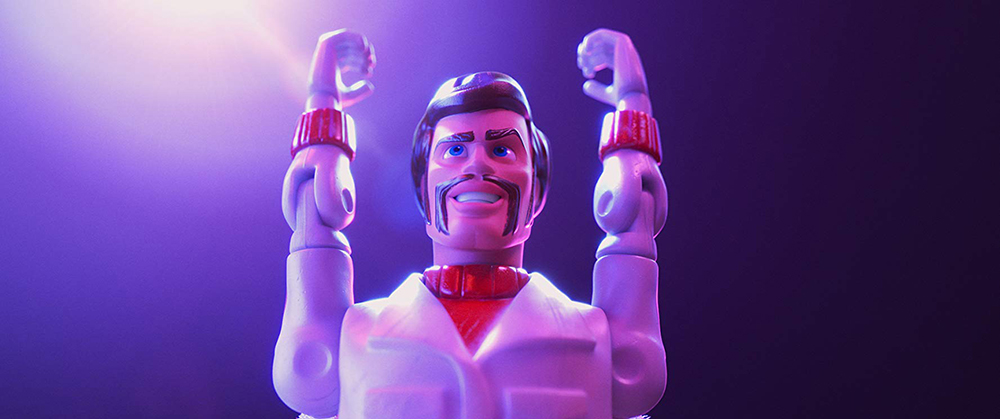 I have but two faults with this movie. In putting the spotlight on Woody's interactions with Bo Peep and their confrontation of the plot's obstacle, the other members of the original toy gang are sidelined. Jessie only gets a few sentences, which is not that much more than Rex, Slinky and Hamm. You can't ignore Hamm. My other issue is with Buzz. While he gets an allotted screen time, is fun to have around, and has his own arc, the embodiment of his character is inconsistent with the previous movies. The result is a character portrayal that comes off as too… simple. Not saying that he was a complex character, but he used to be much more on the ball than this.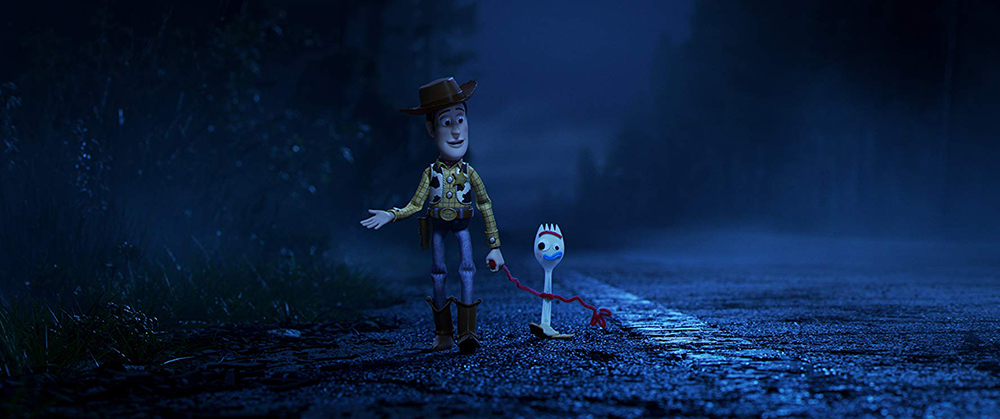 Nevertheless, Toy Story 4 is an animated gem. It evolves the stories and the explored emotions (something Pixar does well for its targeted audience), while harking back to the ideas and spirit of the first film. It is beautiful to look at. It has a heart that pulls yours out of your chest, and characters that warm it to star levels of hot.
I still think we didn't need a fourth film. But I am very glad we got one.
Last Updated: June 24, 2019
Toy Story 4

Toy Story 4 is a fitting and fulfilling installment into the animated franchise. Its emotions are paid off with a bonus of a good comedy and is the epitome of animated storytelling armed with a few surprises for everyone. Whether they be in the plot, the writing, or the details.