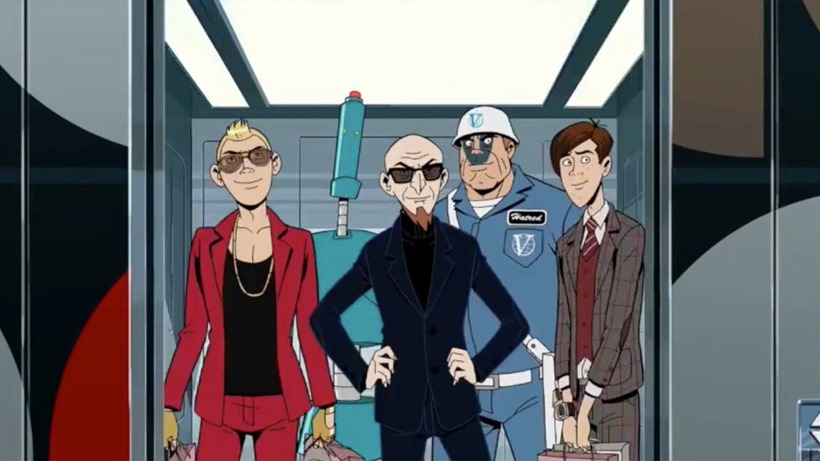 It has been far, far too long since The Venture Bros were on the small screen, Adult Swim's greatest animated was last seen with a full run of episodes way back in 2013, with a one-off special titled "All This and Gargantua-2" was released exactly a year ago. If you've never heard of The Venture Bros, then you've missed out on one of the best adult animated series around.
Essentially a version of Johnny Quest with a harsh amount of reality injected into it, The Venture Bros stars former boy adventurer Dr Thaddeus Venture and his well-meaning idiot sons as they get caught up in all manner of insanity. It gets even crazier from that starting point, as The Venture Bros deals with a butterfly-themed arch-nemesis, conspiracies and an entire gaggle of weirdly-named super-villains, heroes and secret organizations. Such as the Guild of Calamitous Intent, which was apparently being run by David Bowie.
Anyway, do yourselves a favour, and go watch all five seasons of the show. Like right bloody now. And then come back and see this trailer for the upcoming sixth season:
Oh my yes. If there's one thing that I love about The Venture Bros, it's the silly heroes and villains who populate that show. And seeing new characters such as the Fallen Archer unleash arrows that have baby feet attached to them, makes me giggle like a ticklish puppy. I'm keen to see how the new lifestyle change affects the Ventures, who are trading in their ancient and broken compound for a high-tech skyscraper palace in the heart of New York City.
Also, more characters like Think Tank, Star and Garters, robot dinosaurs and Warriana please. Also also, don't touch Brock Samson's hair. We've had five seasons to learn just how bad an idea this really is. The new season of The Venture Bros kicks off on January 31, and is bringing some much-needed animated insanity back into my life.
Last Updated: January 22, 2016