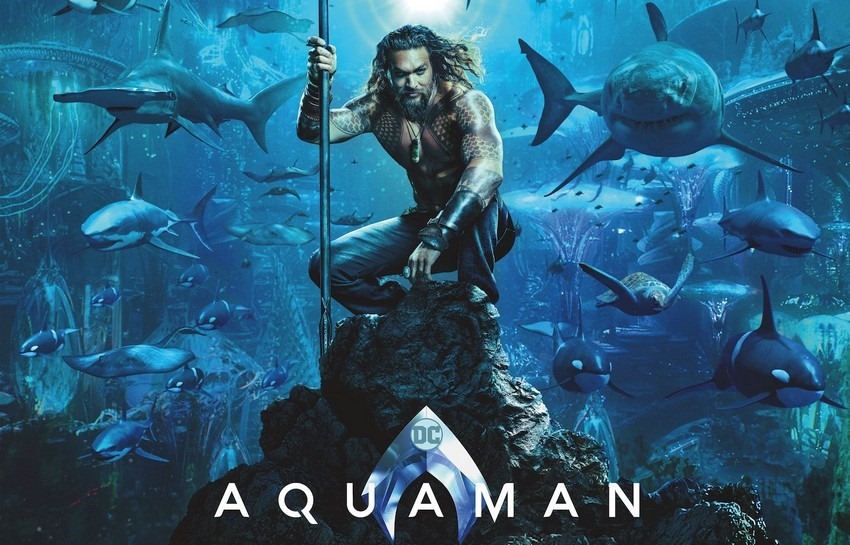 We're now less than a month away from Aquaman making a big splash in cinemas. The latest film in the DC Comics Extended Universe has been marked as a very colourful departure from the morose air that bothered so many fans about the earlier Zack Snyder-directed films. But is making everything pretty enough to hold off all the "DCEU IS DEAD" fanboy vitriol? Will Aquaman sink or swim?
While full reviews are still clamped down tightly under embargo, the first batch of film press got to check out the aquatic adventure movie recently and took to Twitter with their first impressions. And damn are these first impressions positive! With a reception that is a very, very far cry from the lame "he talks to fish" jokes that once plagued the character, Aquaman director James Wan and titular leading man Jason Momoa are being praised for delivering a film that is completely crazy in all the best ways and just craploads of fun. According to the reactions Wan stages some incredibly imaginative action beats on an epic scale, making full use of his insane undersea world for maximum spectacle. Momoa is also apparently having the time of his life in the role, while his supporting cast also deliver the goods, in particular Amber Heard's water-bending heroine Mera and Yahya Abdul-Mateen II's villainous Black Manta.
Check out the reactions below.
Is it my favorite DCEU movie? Visually, yes. There are shots in this film that are friggin' magnificent. I also think Wan's action scenes – and the way he shoots them – are up there w/ the best of DC so far. Definitely Momoa's best role and performance to date, too.

— Erik Davis (@ErikDavis) November 26, 2018
Fighting back the tide of DC negativity, #Aquaman is a lot of fun and brilliantly shot. It's not without its flaws, yet Jason Momoa is a charismatic lead and it very much feels like a @creepypuppet movie. Check back on @digitalspy on December 11 for the full review. pic.twitter.com/LyD8Pfy84d

— Digital Spy (@digitalspy) November 26, 2018
#Aquaman is great. James Wan made a really unique super hero origin film, often crossing into fantasy-epic territory, but grounded in family and discovery.

The world is visually incredible. Jason Momoa as Arthur Curry is a total bad-ass. @yahya and @patrickwilson73 stand out! pic.twitter.com/2IvDCEq7VU

— Brandon Davis (@BrandonDavisBD) November 26, 2018
There were moments where I felt #Aquaman might be running a little long but it has SO much to unpack in building its own isolated world.

Huge, epic, unique, and stylish action-sequences balance the heavy exposition.

Movie isn't out yet but I want more from Wan, Momoa, & co.

— Brandon Davis (@BrandonDavisBD) November 26, 2018
I'll take some heat for this, but #Aquaman is the best Marvel movie that DC has made. That doesn't mean it's exactly like that formula, but it feels like a film that knows what it is, what it's selling and who it's selling to. There's no identity crisis here.

— Paul Shirey (@arcticninjapaul) November 26, 2018
Aquaman is a big, fun, wild ride. It's unabashedly melodramatic and over the top with the largest, most ambitious sense of scale imaginable. Parts of it are kind of bad but they are not the majority and, oddly, still fit in with the cartoony tone. 2nd best DCU movie. YEEEAAHH! pic.twitter.com/3GLlK3uQJ3

— Germain Lussier (@GermainLussier) November 26, 2018
Saw #Aquaman before thanksgiving and had a week to think about it. It's flawed, but fun. Momoa and Patrick Wilson are absolute gems. Most of all, the movie is just flat out insane. I can't believe how big, creative, and crazy it gets. Gotta see it again! pic.twitter.com/m2oRbHVtu9

— Mike Rougeau (@RogueCheddar) November 26, 2018
#Aquaman is Avatar meets Jupiter Ascending, with hints of The Lord Of The Rings, Indiana Jones and a triple AAA video game. There's also an Octopus who plays the drums. I loved it. ??

— Sam Clements (@sam_clements) November 26, 2018
? #Aquaman is better than expected. Feels like a Marvel phase one movie, in a good way. It's at its best when it's having fun and not taking itself too seriously. Black Manta is great villain that comic book fans will love. Some truly spectacular one shots and good action. pic.twitter.com/aTnc1QWk66

— Peter Sciretta (@slashfilm) November 26, 2018
#Aquaman is pretty wild. It leans hard into its '80s fantasy/adventure movie vibe far more than superhero elements, and it works. It's another step in the right direction for the DCEU and shows how different/distinct the tones of these movies can be while still existing together.

— Mike Cecchini (@wayoutstuff) November 26, 2018
Short & sweet reaction to #Aquaman is that I loved it. It's a comic book movie through & through with great action, iconic moments & visual spectacle to spare. Momoa makes the character his own & Wan honors the traditional aspects, but elevates it to the modern era. It's a blast.

— Paul Shirey (@arcticninjapaul) November 26, 2018
#Aquaman is the best DC movie since The Dark Knight.@creepypuppet delivers a swashbuckling epic full of big emotion, gorgeous undersea visuals, exciting action, and lots of laughs.

WB should be handing the DCEU reins to James Wan, he's proven he can, ahem, right the ship. pic.twitter.com/4hjxdmNLDf

— Tom Jorgensen (@Tom_Jorgensen) November 26, 2018
Chalk up a big, wet win for DC. @creepypuppet's #Aquaman is an epic, swing-for-the-fences adventure that plunges fans into incredibly creative worlds. Goofy in spots, but it's rollicking fun. See it on the biggest screen possible! pic.twitter.com/ahODJ4mJAI

— Sean O'Connell (@Sean_OConnell) November 26, 2018
Aquaman is an epic journey with incredible visuals and storytelling. The chemistry between Arthur and Mera carry the film and @creepypuppet has done these characters proud #Aquaman

— Geek Chat (@realgeekchat) November 26, 2018
#Aquaman is an epic fantasy adventure on the high seas! It's packed with thrilling action in a dazzling underwater world like nothing I've ever seen in superhero movies, or anywhere else. I had a total blast watching this movie & so will you. See it on the biggest screen you can! pic.twitter.com/uRWXDTE48K

— Sean Gerber (@MrSeanGerber) November 26, 2018
#Aquaman was an absolute blast, from the charm of Momoa's Arthur Curry, to the spectacular visuals to the fun that it was clear that everyone was having. It was exactly what I was hoping for and I can't wait to see it again! I'll give you more details when I'm allowed! pic.twitter.com/FyeczAJJIJ

— Jenna Busch (@JennaBusch) November 26, 2018
So I really enjoyed #Aquaman! James Wan has made an unapologetically bold superhero flick, mixing adventure and fantasy elements with stunning visual effects, a terrific lead in Jason Momoa (who's clearly having the time of his life), and a great heroine in Amber Heard's Mera. pic.twitter.com/V8bnw6mnCX

— Carly Lane (@carlylane) November 26, 2018
#Aquaman is like an 80s cartoon, with all of the fun and the problems that come with that. A good adventure movie that acknowledges exactly what it is from the start, which is a meal made almost entirely of ham.

— Spencer Perry (@TheSpencerPerry) November 26, 2018
Aquaman is a breathtakingly beautiful, weird, badass, FUN idea of a modern superhero fantasy (anime) and makes zero apologies. Second half's one cheer/laugh after another.

Imagine '80s Schwarzenegger starring in "Hideo Kojima's AVATAR" and you're most of the way there. #Aquaman pic.twitter.com/nmZYjcUm5q

— Andrew Dyce (@andrewbdyce) November 26, 2018
Aquaman also stars Patrick Wilson, Willem Dafoe, Nicole Kidman, Temura Morrison, and Dolph Lundgren. It is scheduled for release on 21 December.
From Warner Bros. Pictures and director James Wan comes an action-packed adventure that spans the vast, visually breathtaking underwater world of the seven seas, "Aquaman," starring Jason Momoa in the title role. The film reveals the origin story of half-human, half-Atlantean Arthur Curry and takes him on the journey of his lifetime—one that will not only force him to face who he really is, but to discover if he is worthy of who he was born to be…a king.
Last Updated: November 27, 2018