It's incredible that Adam McKay, the man behind such oddball comedies as Anchorman: The Legend of Rob Burgundy and Talladega Nights has been able to transform himself into a remarkable, award-winning film-maker. Using his natural comedic flair, he was able to showcase this remarkable talent in 2016s The Big Short, which told the story of the 2008 economic crisis in a remarkably biting and easy to understand manner.
Vice continues this thread of filmmaking and uses many of those same motifs and filmmaking techniques, but whereas The Big Short contained some strong dramatic undertones and had an aura of sensibility to it, Vice embraces its political satire to the full extent.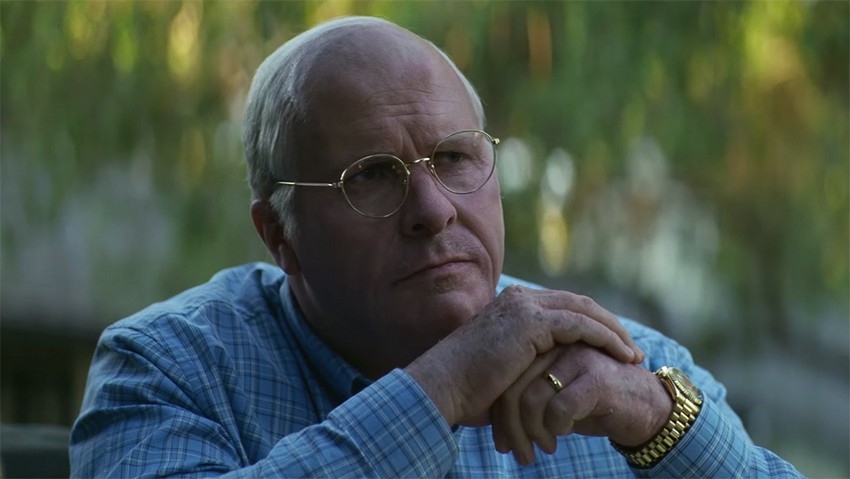 Vice tells the story of former US Vice-President Dick Cheney, his remarkable rise in US political circles and his involvement in the war with Iraq following the tragic events of 9/11. Don't expect this to play out like a regular biopic that simply tells the events of his life as they happen though. It's clear from the very beginning of Vice that there is a political agenda to uncover here and that McKay is going to go about showing it to you in the most unconventional way possible – and he's not afraid to embellish on the details to drive his point of view home.
The result is a movie that uses a combination of narratives including a narrator to explain the events to us in a manner that makes sense, moments of extreme caricature and humorous setups that border going into full Monty Python territory. And while the result can often be over-the-top and ridiculous, it is still incredibly thought-provoking and remarkably entertaining. You can accuse McKay of many things, but boring is certainly not one of them and this movie is fun to watch from start to finish.
Vice is a movie that tells a serious story, but in a very unserious way. It's a style that is perhaps its biggest weakness too as the silliness does take away some of the bite we saw in McKay's previous film The Big Short. Where that movie left you feeling the cinema feeling deeply emotional at how the financial crises affected the world, this movie simply doesn't resonate with you on the same level. It does still entertain though.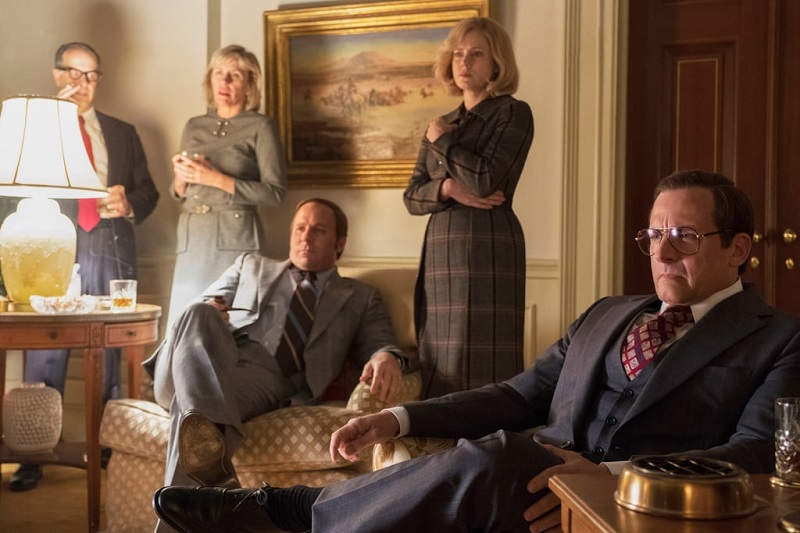 McKay achieves this in the film through building his social commentary directly into the characters' witty dialogue. He has a remarkable ability to dumb down big political concepts and processes in a way that anyone can understand and even if you're not interested in politics, you should easily be able to follow the events of the movie. McKay doesn't rely on subtle messaging here, if he wants you to focus on something, he will outright tell you. He is also unconventional in his delivery and makes use of a wide range of tricks, camera shots, divergences and fourth-wall breaking to make things interesting.
It's at this point that I need to speak about the actors. Much has already been made of the cast where its three big stars, Christian Bale (as Dick Cheney), Amy Adams (as Lynne Cheney, Dick's wife) and Sam Rockwell (George W. Bush) have all been nominated for multiple acting awards for the movie – all of which are thoroughly deserved. While the entire cast puts in a fantastic performance here and both Rockwell and Adams have some great moments to shine, it's a movie where Bale's chameleon-like transformation as Cheney is definitely the standout. While it's probably not the perfect acting performance, like we saw from Gary Oldman in last year's Darkest Hour, it is still a remarkable transformation and one that Bale embraces wholeheartedly.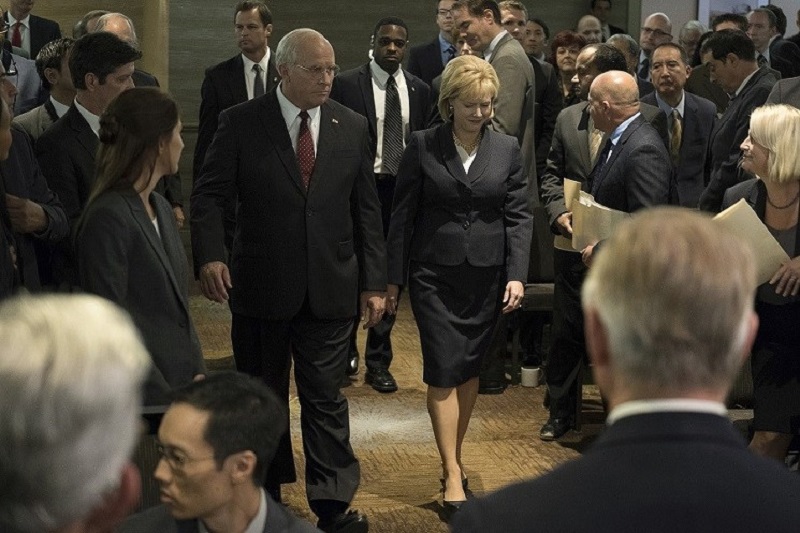 And it's not just the physical transformation which sees him look the part of the increasingly overweight figure of Cheney through a mix of some excellent make-up and prosthetics, not to mention Bale increasing his own weight for the role. It's also in the way he has mimicked Cheney's mannerism and way of talking that makes it so well acted. Yes there is some exaggeration at times, but this is simply for comedic affect and even in a particular scene which will see him and Adams belting out Shakespearean dialogue (it all makes sense when you watch it), he remains true to his character. The only thing Bale is not able to completely get away with is playing a younger Cheney where he still comes across as too old. While the costume and make-up team are incredible in helping their cast transform, they can't quite de-age their actors appropriately in these moments.
If there is any downside to the acting, it's probably a result of the script requiring them to not get too serious. For instance the events of 9/11 have little emotional resonance from the actors and while this is no doubt used to make them appear even more sinister and shrewd, it makes them all less believable. Believability though is something that this movie is not trying as it embellishes and adds a lot where the true details are not known (something which the movie actually brazenly admits to from its very first opening line) and is not afraid to exaggerate the truth for the sake of its social commentary and a few laughs.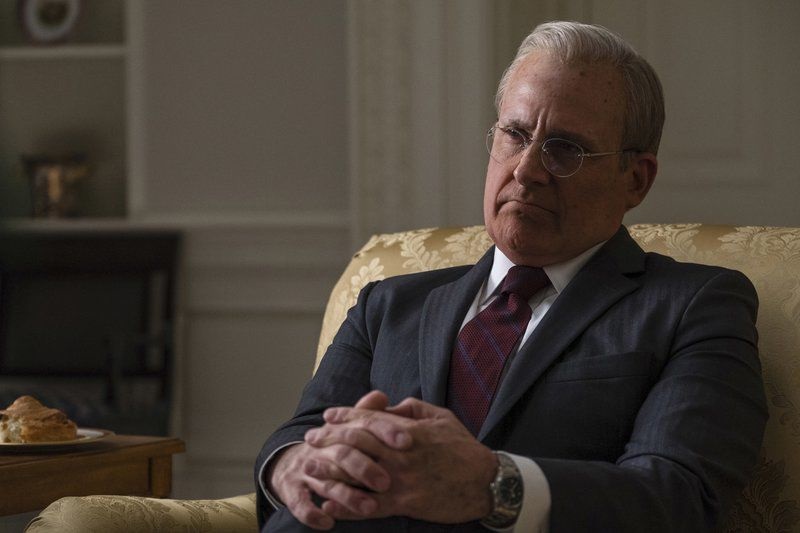 Vice also moves at a breakneck speed and credit needs to be given to editor Hank Corwin who in my opinion is the real highlight of the movie. Melding a variety of real-life footage, with filmed scenes and traversing a multitude of time-lines and styles the film remains remarkably cohesive and builds up to an engaging and frightening crescendo.
The production values of the film are also exceptional and balances a lot of grainy footage showcases of older times in history to a more modern clean look when dealing with more contemporary times. Despite dealing with the various timelines though, it remains remarkably consistent in keeping with the times from fashion, to hair styles and the politics. The latter, perhaps frighteningly, being not that much different from today.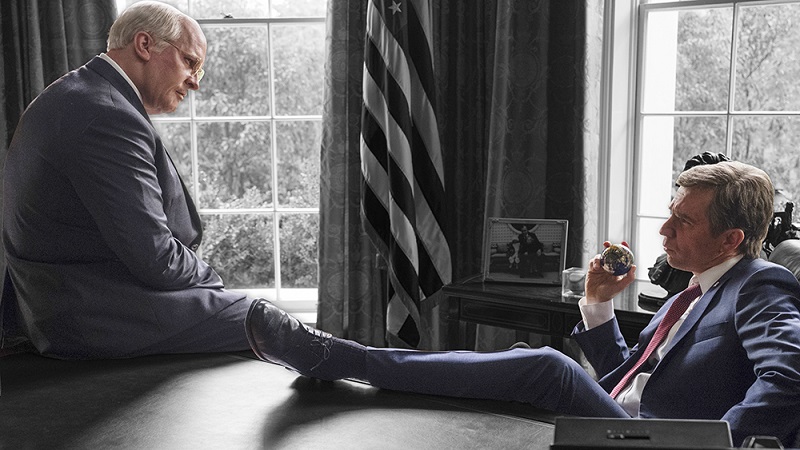 Vice is an energetic and creative piece of political satire that not only provides some thought-provoking contemplation, but plenty of entertainment too. While it's a movie with flaws, it's easy to see why it is getting so much love this award season. Fantastic acting performances, some uncharacteristic direction and remarkable editing make this an incredible film worth viewing.
Last Updated: January 28, 2019
Vice

A stylistic, over-the-top and sometimes silly political satire, but one that remains thought-provoking and highly entertaining. Fantastic acting performances, some uncharacteristic direction and remarkable editing make this an incredible film worth viewing.