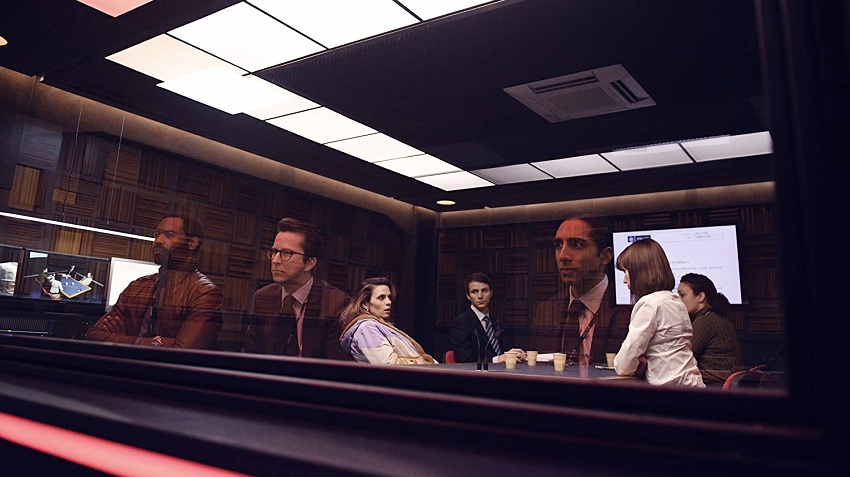 At its core, Netflix's Criminal, from showrunners Jim Field Smith (Stag, The Wrong Mans) and George Kay (The Hour, Killing Eve), is an anthology series of anthology miniseries. It's four miniseries, namely Criminal: UK, France, Germany, and Spain, each consisting of four episodes that follow the same formula – and that formula is about as simple and sparse as it comes.
The police in the interrogation room with their suspect. That's it, no distractions. Just the police going hard to extract a confession from their suspect while the suspect, who may be guilty or innocent, obviously wants to convince them that they are innocent.
It looks and sounds simple, but this is among of the hardest things to pull off successfully because it's so stripped down to basics. Everything relies on dialogue that needs to be completely believable and the actors' ability to deliver it with authenticity, all while keeping you totally invested in what you're watching – the slightest slip will destroy the illusion. Thankfully when you have actors the caliber of David Tennant and Hayley Atwell involved, you can be sure that those slips will be kept to a minimum.
The show's official synopsis is as follows:
Criminal is a police procedural with a unique premise: it takes place exclusively within the confines of a police interview suite. This stripped down, cat-and-mouse drama will focus on the intense mental conflict between the police officer and the suspect in question.
Let's take a look:
This teaser doesn't show much and that only heightens my anticipation because this is just such an intriguing concept. I enjoy psychological cat-and-mouse games like this, and being an anthology means I get bite-sized stories that really scratch that itch and aren't dragged out unnecessarily – and it means I can watch the series at my leisure.
One thing I'd really like to see is the guilty party outfoxing their interrogators and getting away with it, in my eyes a happy (or correct) ending every time would diminish the sense of realism the series is striving towards.
What do you think?
Criminal will premiere on Netflix on 20 September, and the cast for the various miniseries is as follows:
Cast UK: Guest stars: David Tennant, Hayley Atwell, Youssef Kerkour, and Clare-Hope Ashitey. Regular cast: Katherine Kelly, Lee Ingleby, Nicholas Pinnock, Mark Stanley, Rochenda Sandall, Shubham Saraf.
Cast France: Guest stars: Nathalie Baye, Jérémie Renier, Sara Giraudeau. Regular cast: Margot Bancilhon, Laurent Lucas, Stéphane Jobert, Anne Azoulay, Mhamed Arezki.
Cast Germany: Guest stars: Peter Kurth, Christian Berkel, Deniz Arora and Nina Hoss. Regular cast: Eva Meckbach, Sylvester Groth, Florence Kasumba, Christian Kuchenbuch and Jonathan Berlin.
Cast Spain: Guest stars: Carmen Machi, Inma Cuesta, Eduard Fernández. Regular cast: Emma Suárez, Álvaro Cervantes. Jorge Bosch, José Ángel Egido, Nuria Mencía, Daniel Chamorro, María Morales, Javi Coll and Milo Taboada.
Last Updated: September 5, 2019