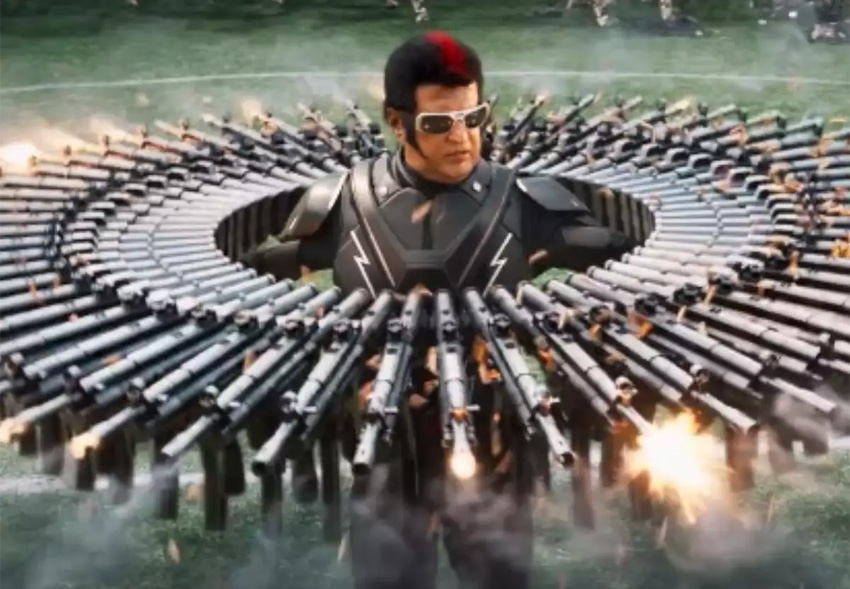 If you follow me on social media (What do you mean you don't follow me?! How else will I judge my self-worth if not through how many random strangers look at my inane prattlings and bad puns?!) then you would have seen me recently share a compilation video of the world's best movie action scenes. Or rather, from one specific corner of the world: India. Bollywood – as the Indian film industry is affectionately called – has a flair for over-the-top drama like few others out there, as was shown in that compilation. One of the craziest moments featured in there involved a giant ball made up of robot clones stacked end to end, shapeshifting and battling various enemies. This totally bonkers moment came from 2010 Bollywood Tamil-language production Enthiran (or as it was known in the English-speaking world, Robot).
The most expensive Indian film at the time of its release, writer/director S. Shankar's Enthiran saw veteran Tamil actor Rajinikanth (yes, he's cool enough for just one name) star as both a scientist and Chitti, the highly advanced robot he created for the Indian Army. The movie's plot is a winding one involving Chitti being proven safe to use in society, learning human emotions/behaviour, getting caught up in a scheme to procreate and create a robot/human hybrid baby etc. All you really need to know though is that it was crazy and entertaining as hell. Many people found this out when the film was released worldwide and became the fourth-highest-grossing South Indian film of all time, winning numerous local awards.
And now, 8 years later, Shankar and Rajinikanth are back with a sequel, simply titled 2.0. And it looks every bit as ludicrously over-the-top fun as the original based on this first trailer. There's enough giant robot action and destruction here to make Michael Bay socially awkward in his pants, but it all still looks entertaining as hell as Chitti needs to be rebooted to face off against a shape-shifting villain with fabulous eyebrows who seemingly either has or is a giant metal eagle. I'm not quite sure about that part, but I know I'm definitely watching it!
Check out the trailer below.
2.0 also stars Akshay Kumar, Amy Jackson, Sudhanshu Pandey, Adil Hussain, Kalabhavan Shajohn and Riyaz Khan. The film is scheduled for 29 November, but it's probably not going to hit that date. It's been delayed numerous times to work on the VFX – there are over 1000 VFX shots in the movie, produced by 15 studios worldwide – and that may just happen again.
Last Updated: November 6, 2018