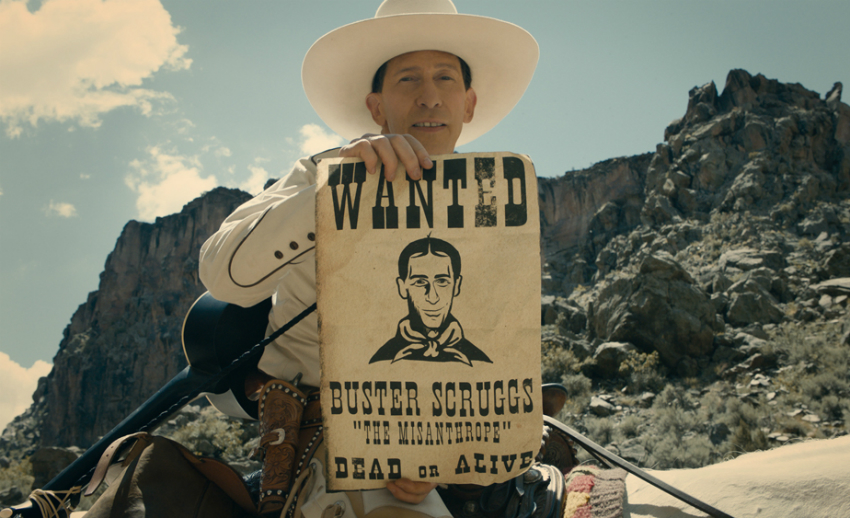 Peanut butter and jam. Batman and Robin. Darryn and any food that doesn't contain any slightly healthy elements or any redeeming culinary value whatsoever. There are things that belong together… that just feel right. And in Hollywood, one such fated pairing is the Coen Bros and westerns.
Four-time Oscar-winning filmmaking brothers Joel and Ethan Coen started their critically acclaimed careers with quirky crime dramas and comedies, but they really have a flair for westerns. We saw this with both No Country For Old Men (a modern western) and True Grit, which were both incredible films. Now they're back at it again with The Ballad of Buster Scruggs which seems to merge their earlier whimsical stylings with their later dry and dusty western work and it looks charming as hell.
A star-studded anthology film, The Ballad of Buster Scruggs follows six separate stories "from the wild frontier". The titular chapter tells the story of a sharp-shooting songster. In Near Algodones, a wannabe bank robber gets his due and then some. Meal Ticket, is a gothic tale about two weary travelling performers. All Gold Canyon is a story about a prospector mining for gold, while a woman finds an unexpected promise of love, along with a dose of life's cruel irony, on a wagon train across the prairies in The Gal Who Got Rattled. Finally, ghostly laughs haunt The Mortal Remains as a Lady rains judgment upon a motley crew of strangers undertaking a final carriage ride.
Check a look at all of these story beats in the first trailer below.
The Ballad of Buster Scruggs made its debut at the Venice International Film Festival a few weeks back to rapturous praise, taking home the award for Best Screenplay. With it only hitting the festival circuit at the end of August, you may be thinking we have a while to go before you we can see it ourselves. And just like Darryn with his opinion on baked beans belonging in burritos, you would be wrong!
This production had originally been planned as six-part series, but back in August it was announced that Netflix had picked it up and retooled it as a feature-length film that still retained its anthology leanings. The film, which stars Tim Blake Nelson, Liam Neeson, James Franco, Zoe Kazan, Tyne Daly, and Tom Waits, will now premiere simultaneously on the streaming service on 16 November, while also enjoying a limited theatrical run in the US.
Last Updated: September 13, 2018