In the world of capitalism, it's the rich that get richer and the poor that end up fighting for the scraps. Although statistics would probably paint me in the richer category, fighting for the scraps is certainly something I, and most of us (apart from Gavin), can relate to. Which is probably why our hearts cry out whenever we see the poor having to suffer at the expense of the rich or take a look at the price of some of those mansions on the Cape Town Atlantic seaboard and be filled with jealousy and wonderment on how some people can actually accrue so much money and not want to give you any. I promise I am a worthy cause.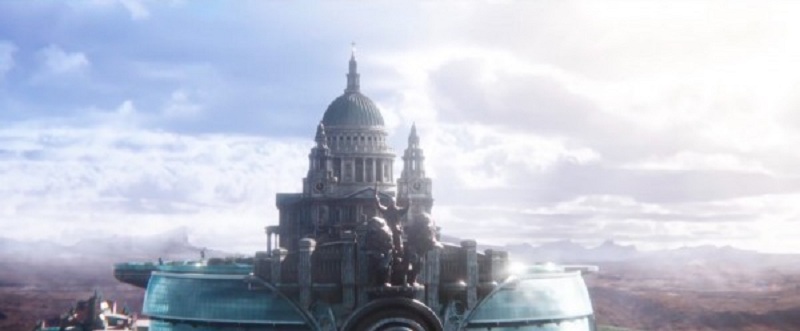 We might not all like capitalism, but it is honestly the best way to describe this trailer for the new Peter Jackson produced film coming in 2018. There was a time when I would've pegged Jackson to make any franchise a success. That was before The Hobbit films though and since then I've become a little reluctant to endure his penchant for bloated action sequences at the expense of a decent narrative. This time around though he won't be directing, as Christian Rivers – a VFX artist who worked with Jackson on his Lord of the Rings and Hobbit films and is making his directing debut – has taken over the directing duties for the film. Nonetheless, it still looks to have all the visual spectacle that you would expect from a Jackson film and considering Jackson co-wrote the script alongside his writing partners Fran Walsh and Philippa Boyen, we can probably expect this to feel like a Peter Jackson movie too.
Let's hope though that this is an adaptation that is making full use of the first of a series of novels by Philip Reeves and allows those books' award-winning narrative to follow through rather than just take the first few chapters and turning it into a 3-hour CGI fest of random fighting. To be fair though, I do think the Hobbit films were a result of rampant capitalism and greed, something which this film, being a completely new property will not be able to cash in on, so I expect there to be a much tighter story for this one.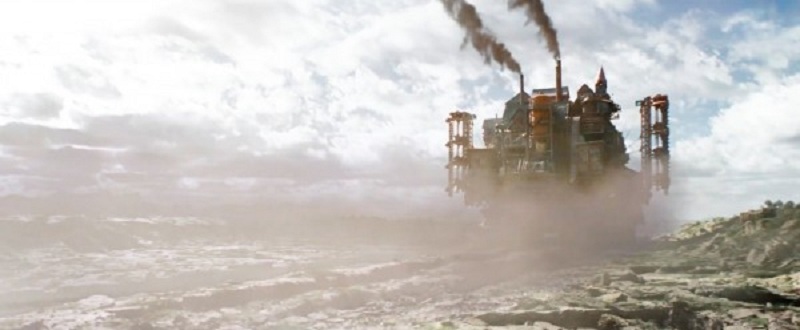 We can't really tell too much about what to expect from this movie based on the trailer other than that it will look extremely pretty. And probably not paint a positive picture of our future dystopian world where even the cities have become mobile to find food and resources, while taking down the poor along the way… I guess the more things change the more they stay the same.
Mortal Engines stars Robert Sheehan, Hera Hilmar, Stephen Lang, Hugo Weaving, Robert Sheehan, Colin Salmon and Ronan Raftery and is due for release on Dec 14, 2018. If it turns out to be a huge success, expect the other three remaining novels Predator's Gold, Infernal Devices and A Darkling Plain to be made into movies as well.
Here is the official synopsis for Mortal Engines:
Thousands of years after civilization was destroyed by a cataclysmic event, humankind has adapted and a new way of living has evolved.  Gigantic moving cities now roam the Earth, ruthlessly preying upon smaller traction towns.  Tom Natsworthy (Robert Sheehan)—who hails from a Lower Tier of the great traction city of London—finds himself fighting for his own survival after he encounters the dangerous fugitive Hester Shaw (Hera Hilmar).  Two opposites, whose paths should never have crossed, forge an unlikely alliance that is destined to change the course of the future.

Mortal Engines is the startling, new epic adventure directed by Oscar®-winning visual-effects artist Christian Rivers (King Kong).  Joining Rivers are The Hobbit and The Lord of the Rings trilogies three-time Academy Award®-winning filmmakers Peter Jackson, Fran Walsh and Philippa Boyens, who have penned the screenplay.  The Universal and MRC adaptation is from the award-winning book series by Philip Reeve, published in 2001 by Scholastic.

On board as producers are Zane Weiner (The Hobbit trilogy), Amanda Walker (The Hobbit trilogy) and Deborah Forte (Goosebumps), as well as Walsh and Jackson.  Ken Kamins (The Hobbit trilogy) joins Boyens as executive producer.  Universal will distribute the film worldwide.
Last Updated: December 19, 2017