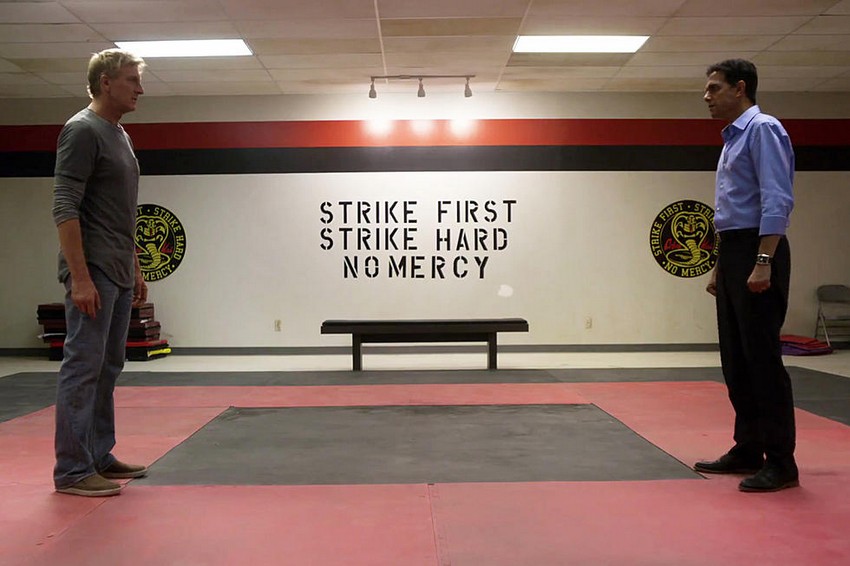 I hope you're ready for cleaning terms being used to teach martial arts again because its time to sweep the leg and wax on/wax off once more as the Karate Kid is back. Well, kind of. Also, he's definitely not a kid anymore, and he's not even the star. Confused? Well, so were we when the news first broke that a web series sequel to the beloved 1980's franchise was being developed for the YouTube Red premium service. The original trilogy of movies – which also had its own lackluster spinoff/sequel and a very successful recent reboot starring Jaden Smith and Jackie Chan – followed a young Daniel LaRusso (Ralph Macchio) as he found his place in life through the martial arts teachings of grumpy-old-man-turned-endearing-sensei Mr Miyagi (the late, great Pat Morita).
Along the way, Daniel-San would repeatedly come up against some arch rivals in the form of merciless karate school Cobra Kai and it's prized, illegal leg-sweeping student Johnny Lawrence (William Zabka). Now, more than 30 years after Daniel crane-kicked the bad guy snottiness right out of Johnny to beat him in a tournament, that rivalry has been rekindled. As a comedy. Which totally doesn't look like a comedy, as it will apparently be about a down-on-his-luck and desperate grown-up Johnny trying to reopen Cobra Kaiu so that he can get his life back in order, but a successful grown-up Daniel is trying to stop him because…
Well, I actually don't know. I'm still confused. Maybe that theory that Daniel was actually the bad guy in the original film finally has some merit. Either way, check out the first, very dramatic look teaser trailer to this supposed comedy below.
Long after Daniel-san triumphed over Johnny twice in the All Valley Karate Tournament, both martial artists have grown up and gone on to live different lives. With Mr. Miyagi's life lessons, Daniel has found personal success in his own family and career as a car dealer. Johnny, however, has fallen on hard times. Seeking to reclaim what glory he had from the past, Johnny reopens the infamous karate dojo that he once ruled as its ace student, and Daniel is having none of it.
Cobra Kai was written and co-directed by Josh Heald, Jon Hurwitz and Hayden Schlossberg, who between them penned Hot Tub Time Machine and Harold & Kumar, so I guess there's really actually going to be some comedy here. It also stars Xolo Maridueña, Tanner Buchanan, Courtney Henggeler, Mary Mouser and Ed Asner. The half-hour 10-episode show doesn't have a premiere date yet, but will debut on YouTube Red – the online video platform's paid-for service – later this year.
Last Updated: February 16, 2018