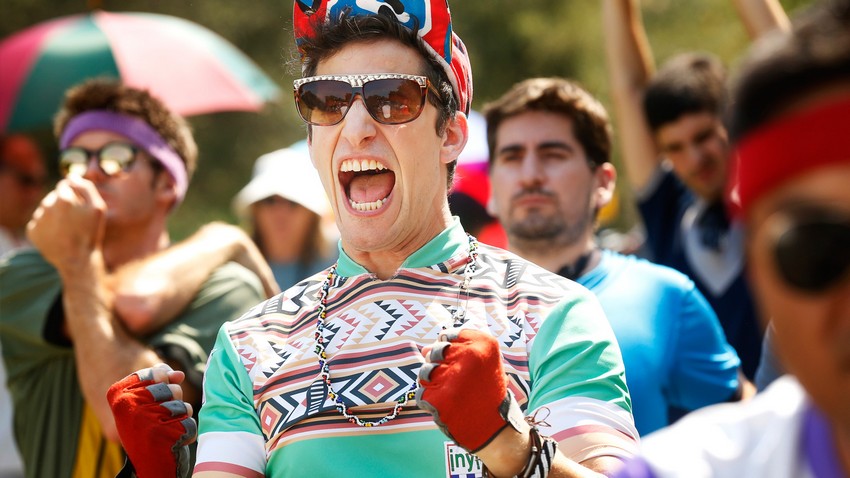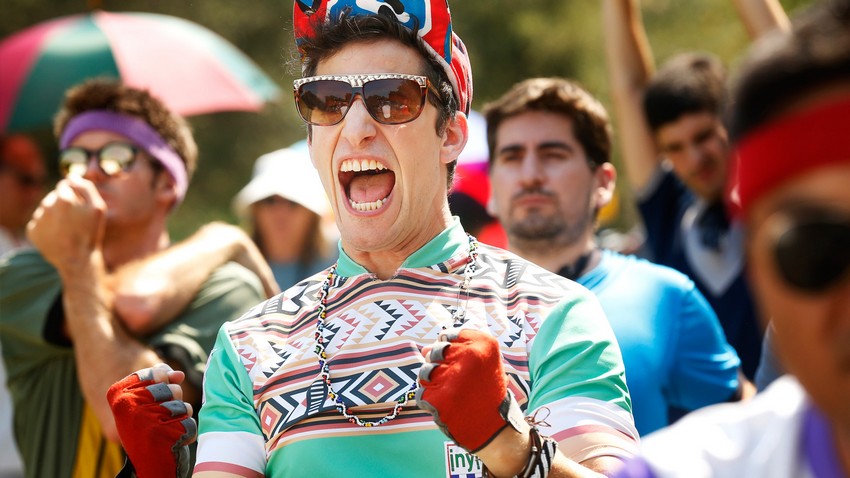 If you haven't yet seen HBO's documentary 7 Days In Hell, you've missed out on an amazing examination of the greatest and longest tennis match in history. It was also completely made up and freaking hilarious. 7 Days in Hell was actually a sports mockumentary from director Jake Szymanskim, writer Murray Miller and producer/star Andy Samberg, and was a totally fictitious 45-minute long investigative special focusing on a totally ludicrous week-long tennis match, and the backgrounds of the two players involved in it, Aaron Williams (Samberg) and Charles Poole (Kit Harington). Indubitably.
7 Days in Hell was so good that HBO is once again teaming up with Szymanskim, Miller and Samberg for another mockumentary, this time skewering the world of professional cycling, specifically the Tour De France and its widespread allegations of performance-enhancing drug usage. Tour De Pharmacy sees Samberg as one of several riders competing in the 1982 Tour De France, an event in which "nearly every rider was on drugs" resulting in total mayhem.
Samberg and co have assembled one hell of an ensemble cast to bring this fictitious event to life, including John Cena, Freddie Highmore, Daveed Diggs, Orlando Bloom, Jeff Goldblum, Danny Glover, Dolph Lundgren, Julia Ormond, James Marsden, Kevin Bacon, Nathan Fielder, Will Forte, Maya Rudolph, Joe Buck, Mike Tyson, J.J. Abrams, Phylicia Rashad, Chris Webber and Adewale Akinnuoye-Agbaje. Oh and a certain anonymous source whose identity must remain a secret.
Check it out in the trailer below.
In 1982, during a dark and fictitious time in cycling history, the sport's most venerable, time-honored race was marred by the doping of virtually all of its competitors. Riddled with nefarious characters, that year's competition was a hornet's nest of moral depravity. Through the perspective of five riders, TOUR DE PHARMACY gives an inside look into the grim realities of the darkest event in a sport notoriously tainted by controversy.
Tour De Pharmacy will debut in the US on HBO on 8 July. Hopefully we will also get to see it here somehow.
Last Updated: May 23, 2017