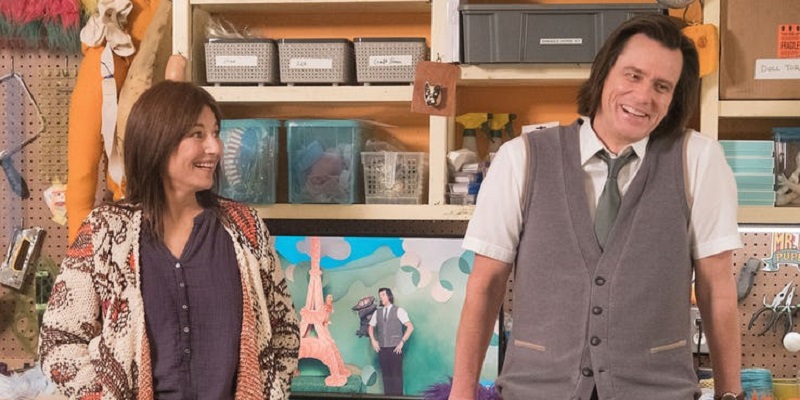 There was a time when Jim Carrey was the upbeat and happy comedic actor you cast if you want a wild, crazy and fun movie. These days though it appears the actor is intent on only taking on roles that are darkly depressive and hugely dramatic. A far cry from the actor who gave the world Ace Ventura, The Mask and one half of Dumb and Dumber.
And based on the trailer for this new Showtime series –  which sees Carrey return to television for the first time since he was a cast member of In Living Colour – Kidding is perhaps one of the saddest performances you will ever see from him. Now we've always known that Carrey is not just a comedic talent, with dramatic turns in films like The Truman Show and Eternal Sunshine of the Spotless Mind and it seems like he will be flexing all of those muscles in this very melancholic feeling new series.
This series sees Carrey (who also appears to be channelling his inner John Travolta here with that look) team up once again with his Eternal Sunshine director Michel Gondry and seems to head down a similar path that is likely to be as heart-wrenching as it is depressing. In fact, after that trailer, I feel like watching Carrey as Ace Ventura all over again to just to feel happy again.
There is obviously a lot more to the 10-part series than the brief glimpses we get here when Carrey's Jeff aka Mr Pickles' compassion and kindness is put to the test when his family life falls apart. It sounds and looks so gloomy though that it's not something I'm sure I want to watch, but if this type of thing is up your alley, then you should be in for a treat. Especially with the rest of the supporting cast which includes Catherine Keener, Judy Greer, and Frank Langella all likely to put in stellar performances here.
Kidding premieres on Showtime, September 9th. I would queue up some comedy series to watch both before and after to ensure you stay in a good mood when watching this though.
Last Updated: June 8, 2018