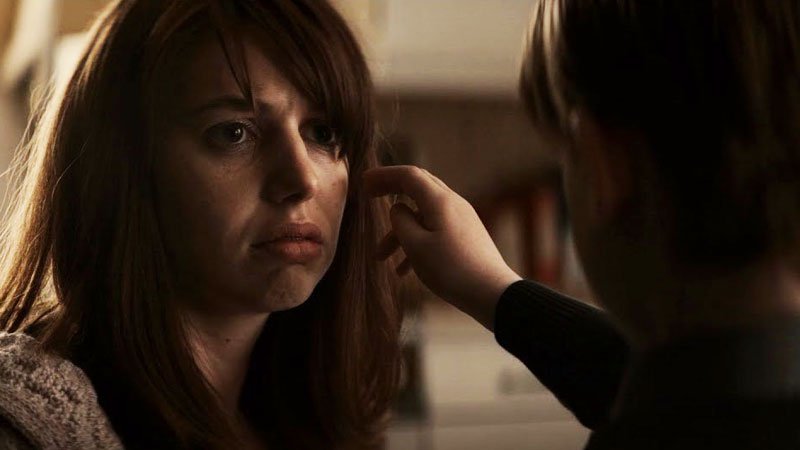 The Hole in The Ground is the upcoming Irish horror movie that marks the feature debut of director Lee Cronin.
A young mother (Seána Kerslake – Can't Cope, Won't Cope) and her son (James Quinn Markey – Vikings) move to a small Irish town to escape her past and start their lives anew. While exploring the woods behind their new home her son goes missing, and while searching for her son she's surprised to discover not a teddy bear's picnic or one of the world's largest hand-dug open-pit diamond mines, but a massive, eerie sinkhole that fills her with dread. She finds him shortly afterwards, but over the following days begins to notice changes in his behaviour that can't just be explained by their sudden move to a new town, and begins to wonder whether the boy she brought out of the woods is her son at all.
The official plot synopsis is as follows:
Sarah (Seána Kerslake) moves her precocious son, Chris (James Quinn Markey), to a secluded new home in a rural town, trying to ease his apprehensions as they hope for a fresh start after a difficult past. But after a startling encounter with a mysterious new neighbour, Sarah's nerves are set on edge. Chris disappears in the night into the forest behind their house, and Sarah discovers an ominous, gaping sinkhole while searching for him. Though he returns, some disturbing behavioural changes emerge, and Sarah begins to worry that the boy who came back is not her son.
Let's take a look:
Ah, one of the freakiest horror movie staples – the creepy child. It'll be interesting to see just how the change came about, whether it's a complete replacement or if something has taken over his body, or if this isn't something that's just in her head. No matter how the mystery is resolved, The Hole in The Ground looks like an evenly-paced horror movie with plenty of atmosphere.
What do you think? The Hole in The Ground will premiere at the Sundance Film Festival later this month on the 25th of January, before being released in the US and UK on 1 March. It also stars Simone Kirby, Steve Wall, Eoin Macken, Sarah Hanly, James Cosmo, and Kati Outinen.
Last Updated: January 14, 2019