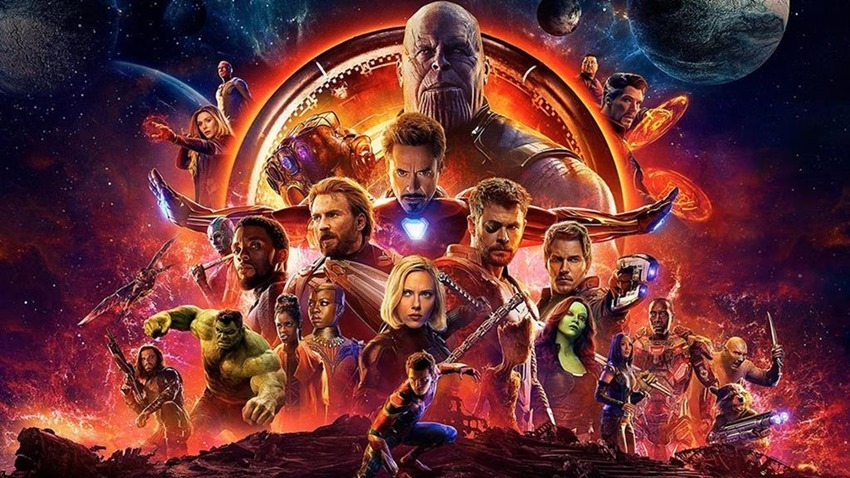 Last week, the internet was awash with disappointed and angry geeks. Well, even more than usual. The source of their consternation? A pointed lack of Avengers 4 trailer. The upcoming superhero sequel to this year's blockbuster Avengers: Infinity War, the still-untitled Marvel movie has been wrapped in extreme secrecy during its production, with directors Joe and Anthony Russo just offering the most cryptic of clues. We're kinda maybe sorta sure that the film will be called Avengers: Annihilation, but that's about all we know as we eagerly await our first look at it.
Many were convinced that first look was supposed to come last Thursday. This conclusion was drawn from some rather flimsy evidence to begin with, but the fact that the Russos were hosting a special screening of Infinity War followed by an in-depth Q&A with the audience afterwards actually made sense that this was when a trailer would be dropped. Except it wasn't.
While the Russos did dish up some very interesting details about Infinity War (more on that below), they outright refused to answer any Avengers 4 related question. Some lucky press in attendance though got to see… something that had them besides themselves in excitement, as they cryptically teased the rest of us on social media. However, now we finally have more than just teases and clues as Marvel unveiled a brand new poster for upcoming comic book movie Captain Marvel last night, showing off Brie Larson looking fiery as the powerful superhero. This was done in anticipation of a second Captain Marvel trailer that is scheduled to drop in the early hours of tomorrow morning (in SA time) on ESPN's Monday Night Football.
Check out the new poster and tune-in to @ESPN's Monday Night Football to see the brand new trailer for Marvel Studios' #CaptainMarvel. pic.twitter.com/43EPkcTBET

— Marvel Studios (@MarvelStudios) December 3, 2018
What's most interesting though is that a number of very reliable film press like /Film's Peter Sciretta, TheDisInsider's Skyle Shuler and MCU Cosmic's Jeremy Conrad had revealed that this is just the start of one seriously Marvel-ous week. According to their independently verified sources, an Avengers 4 trailer is dropping on Wednesday night in the US (so early Thursday morning for us). The week doesn't end though as the Russos will then be in attendance at the Video Game Awards to also talk about the upcoming Avengers game, so Marvel fans hold onto your butts!
If you can't stand to wait even that long and want to get at least some kind of fix today, well the aforementioned Q&A with the Russos has now been put up for public viewing in its 2-hour long entirety. There are a couple of big reveals actually in here, like the fact that Chris Evans may not be as done playing Captain America as we thought. Other tidbits include:
There were three different drafts of the Infinity War script, the longest was narrated by Thanos and contained detailed backstories for his Black Order. This draft was also non-sequential, jumping around in time, but the Russos eventually simplified everything
There were many fake scenes written for the scripts to throw off early leaks, including a scene where Gamora threw Thanos to his death off the cliff instead.
The Russos refine their films quite a lot in the scripting phase already, which is why there are very few deleted scenes on the Blu-ray.
Hugo Weaving was asked to reprise his role as Red Skull but declined, allowing The Walking Dead's Ross Marquand to replace him.
The Russos ditched their plans of shooting Infinity War and Avengers 4 simultaneously as everybody was getting confused about which scene being shot was for which movie
Due to complex scheduling with Infinity Wars actors, they often had to shoot one side of a scene with a single star and stand-ins for other actors, and then weeks later shoot the other side of the scene with the other actors and some stand-ins.
Despite the fact that he's getting his own TV series on Disney+, Loki is confirmed as dead and not just playing a trick (so I guess that show is a prequel then?).
Guardians of the Galaxy Vol.3 being on hold indefinitely following James Gunn's firing did not affect the Russos in any way as their plans had already been laid out and they were well into production on Avengers 4.
The Russos' dream comic book gig would be to direct a Secret Wars movie and they are very excited that Disney's takeover of Fox and their characters returning to Marvel that they could now possibly do that in the future.
There's a lot more than just these so check out the Q&A in full below!
Last Updated: December 3, 2018