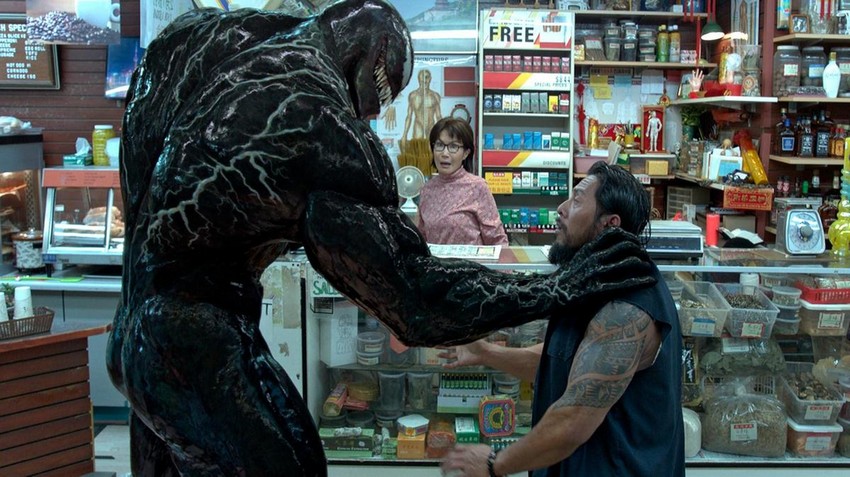 I didn't think Venom was great. I didn't think it was "Catwoman bad", as some other critics would have had you believe though, it just needed some refinement. Not that it matters though. I mean myself and every other reviewer may as well have kept our mouths shut as Venom has proved itself to be critic-proof as audiences flocked to see it this weekend past. And damn, did they ever flock.
The tongue-lolling comic book anti-hero absolutely devoured the box office as it set a brand new all-time high opening weekend record for October with an $80 million domestic debut (previous record holder was 2013's Gravity with $55.7 million). This makes it the 7th biggest US opening 2018, beating the likes of Ant-Man and the Wasp ($75.8 million) and Mission: Impossible – Fallout ($61.2 million). Those numbers continued internationally where Venom brought in an additional $125.2 million giving it a worldwide debut of $205 million, again a new all-time record for October. With a relatively lean reported $100 million budget, this means that Venom is already a huge success and a sequel (more on that later) now seems a sure-thing.
And, most importantly, it did it all without opening in China. The film actually doesn't have a Chinese release date yet, but seeing as it was co-financed by gigantic Chinese conglomerate Tencent, you can expect that to be rectified soon. This is a pretty big deal as we've previously seen with big comic book movies that got savaged by critics but still had huge opening weekends (oh, hey there, Batman v Superman, Suicide Squad and Justice League!) that they experience steep drop-offs in their second week once any bad word of mouth gets around. That longevity will be Venom's true test, but if it still has that Chinese market trump card left to play, it could help tremendously.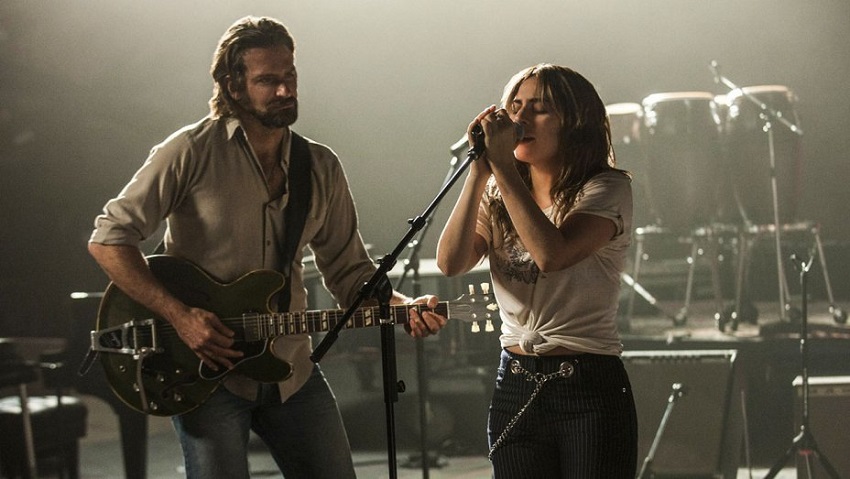 Venom wasn't the only star this weekend past though. Bradley Cooper and Lady Gaga's critically acclaimed musical drama A Star is Born also hit screens in the US and offered plenty of fans an attractive alternative to a face-munching alien hero. This is actually the third time Hollywood is remaking the original 1937 film story, but it has always had success both commercially and critically and this no different. A Star is Born, which is sure to be in the conversation come awards season, pulled in a substantial $41.2 million opening domestically with another $14 million from 31 international markets and a bit more change from early Thursday preview screenings.
These were also the only two new releases in the top 10 with not much else really happening as Smallfoot ($14.9 million), Night School ($12.2 million) and The House With a Clock in its Walls ($7.3 million) rounded out the upper half of the charts. However, overall, this weekend past's box office total was lifted by nearly 80% from the previous week. A sum total of over $168 million earned by the top 13 entries (which included Free Solo and The Hate U Give both earning over half a million from very limited box off runs for the 2nd and 3rd best per-theatre-averages on the charts) makes this the biggest October weekend in US box office history.
Oh one last bit of trivia: This is the first time since I started doing the box office report a couple of years ago that I can remember there being a movie in the top 10 that failed to crack the $1 million mark (see The Predator below). Considering the rest of the weekend's earnings, that's pretty odd.
Let's see what the rest of the US box office chart looks like:
| No. | Movie Name | Weekend gross | Percentage change | US Domestic gross | Worldwide gross | Last Week's Position |
| --- | --- | --- | --- | --- | --- | --- |
| 1 | Venom | $80 million | NE | $80 million | $205.2 million | NE |
| 2 | A Star is Born | $41.2 million | NE | $42.6 million | $56.6 million | NE |
| 3 | Smallfoot | $14.9 million | -35% | $42.7 million | $75.2 million | 2nd |
| 4 | Night School | $12.2 million | -55% | $46.7 million | $58.7 million | 1st |
| 5 | The House With a Clock in its Walls | $7.2 million | -42% | $55 million | $79.3 million | 3rd |
| 6 | A Simple Favour | $3.4 million | -47% | $49 million | $76.4 million | 4th |
| 7 | The Nun | $2.6 million | -51% | $113.3 million | $346.6 million | 5th |
| 8 | Hell Fest | $2 million | -59% | $8.8 million | $9.5 million | 6th |
| 9 | Crazy Rich Asians | $2 million | -49% | $169.1 million | $225.9 million | 7th |
| 10 | The Predator | $900 000 | -76% | $49.9 million | $123.3 million | 8th |
Last Updated: October 8, 2018