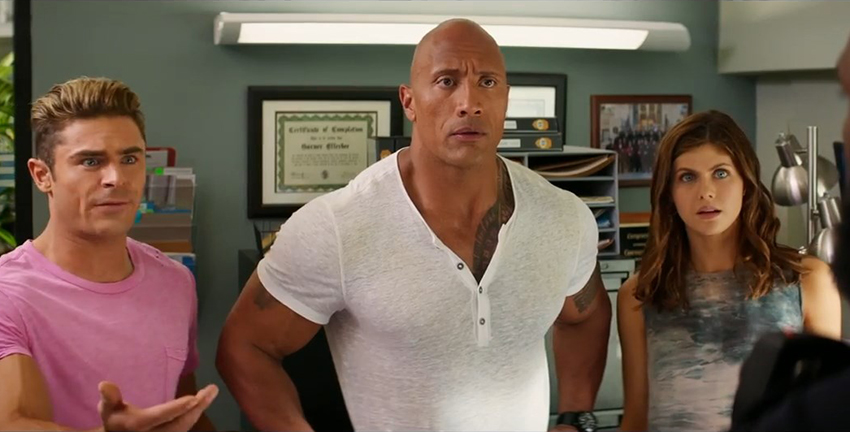 I don't know what's still blowing my mind more: That it's 2017 and we're getting a Baywatch movie, or that I actually want to see it. Unlike the classic 80s/90s TV series that skyrocketed the global sales of high-cut red bikinis (and probably also tissues), the upcoming big screen reboot from director Seth Gordon (Horrible Bosses) will be ditching the cringe-inducing cheese and instead go for… cringe-inducing scrotum jokes?
Thank goodness this Baywatch stars Dwayne "The Rock" Johnson, who can pretty much make any movie more exciting just by showing up. Joining him in top billing is ex-High School Musical alum Zac Efron who has actually proven since his Disney days that he can be a fantastic comedic performer, especially when it comes to gamely taking the piss out of himself. The cast is also rounded out by Alexandra Daddario, who has been strangely relegated to the fringes of the film's marketing thus far. For a movie that will undoubtedly be focusing on the "look at all our beautiful people" angle, it was kind of odd that she was getting shortchanged a bit (especially after her… breakout scene in True Detective).
A newly released NSFW red-band trailer does at least give us a reminder though that she's still in this movie… and that the movie is also going to be every bit as lewd and crude as you suspect. So get ready for lots of swearing, dismembered limbs and gags about corpse buttholes.
Baywatch also stars  Kelly Rohrbach (Broad City), Jon Bass (Loving), Ilfenesh Hadera (Oldboy), Priyanka Chopra (Quantico) and Hannibal Buress (Broad City). It is scheduled for release on May 25, 2017. Here's the official synopsis:
Baywatch follows devoted lifeguard Mitch Buchannon (Johnson) as he butts heads with a brash new recruit (Efron). Together, they uncover a local criminal plot that threatens the future of the Bay.
Last Updated: May 11, 2017