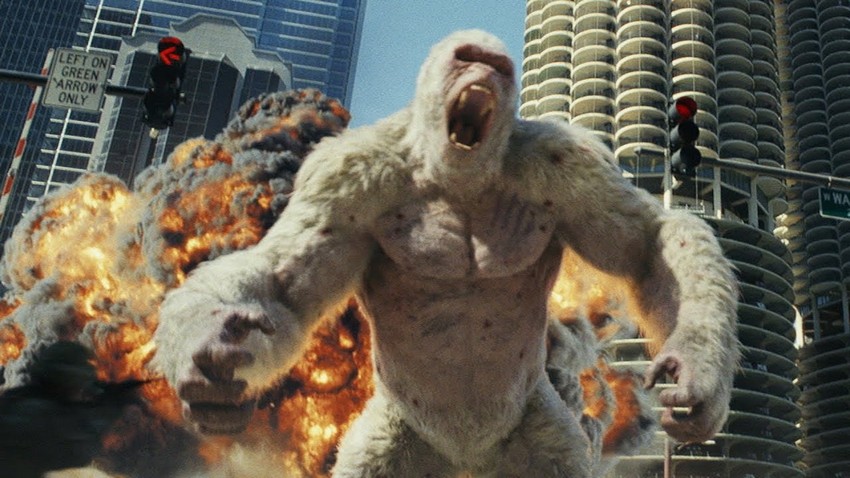 Rampage! I just love saying the word! RAMPAGE! Ahem, apologies, I should get on with this post. We have a RAMPAGE! competition courtesy of Empire Entertainment, and oh my words, I want one of these hampers. For those living in a cave and Trevor, Rampage is the upcoming blockbuster starring Dwayne 'The Rock' Johnson, and it looks like all levels of crazy fun. Here is some more info:
Global icon Dwayne Johnson headlines the action adventure "Rampage," directed by Brad Peyton.

Johnson stars as primatologist Davis Okoye, a man who keeps people at a distance but shares an unshakable bond with George, the extraordinarily intelligent, incredibly rare albino silverback gorilla who has been in his care since he rescued the young orphan from poachers. But a rogue genetic experiment gone awry mutates this gentle ape into a raging creature of enormous size.

To make matters worse, it's soon discovered there are other similarly altered animals. As these newly created alpha predators tear across North America, destroying everything in their path, Okoye teams with discredited geneticist Kate Caldwell (Naomie Harris) to secure an antidote, fighting his way through an ever-changing battlefield, not only to halt a global catastrophe but to save the fearsome creature that was once his friend.

"Rampage" also stars Oscar nominee Naomie Harris ("Moonlight"), Malin Akerman (TV's "Billions"), Jake Lacy (TV's "Girls"), Joe Manganiello (TV's "True Blood"), and Jeffrey Dean Morgan (TV's "The Walking Dead"); as well as P.J. Byrne ("The Wolf of Wall Street"), Marley Shelton (TV's "Rise"), Breanne Hill (TV's "Frontier"), Jack Quaid ("The Hunger Games: Catching Fire"), Matt Gerald (TV's "Daredevil"), Jason Liles ("Death Note"), Demetrius Grosse (TV's "The Brave"), and Will Yun Lee (TV's "Hawaii Five-O").
Rampage is based on the 1986 video game only with graphics that won't give you a headache. Have a look at the awesome goodies we're giving away in THREE hampers:
That is some sweet loot. It's just as well Trevor can't enter, he'd just eat the tower block game pieces. All you need to do is enter your details below and confirm you are living in South Africa.
Error: Contact form not found.
Once again, massive thanks to Empire Entertainment for the goodies!
Rampage is out on 11th April.
Last Updated: April 5, 2018