In wrasslin', there are two kinds of performers in the ring: The honour-bound superstars who fight for gold and glory while upholding a more virtuous style of wrestling, and then there are those superstars who prefer to bend the rules whenever an opportunity presents itself. Playing dirty may not be a novel idea in the WWE, but there was only one man who elevated cheap tricks and even cheaper shots to an art form: Ric Flair.
The 16-time world champion, the dirtiest player in the game and the man known as the Nature Boy who was always stylin' and profilin' when he was in the ring. Or to sum up his career in one word: WOOOOOO! With WWE 2K19 out later this year, 2K Games is celebrating the life and times of the WWE Hall of Famer with a special edition of the game that looks simply stunning. Check it out below: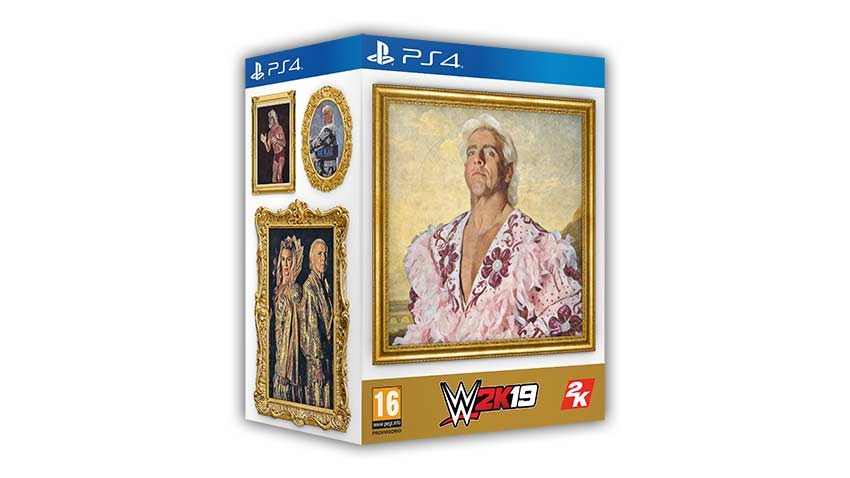 And here's what you get inside of it!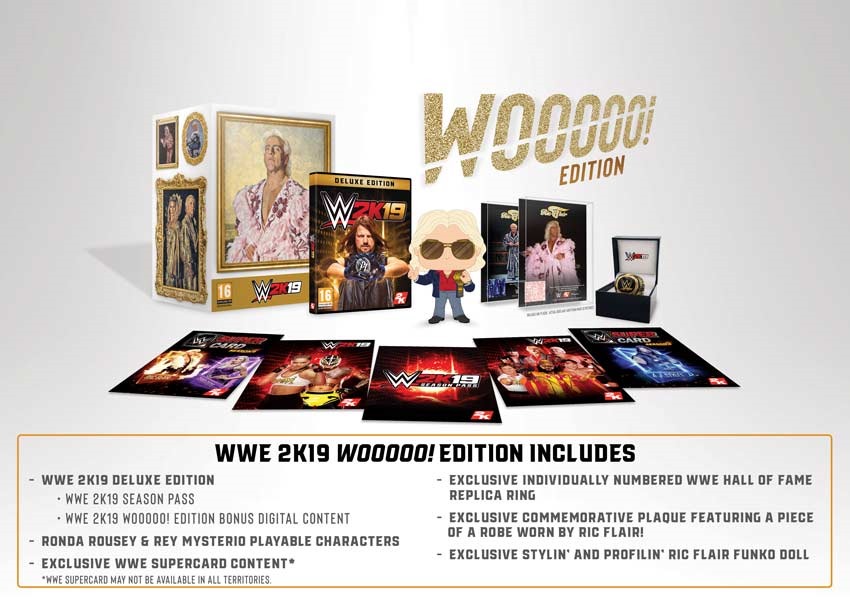 Copy of WWE 2K19 Deluxe Edition
Access to WWE 2K19 Season Pass digital content (details announced this summer);
Exclusive playable WWE Hall of Famers ('80s-inspired): "Rowdy" Roddy Piper, Dusty Rhodes and Ricky "The Dragon" Steamboat;
Exclusive playable characters: "Macho Man" Randy Savage (WrestleMania® VIII) and Undertaker (2002);
Exclusive playable arena: Starrcade 1983;
Exclusive in-game attire: Ric Flair (WrestleMania 24 robe) and Charlotte Flair (WrestleMania 32 robe);
Access to WWE 2K19 pre-order bonus digital content (playable Rey Mysterio "Royal Rumble 2018" character and playable Ronda Rousey "WrestleMania 34/'Rowdy' Roddy Piper-inspired" character);
WWE® SuperCard limited edition cards featuring WWE 2K19 cover Superstar AJ Styles, as well as an AJ-themed WWE 2K19 cardback.
Exclusive premium packaging;
Exclusive and individually numbered WWE Hall of Fame replica ring;
Exclusive "Nature Boy"-inspired Funko Pop! figurine;
Fanatics limited edition commemorative plaque featuring a fabric piece from Ric's iconic pink or purple robe;
WWE SuperCard limited edition cards featuring Ric and Charlotte Flair, as well as a Ric-themed WWE 2K19 cardback.
Sweet Gorrilla Monsoon, that's something. To be fair, outside of the Hall of Fame replica ring I don't actually care for anything else that the box has to offer. That box art though? That's regal stuff. Magnificent, splendiferous even and it makes me want to spend my entire savings on the most ostentatious bathrobe I can find. Which I'll then wear when I deliver a cheap nutshot to Al as he walks into the office.
"Why D, whhhhhyyy," he'll say as I strut around the place and sabotage main event matches. Anyway, WWE 2K19 arrives on October 9 for PS4, Xbox One and PC. Anyone buying the special editions gets to climb into the ring a few days earlier on October 5.
Last Updated: July 26, 2018