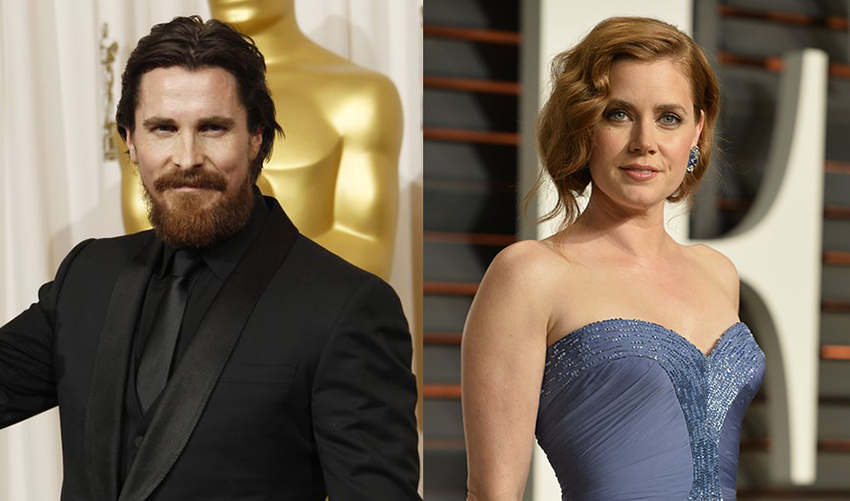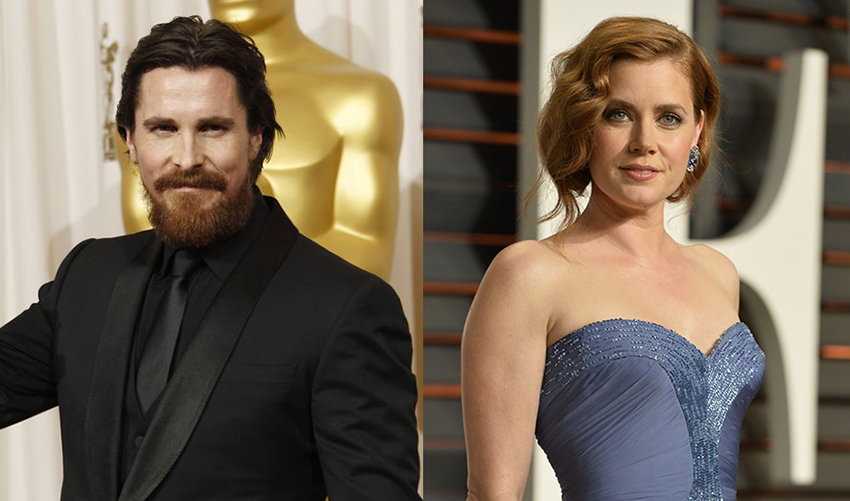 Christian Bale transforming his entire body for a movie role is nothing new. The Oscar-winning method actor famously went from being a walking skeleton (whose ass legitimately fell off and is one of the most horrific things I've ever read about an actor) in The Machinist to looking like a muscle-bound bruiser who could bench press a Batmobile in Batman Begins. He's been pulling off these insane transmogrifications ever since, and so it was nothing too surprising when we heard that he had been "eating a lot of pies" to gain weight so that he could play ex-US Vice President Dick Cheney in writer/director Adam McKay's upcoming still-untitled biopic.
Christian Bale says he's been eating "lots of pies" to look like former VP Dick Cheney for upcoming film #VarietyStudio presented by @att pic.twitter.com/kc6jxINLZZ

— Variety (@Variety) September 12, 2017
However, chubby-ing up through flagrant pastry consumption is one thing, but what Bale has seemingly also done for this role is steal Dick Cheney's soul. That's the only reasonable explanation I can come up with for the actual uncanny transformation that has occurred here, Bale turns himself into a dead ringer for both young and old Cheney. And it looks like he's not alone, as co-star Amy Adams, who will be playing Cheney's wife Lynne, has also been working up some voodoo (or pie eating?) based on the first set pics that have made it into the public (via Pajiba):
Hands down gonna be Christian Bale's best superhero movie pic.twitter.com/Ogtf0QPv76

— Comfortably Smug (@ComfortablySmug) October 14, 2017
That's Christian Bale, not the real Dick Cheney in this photo https://t.co/5mDJeP0W0F pic.twitter.com/HkAGzsnyHG

— Comfortably Smug (@ComfortablySmug) October 19, 2017
I still can't believe this is CHRISTIAN BALE! #DICKCHENEY ?????? pic.twitter.com/86sqPwqcyq

— RAGNAROK (@_RAGNAROK307) October 20, 2017
Look What We Made Amy Adams Do pic.twitter.com/N0oNIWXQQY

— Amy Adams's Oscar ? (@prasejeebus) October 20, 2017
Well, damn. That is impressive. And for the sake of comparison, here's a pic of former Secretary of Defense Donald Rumsfeld and former US President George W. Bush standing alongside the real Dick Cheney. Or is that Christian Bale? It's hard to tell.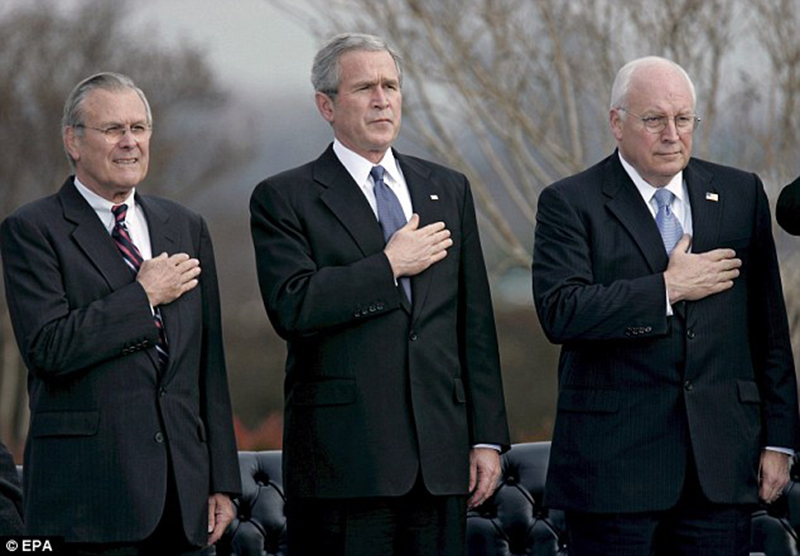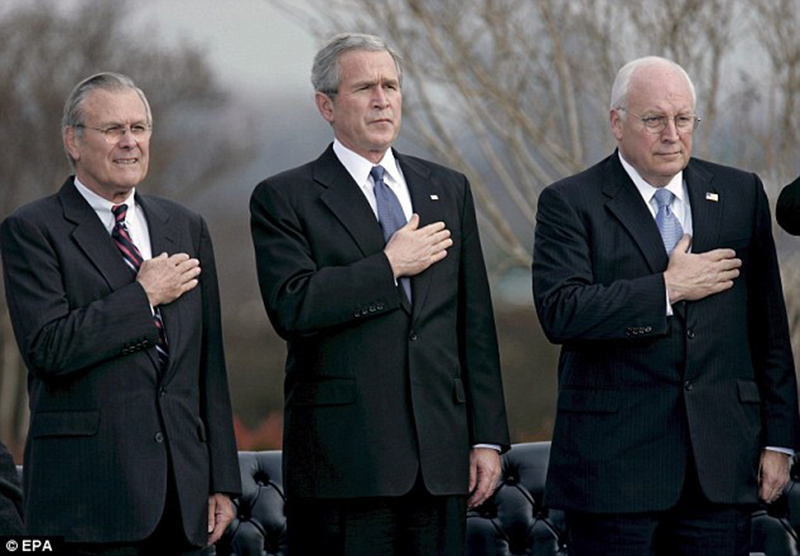 Bale and Adams have previously starred together in The Fighter and American Hustle, both movies requiring transformation on their part. Of course Bale was on the more extreme end of the scale as he had to lose around 30kgs for the first film and gain approximately 20kgs for the second, whereas Adams essentially had to get all frumpy and 80s disco-tastic respectively for her respective roles. This time around though she's seemingly right there with him putting her body on the line.
As for the film itself, this is definitely a hotly anticipated one. After starting his career as SNL lead writer and making a string of goofball comedies with Will Ferrell in Anchorman, Talladega Nights and Step Brothers, McKay decided to dig into his passion for politics and economics to give us The Big Short. The jaw-dropping political black comedy (which also starred Bale) about the infamous US housing bubble collapse of the mid-2000s was a masterwork of tonal balance and earned McKay an Oscar for Best Adapted Screenplay (and was easily my best film of 2015).
Cheney's tale is an immensely intriguing one, with McKay's film said to cover "the story of him avoiding military [service] in the Vietnam War, his rise to CEO of the multinational corporation Halliburton, to finally becoming what some have called as the most powerful vice president ever to hold that office". That sounds right up McKay's alley, as the filmmaker previously explained:
I've always found Cheney fascinating. Questions of what drove him, what his beliefs were; but once we started digging I was astounded at how much he had shaped modern America's place in the world and how shocking the methods were by which he gained his power.
Besides for Bale and Adams, to tell this story McKay has rounded up one hell of a cast: Sam Rockwell as George W. Bush, Steve Carrell as Donald Rumsfeld, Tyler Perry as former Secretary of State Colin Powell, Allison Pill as Dick and Lynne's daughter Mary Cheney, and Bill Pullman as former New York Governor/Vice President/frequent Presidential hopeful Nelson Rockefeller. McKay has not yet revealed a release date for the film which has just started production, but this is easily going to be one of the highlights on the 2018 movie calendar and more than likely a huge awards contender.
Last Updated: October 23, 2017