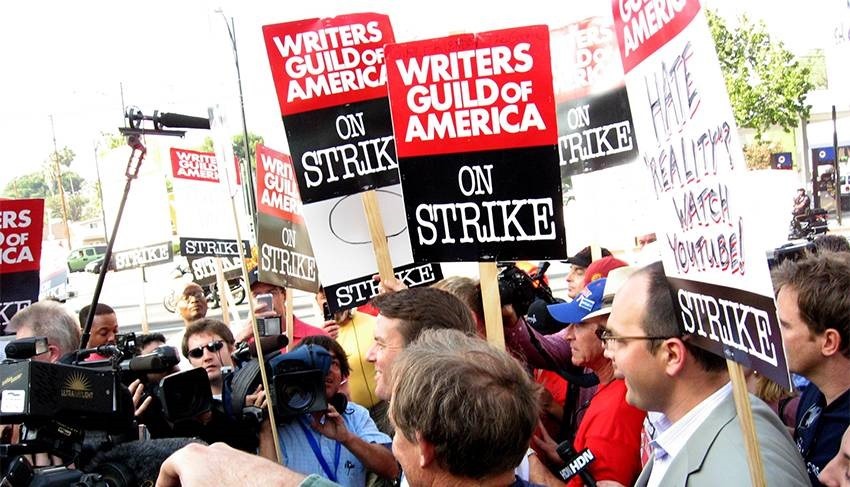 Perhaps you remember the Writer's Guild of America strike of 2007 and 2008. For 100 days, many of the writers behind the shows you love put down their proverbial pens and fought for better wages. The result – at least as far as the entertainment you consume is concerned – is that many shows and films were rushed to production without fully realised scripts – as we saw with the second Transformers, and the second season of Heroes, which ended up being a miserable pile of guff.
It looks like it'll be happening again. The Writers Guild of America (WGA) has once again voted to authorise a strike. A whopping 96% of tallied votes opted to authorise a strike. 6,310 ballots were cast, from a total of 67.5 percent of eligible WGA members. Should the Alliance of Motion Picture and Television Producers not head back for negotiations, writers across America will down tools from May 2, after the current contract expires.
Says the AMPTA:
"The Companies are committed to reaching a deal at the bargaining table that keeps the industry working. The 2007 Writers Strike hurt everyone. Writers lost more than $287 million in compensation that was never recovered, deals were cancelled, and many writers took out strike loans to make ends meet. We remain focused on our objective of reaching a deal with the WGA at the bargaining table when the Guild returns on April 25th."
There are two primary reasons for the impending strike, according to the WGA.
The first, they say, is that studio profits – especially those from TV – have been increasing steadily, but writer compensation has been inversely proportional, actually dropping significantly. The other relates to WGA pension and health care plans, which seem to be on the verge of collapse.
The strike would likely have far reaching consequences on your favourite shows, which would either ended up being rushed to completion or binned. The last strike saw a rise in unscripted reality TV, and lower viewership. This had a snowball effect on ad sales, which meant less funding for new shows.
There's a fantastic breakdown of how it could affect the things you watch at Vox.
Last Updated: April 25, 2017