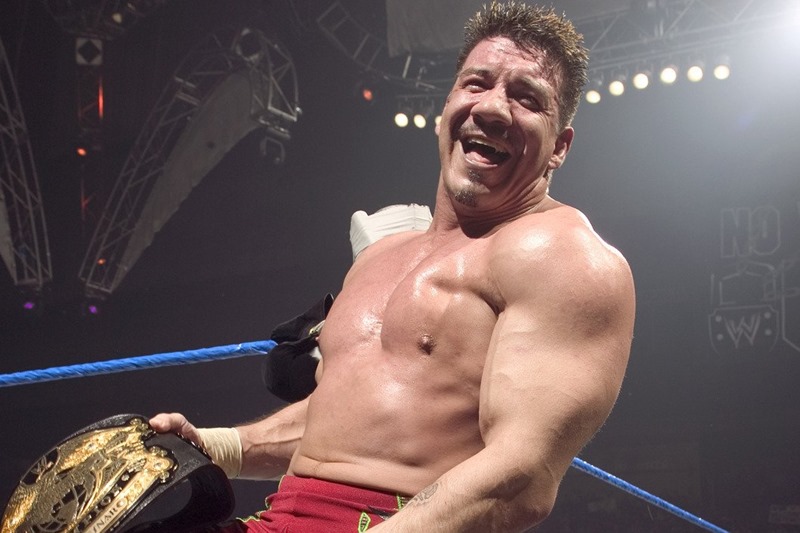 DLC and video games are about as inseparable as that odd growth that I have on my face lately that I have named Pustulio, so naturally WWE 2K17 was going to have a season pass because of course it was. Last year's WWE 2K16 was a bit of a bastard with the stuff last year. Sure, a few exclusive superstars and a hot shortcut to rank up quick were part of the package that sounded acceptable on paper, but selling actual in-ring moves to fans felt like a poor move to make.
It's an idea that 2K hasn't given up on however, as the upcoming season pass for WWE 2K17 will of course also feature some offense that isn't available in the base game. That's a bit of a slap in the face, even if the game is perfectly playable without the option of giving your custom superstar the chance to lock a TJP Clutch on the opposition.
Anyway, here's what the $29.99 season pass gets you along with the individual prices for this content. Spoiler: There'll be at least one superstar in the Legends pack who is a master at lying, cheating and stealing:
WWE 2K17 DLC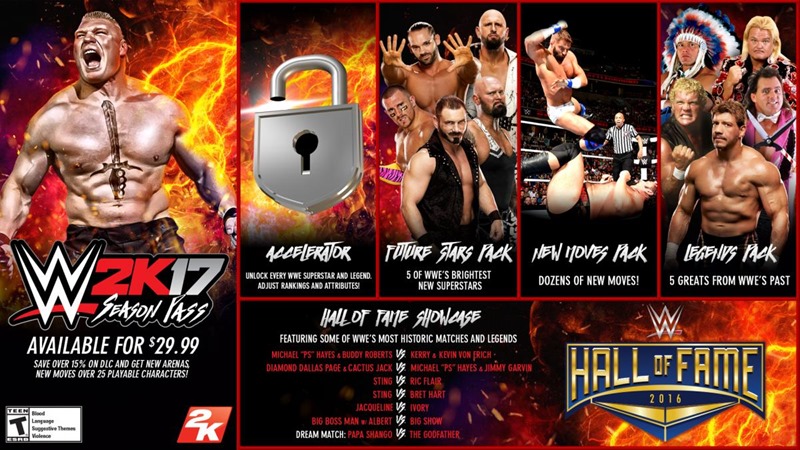 The Accelerator, available for a suggested price of $4.99, gives players instant access to all content within WWE 2K17's VC purchasable section (excluding DLC), plus control over rankings and attributes for all playable in-game characters.
The Future Stars Pack, available for a suggested price of $8.99, adds Austin Aries, Karl Anderson, Luke Gallows, Mojo Rawley and Tye Dillinger to the playable roster.
The Hall of Fame Showcase, available for a suggested price of $9.99, allows players to recreate iconic battles from WWE history in their storied settings, including:

Cactus Jack & Diamond Dallas Page vs. The Fabulous Freebirds (Jimmy Garvin & Michael "P.S." Hayes) (WCW Saturday Night 1992)
The Fabulous Freebirds (Buddy Roberts & Michael "P.S." Hayes) vs. Kerry & Kevin Von Erich (WCCW 1986)
Ivory vs. Jacqueline (SmackDown 2000)
Sting (gold and black tights) vs. Ric Flair (Clash of Champions 1988)
Sting (n.W.o. Wolfpac ring gear) vs. Bret Hart (WCW Halloween Havoc 1998)
Papa Shango vs. The Godfather (Dream Match)
Big Boss Man (with Albert) vs. Big Show (Armageddon 1999)

The Legends Pack, available for a suggested price of $8.99, boosts the playable roster with a collection of WWE Legends, including Brutus "The Barber" Beefcake, Eddie Guerrero, Greg "The Hammer" Valentine, Sycho Sid, and Tatanka.
MyPlayer Kick Start, available exclusively for PlayStation 4 and Xbox One for a suggested price of $9.99, gives players control over their created Superstar's rankings and immediate access to all clothing which provides attribute boosts in MyCareer mode.
The New Moves Pack, available for a suggested price of $3.99, provides a new set of maneuvers for players to add to their virtual arsenals in WWE 2K17, including the Swingout Neckbreaker (made popular by current WWE Raw Women's Champion Charlotte), the Elbro Drop (made popular by Zack Ryder), the Face Wash Combo (made popular by Samoa Joe) and the TJP Clutch (made popular by current WWE Cruiserweight Champion T.J. Perkins).
The NXT Enhancement Pack, available to PlayStation 4 and Xbox One players for a suggested price of $9.99, gives players access to Apollo Crews, Nia Jax and Shinsuke Nakamura as playable characters, and 50 percent more points at the NXT level in MyCareer. PlayStation 3 and Xbox 360 gamers can still gain access to this trio of NXT Superstars by obtaining the NXT Legacy Pack, which will be available for a suggested price of $4.99.
Now at least one of those feuds above was legendary for the absolute insanity that preceded it. Big Boss Man vs Big Show? That was a match that was pre-faced by the cop-themed wrassler literally stealing a coffin that housed the corpse of the Big Show's recently departed father, in a manner that was usually reserved for a Looney Tunes episode. No seriously, check this out:
Ah wrasslin'. WWE 2K17 is out on October 11, just in time for the world to meet Mr Revengeance's tag team partner, The Walking Dad Joke. Who may or may not be based on Geoff.
Last Updated: September 23, 2016