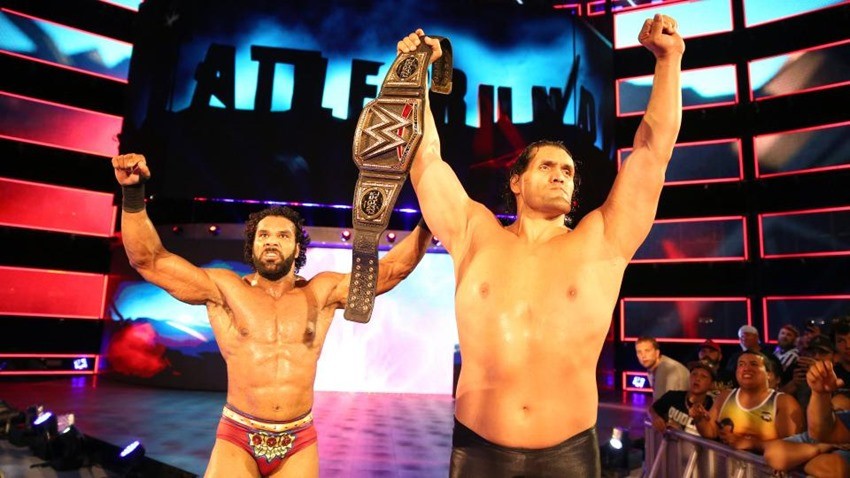 BATTLE! If you ever wanted to settle your beef with somebody, forget court: Grab a steel chair and bash away in a WWE ring I always say. Which also explains why I'm in jail for resolving my issue with the neighbour's Maltese poodle crapping on my lawn by elbow dropping it from the top of a ladder. Heinous animal abuse of the most hated breed of animal in existence, WWE kicked off its Battleground pay-per-view last night.
It was a night of many titles changing hands, as challengers stepped up the plate and sent a clear message to the champs in charge. Here's a quick rundown of what happened:
Sami Zayn def. Mike Kanellis
John Cena def. Rusev (Flag Match)
The New Day def. The Usos to become the new SmackDown Tag Team Champions
Shinsuke Nakamura def. Baron Corbin via Disqualification
Kevin Owens def. AJ Styles to become the new United States Champion
Natalya won a Fatal 5-Way Elimination Match to earn the right to challenge SmackDown Women's Champion Naomi at SummerSlam
Aiden English def. Tye Dillinger (Kickoff Match)
WWE Champion Jinder Mahal def. Randy Orton (Punjabi Prison Match)
John Cena's return to the ring was one of triumph, as his flag match against Rusev ended on the most patrio-tastic of notes. The two shaved years off of each other, With Rusev even putting Cena to sleep with an Accolade. Down but not out, Cena woke up in time to battle back against Rusev and plant the stars and stripes in the pedestal where it needed to be as a broken Rusev watched on.
Yup, Jinder Mahal ain't going nowhere. The modern-day Maharaja looked to be on the ropes at one stage, as Randy Orton was this close to escaping the Punjabi prison and claiming the WWE Championship. SUPRISE! The Great Khali lumbered out of nowhere (ironic I know) to give Mahal a hand and shake Orton off the structure.
With a little extra help from the Singh Bros., Mahal battled past Orton and eventually made it out of the demonic jail as Khali's massive hand enclosed around Orton's neck like a giant vice, refusing to let go. Looks like Mahal's following just got a HUGE addition.
Last Updated: July 24, 2017