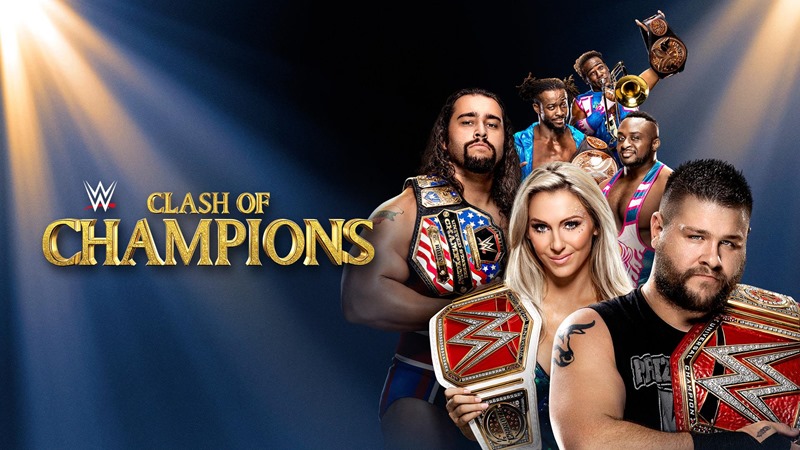 WWE Clash of Champions was held at the Bankers Life Fieldhouse in Indianapolis, and featured every RAW title on the line. Here's all the action that went down.
The New Day  defeated Luke Gallows and Karl Anderson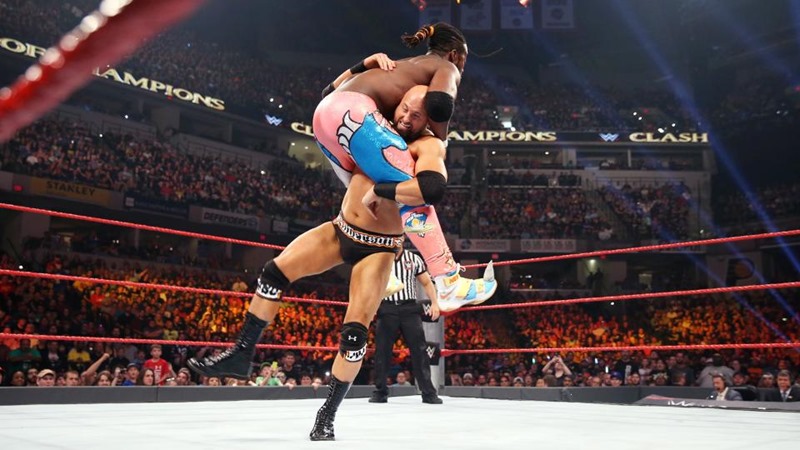 After a quick promo, it was time for The New Day to defend their Tag Team titles as Big E and Kofi Kingston clashed with the Club. Gallows and Anderson kept the momentum running before the match even began, with big boots at ringside and running powerbombs inside the ring that had The New Day seeing stars. Eventually managing a hot tag to Big E, belly to belly suplexes helped even the odds as this fight went on.
With Gallows knocked out thanks to a combination of a Suicide Dive from  Kofi, fists from Big E and a sneaky trombone smash from Xavier Woods, Anderson fell victim to the Midnight Hour as The New Day retained their championship for a record 400th day.
 TJ Perkins defeated Brian Kendrick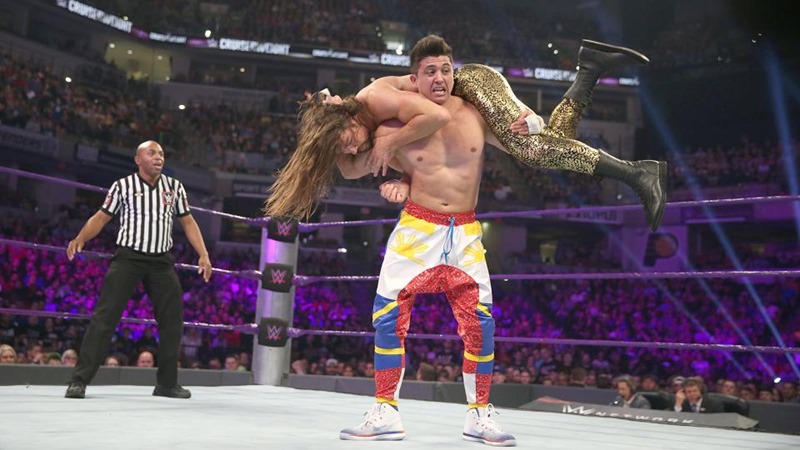 The Cruiserweights are back! Kendrick was playing the heel for this bout at Clash of Champions, as he went back and forth with TJ Perkins in the opening moments of the match. Both men had some phenomenal moves in store: Perkins with a neckbreaker, atomic backbreaker and a leaping Hurricanrana that Kendrick matched with Sliced Bread, Hooks and knee bars.
Perkins would leave Clash of Champions with the Cruiserweight title however, using a knee bar of his own to win the match. Apparently a good sportsman, Kendrick went in for a handshake afterwards but then decided to leave Perkins decked out on the mat with a headbutt.
 Cesaro vs. Sheamus ended in a No Contest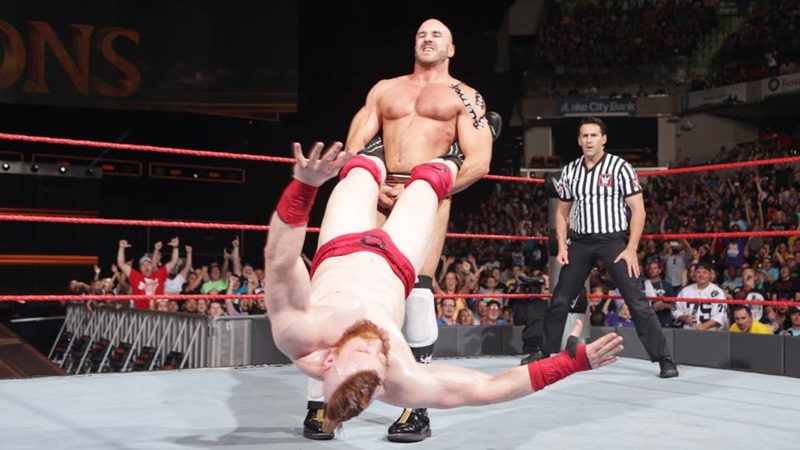 The final match in the best of seven series between Cesaro and Sheamus, finally. If you've been following these two on RAW, then their finale at Clash of Champions was no different from previous encounters. Big boots, slams and Swiss uppercuts aplenty. Still a helluva match, Sheamus and Cesaro took a gruelling bout outside of the ring as the ref decided to call the match off, resulting in officials separating the two while the crowd chanted for blood.
Chris Jericho defeated Sami Zayn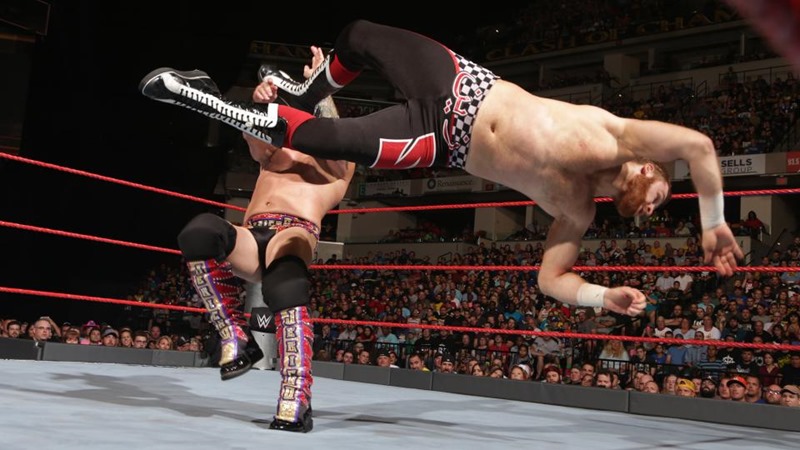 At Clash of Champions, it was finally time to drink in the gift of Jericho, maaaaaaaaaan. Zayn and Jericho went at it right from the start, matching moves and momentum. Jericho struck with flying back elbows off the top rope, vertical suplexes and some general abuse, while Zayn countered with suicide dives, Michinoku Drivers and a tornado DDT.
Both men were on fire last night, and it looked like Zayn would walk away with a victory after he worked his way out of the Walls of Jericho and delivered a Blue Thunder Bomb. That only resulted in a near-fall however, as Jericho quickly countered a second BTB into a Codebreaker for the win.
Charlotte defeated Sasha Banks and Bayley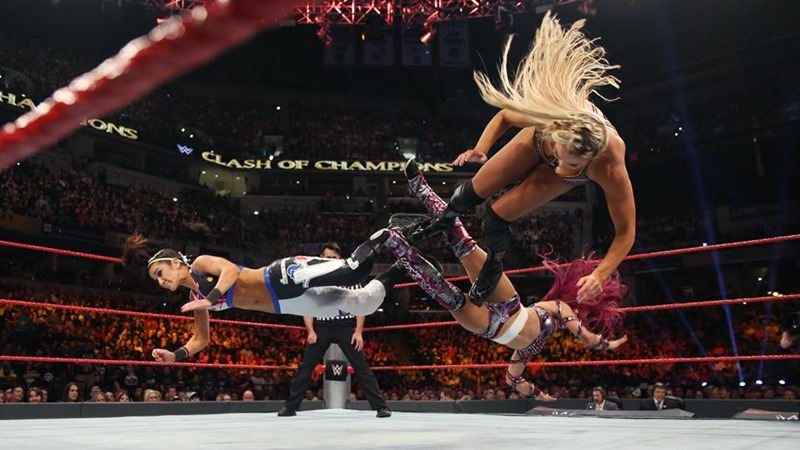 Charlotte had some stiff competition last night at Clash of Champions, with Sasha Banks and Bayley out for her gold. It was a brutal match, as Sasha and Bayley dropped some big offense on Charlotte, but it wasn't long before regular cohort Dana Brooke helped even the odds. A big boot to Bayley from Charlotte later in the match saw the hug-master collide into Sasha Banks and send her out of the ring, an opportunity that Charlotte quickly exploited with a second big boot and a pin to retain her gold.
Roman Reigns defeated Rusev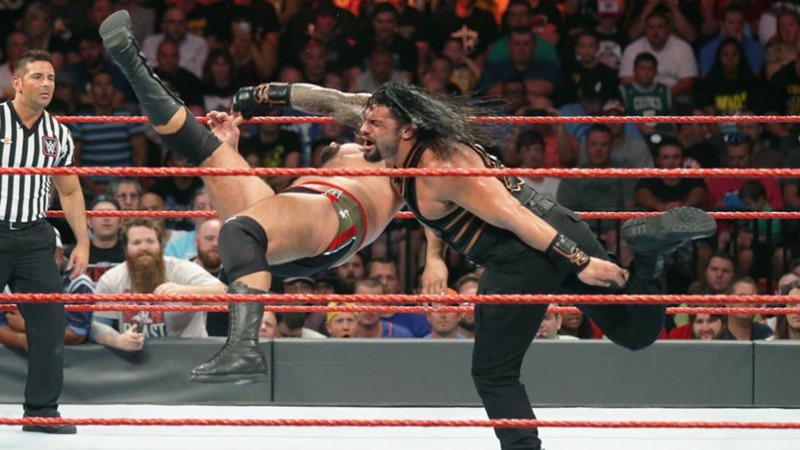 Reigns and Rusev have been at each other's throats for weeks now, but the time had finally come to settle the score with the United States Championship on the line at Clash of Champions. And if you were expecting this match to be purely brutal, then you were in for a treat last night. Reigns opened the match with an assault that took Rusev out of the ring twice, while the Bulgarian Brute attacked with big right hands and clotheslines.
Reigns would reply with his own clotheslines and a Superman Punch, but Rusev wasn't going down without a fight as he delivered a massive amount of punishment in return. Towards the end, it appeared as if Rusev would retain when he finally got Reigns in the Accolad, but Reigns managed to break the hold and spear Rusev. One-two-three and Clash of Champions saw the US title change hands as Reigns soaked up some fan appreciation.
Kevin Owens defeated Seth Rollins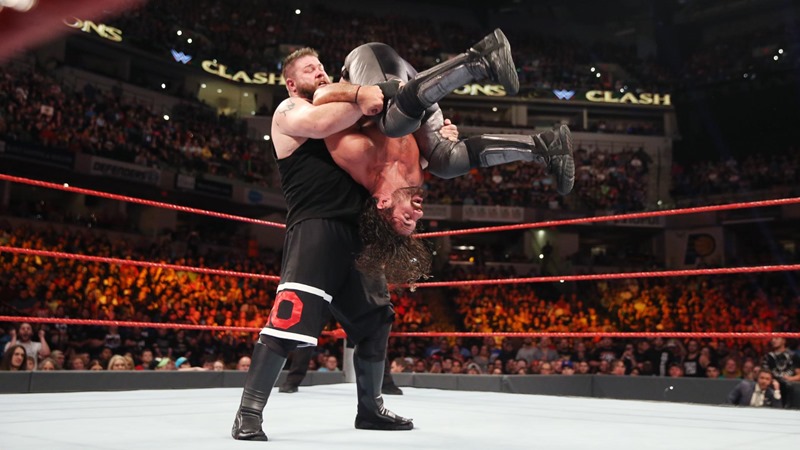 And it was time for the main event at Clash of Champions. WWE Universal Champion Kevin Owens taking on Seth Rollins in a one on one match. Owens was in peak heel mode, using every trick in his arsenal to avoid Rollins, but the Architect was already well-versed in his techniques and hounded him at every corner. Finally fighting, both men were throwing chops, slams and kicks as they began tearing each other apart.
It was a truly physical match, as Rolins was grounded with elbow drops, Senton Bombs and superkicks. Rollins received even more abuse later on in the match, as he met the Spanish announce table via the Senton Bomb delivery method. Somehow surviving all of the abuse, Rollins looked like he'd be crowned champ again when he locked Owens into the Pedigree, but some earlier inteference from Chris Jericho had resulted in the ref being knocked out.
Jericho would resume his attack, but Rollins would dispose of him long enough for him to walk back into a Pop-Up Powerbomb, just in time for a new ref to hit the ring and deliver the fatal three-count. And that's how Clash of Champions ended, as Owens narrowly retained the WWE Universal Championship.
Last Updated: September 26, 2016