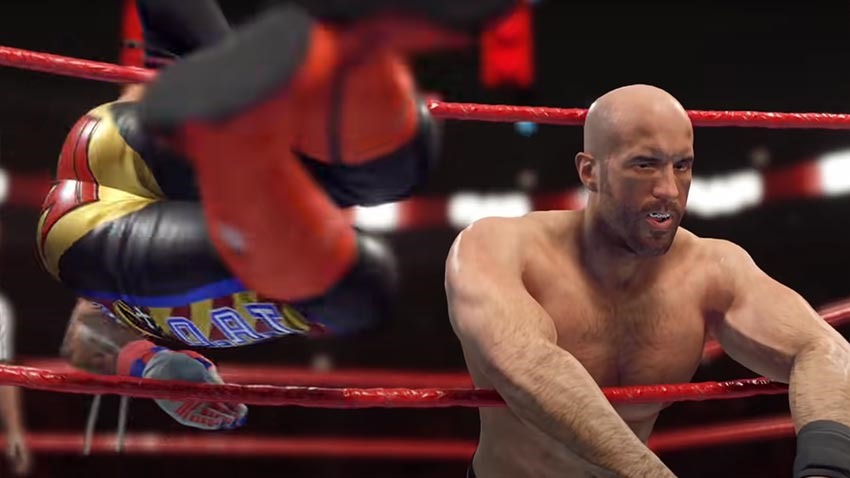 Just like most events last year, a new entry in the annual WWE franchise of no holds barred wrasslin' was pretty much cancelled. This wasn't due to the ongoing pandemic though, but it came about from WWE 2K20 being such a godawful mess on release in 2019 that even 2K Games had to take notice instead of counting its piles of money for once.
This year is different though, and at the showcase of the immortals that was Wrestlemania 37 on the weekend, a whopping 22 second-long trailer was shown off of WWE 2K22 in action. Technically, half the trailer was Rey Mysterio flexing his muscles, the other half was a digital recreation of the master of the 619 introducing his favourite San Diego postal code to Cesaro's face. Check it our below:
Well that looks…okay I guess? At this point, new graphical bells and whistles are secondary to the features that fans want in the latest installment of the long-running series. The wishlist is currently filled with requests for features that should be standard in video games: A polished experience, a gameplay experience that is fun, and a career mode that doesn't make me cringe so hard that I tear my actual face off my skull in extreme grimacing action. All elements that WWE 2K20 had none of.
Granted a number of patches did improve greatly on the game, but by the time they were implemented, it was too late. The damage had been done and 2K Games probably told its developer Visual Concepts just how disappointed it was in the game's shoddy hit detection and piss-poor MyCareer mode writing. "You're not even half the developer that Yukes was when it worked for us. You're less than half the half that got sawed in half during a botched Kane entrance when we stole all of AEW's deathmatch fireworks, Visual Concepts."
Last year did have a WWE presence in the video game wrestling ring, in the form of WWE 2K Battlegrounds. The best thing about that game is that it wasn't WWE 2K20, and while the action was cheap, at least Saber Interactive's product was a competent cartoony brawler. 2K says that more details of WWE 2K22 will be shared in the run-up to its final release, which hasn't yet received a proper date.
Last Updated: April 12, 2021