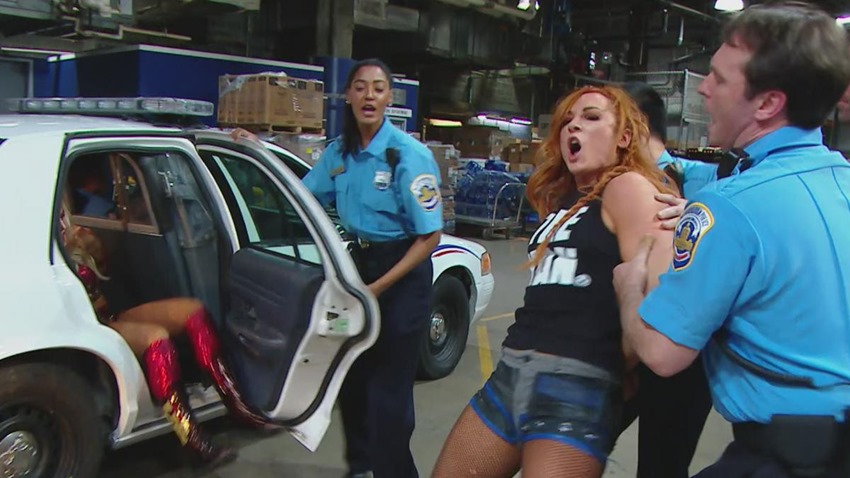 WWE Monday Night RAW took place from the Capital One Arena in Washington, DC. Here's all the action that went down in the go-home show to Wrestlemania 35.
Stephanie McMahon announced the WrestleMania main event would now be Winner Takes All
Things just got complicated! With both the Smackdown LIVE and RAW Woman's champions fighting in the Wrestlemania main event, Stephanie McMahon decided to un-complicate things: Whoever won the match wouldn't just get one title, they'd get all of them as Wrestlemania's final bout would see the WWE's first undisputed women's champion crowned.
Seth Rollins confronted Universal Champion Brock Lesnar
Roman Reigns. Braun Strowman. Finn Balor. Over the last couple f months, WWE Universal Champion Brock Lesnar has bulldozed through the best that the WWE has to offer, but Seth Rollins reckons that he might have what it takes to slay the beast. The ace up his sleeve? The dreaded Stomp, as Rollins took on Lesnar and left him battered in the ring in a rare display of power where the Beast Incarnate was on the receiving end for once.
WWE Women's Tag Team Champions The Boss 'N' Hug Connection, Beth Phoenix and Natalya def. Nia Jax, Tamina and The IIconics
Batista gave his final remarks before his No Holds Barred Match with Triple H
Well, Batista got what he wanted: A Wrestlemania match against Triple H, that could see the King of Kings retire for good from in-ring competition if the animal emerges victorious. Does Batista have what it takes to put down the Game for good? According to a highlight reel that Batista played for the audience, his history of victories over Triple H might notch another win at Wrestlemania.
Apollo Crews def. Jinder Mahal
Raw Tag Team Champions The Revival def. Aleister Black and Ricochet via Count-out
Drew McIntyre attacked Roman Reigns
Roman Reigns may be ready for the singles scene once again, but Drew McIntyre hasn't just been a constant thorn in his side: He has been a dangerous adversary, one who has knocked Reigns down repeatedly and done so with gusto. Ahead of their fight at Wrestlemania, McIntyre decided to ambush Reigns yet again, leaving the big dog battered and bruised in the backstage area.
Raw Women's Champion Ronda Rousey, SmackDown Women's Champion Charlotte Flair and Becky Lynch all got arrested
Huh. While Raw Women's Champion Ronda Rousey, SmackDown Women's Champion Charlotte Flair and Becky Lynch managed to co-exist during a six-woman tag team match, all civility was thrown out of the window the second that the trio emerged triumphant. Chaos ensued, the cops were called in to contain the situation and at least one police vehicle was badly damaged when Rousey and Flair got into a tussle in the backseat.
Wrestlemania's main event is heating up and ready to explode.
Heavy Machinery def. Bobby Roode and Chad Gable
Braun Strowman def. "Colin Jost" and "Michael Che"
Headline: Massively burly RAW superstar takes two local talents, forces them to adopt the personas of SNL comedians and then promptly buries them as a warm-up for the real deal. Well alright then.
"The Demon" Finn Bálor confronted Intercontinental Champion Bobby Lashley
Bobby Lashley may have pushed Finn Balor too far, as the Irishman is going all out for his chance at reclaiming the Intercontinental championship. Only this time, it's not Balor who'll be facing Lashley. It'll be his inner demon, who made a rare appearance last night on RAW. The forecast? Pain, destruction and defeat for Lashley.
Baron Corbin def. Rey Mysterio
The real story here isn't Baron Corbin's successful defeat of Rey Mysterio when he took advantage of the high-flyer's bad knee. Rather, it's the story of Kurt Angle's final RAW appearance ahead of his farewell match at Wrestlemania against the lone wolf. Angle ended his run on RAW in much the same way that it began: With an opponent on the floor, their ankle in his hands and a lock that had his foe screaming in pain as the Olympic hero prepared for one final match to prove just how damn frickin' good he really was, is and always will be.
Last Updated: April 2, 2019