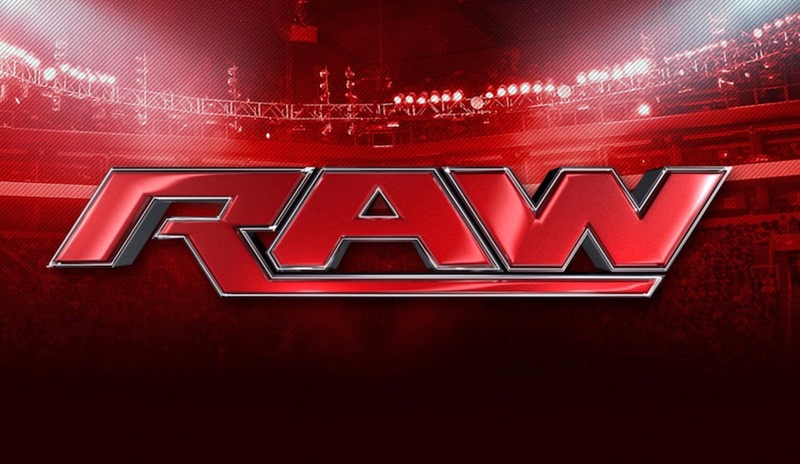 WWE Monday Night RAW took place at the Philips Arena in Atlanta. Here's all the action that went down last night.
Opening segment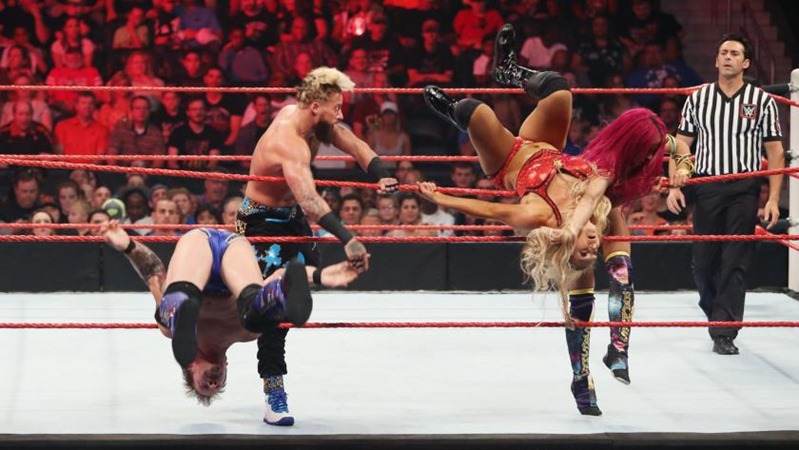 New WWE Women's Champion Sasha Banks is in the ring to kick off RAW, and she's gloating about how she'll be defending her championship and keeping it after Summerslam. Charlotte decided to interrupt at this point, making her way down to the ring without regular cohort Dana Brooke by her side so that she could make a point about being able to defeat Banks in a one on one match at Summerslam.
While the two bickered on and on, Chris Jericho decided to interrupt as well, demanding that everyone be quiet as he referred to Banks as a punk with no respect and claiming that Charlotte had long since surpassed the legacy of her father Ric Flair. Enzo Amore decided to hit the ring as well, Jericho began losing his cool and then RAW general manager Mick Foley appeared to announce a mixed-gender tag team match featuring the four superstars as the first match of the night.
Chris Jericho and Charlotte defeated Enzo Amore and Sasha Banks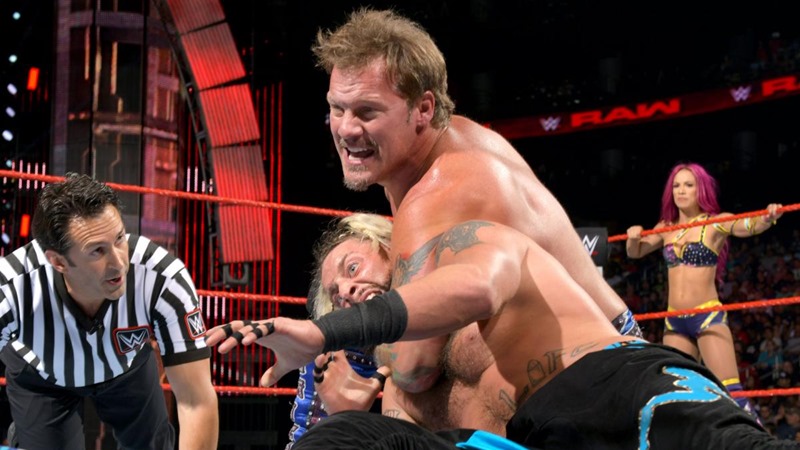 Kevin Owens joined the commentary team for this bout, because only Vince knows why. Jericho and Amore were first in the ring, whipping each other around with some back and forth action until the ladies were tagged in. Sasha Banks landed some big offense, teaming up with Enzo to launch a pair of suicide dives on their competition. Back in the ring, Enzo landed a cross-body splash and a neckbreaker to earn a two-count.
Jericho bounced back at this point, locking in the Walls of Jericho and a dropkick for another near-fall. The ladies returned to the ring, with Jericho distracting Sasha long enough for Charlotte to land Natural Selection on her and pick up the win. With the bell rung, Jericho locked a Codebreaker onto Enzo, with Big Cass appearing to save his tag team partner.
Braun Strowman defeated Evan Anderholm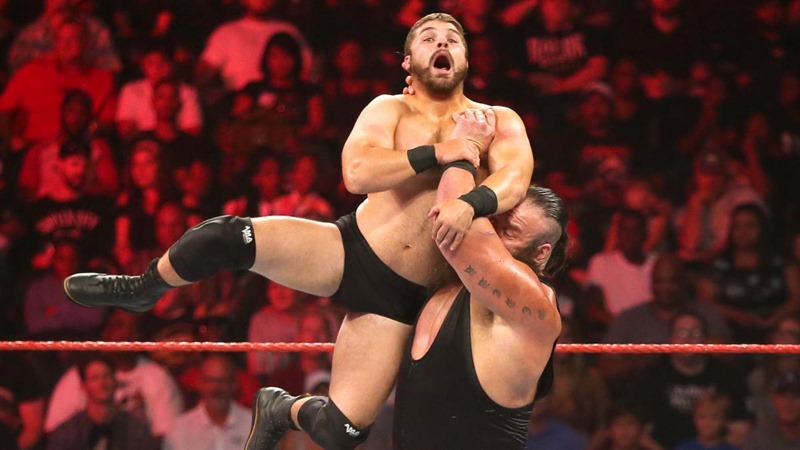 Another quick squash match for Strowman, who demolished Anderholm completely. But hey, at least Anderholm got paid!
Shining Stars defeated the Golden Truth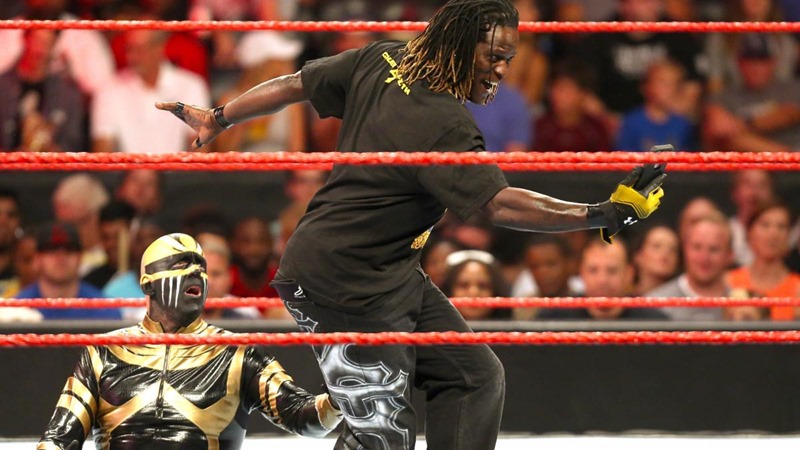 Still obsessed with Pokemon Go, R-Truth and Goldust made their way to the RAW ring and got annihilated by the Shining Stars as R-Truth's addiction to catching pocket monsters led to Primo rolling up Goldust for a win.
Finn Balor is in the ring
And Michael Cole is interviewing him. Not for long however, as Seth Rollins interrupted so that he could take over the interview. Rollins claimed that everything Balor did, he did it first and better. Balor said that he'll be leaving Summerslam as the winner, leading to the two to engage in some fisticuffs that resulted in Balor sending Rollins back up the RAW ramp in full retreat.
Rusev defeated Mark Henry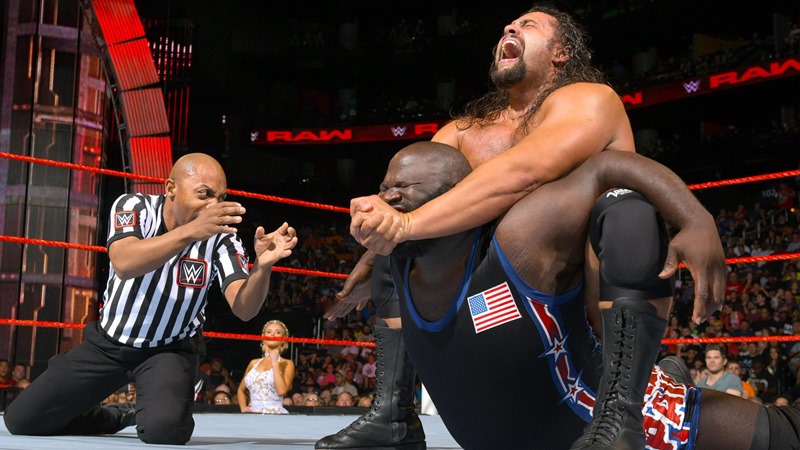 In a RAW match for the US championship, Rusev took out a returning Mark Henry to retain his title. Despite some big offense from the big men, a superkick to the back of Mark Henry's head and an Accolade on top of that was enough to put Henry down for the night. And then things got even worse when Rusev decided to cut a promo, detailing how the only way that America can win at the Olympic games is when they rig the event, and not just because they usually send in a small army of athletes that outnumber every other nation present there.
Roman Reigns decided to interrupt at this point, attacking Rusev and sending him scurrying back up the ramp as he stood in the RAW ring.
Titus O'Neil defeated Darren Young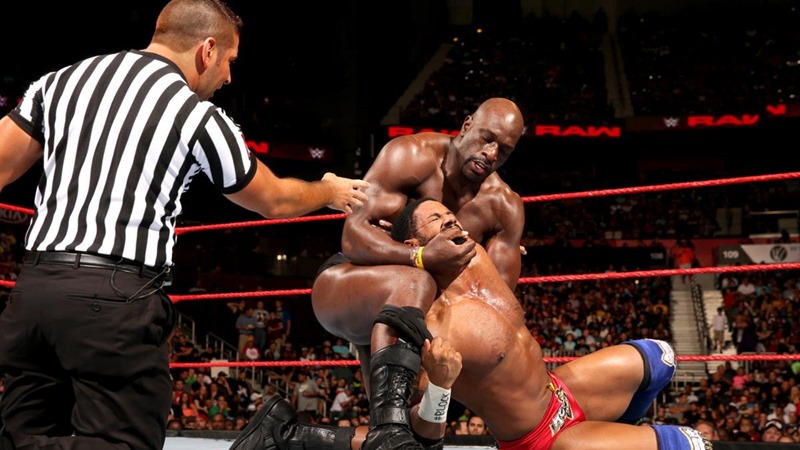 A solid match between the two, but one that ended in controversy as Titus escaped a Gut Check to roll up Young by the tights and get the three-count.
Nia Jax defeated Ariel Monroe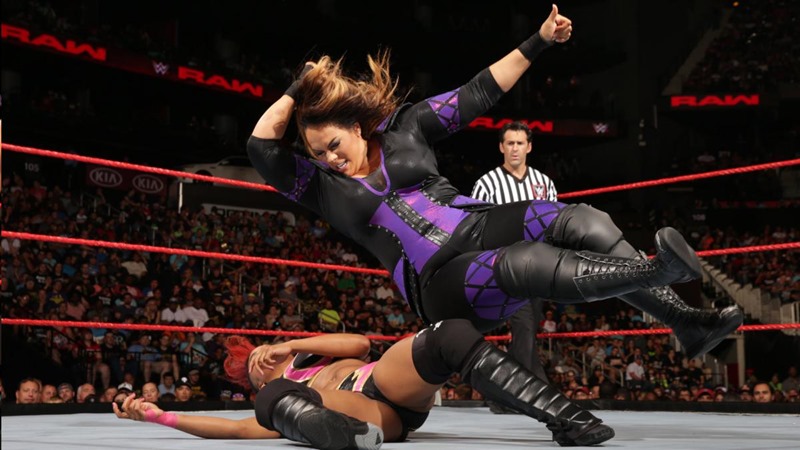 In a RAW squash match (SQUASH), Nia Jax wrecked Ariel Monroe with a Death Valley Driver to finish off a very short match.
Big E and Kofi Kingston defeated Anderson and Gallows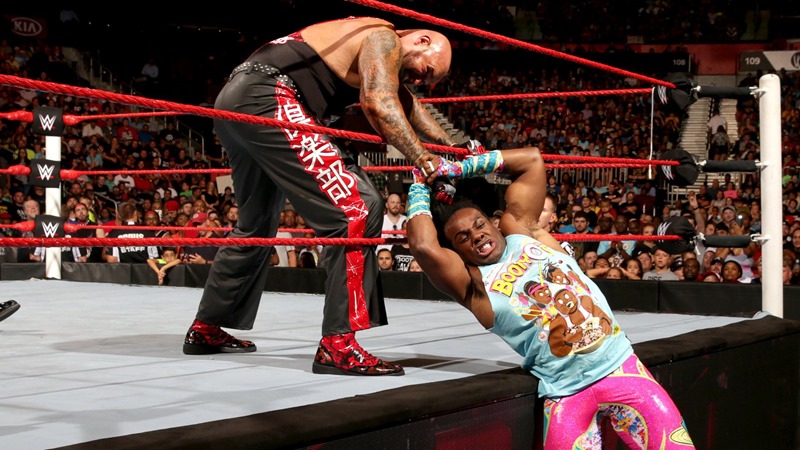 With Xavier Woods banned from ringside, Big E kicked off this match with a belly to belly suplex, but Anderson and Gallows would soon get the upper hand. The match momentum shifted again however, as Big E rolled up Anderson from behind long enough for the referee to count to three. Clearly not happy, the Club decided to blindside their competition, beating down Big E and the rest of the New Day.
Cesaro defeated Sheamus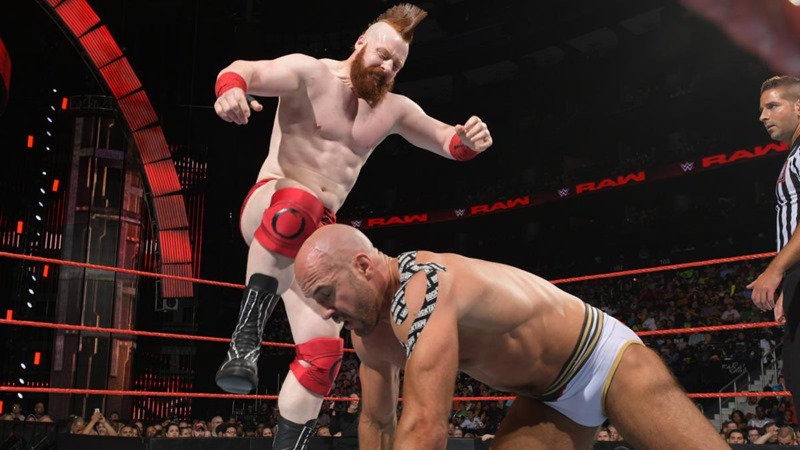 The two superstars went back and forth, landing European uppercuts, cannonballs and shoulderblocks on one another. But it was Cesaro who got the RAW victory, as he reversed a backbreaker into a Neutralizer to take out Sheamus for good that night.
Heath Slater still wants a spot on the RAW roster
And he's brought Jinder Mahal with him to make a point, I guess. RAW general manager Mick Foley had another idea, saying that the two could wrestle each other right then and there, with the winner getting a spot on the roster. Before Slater could even plead his case to avoid breaking up the band, Mahal had landed a big boot on him and got the three-count to a contract for Monday Night action.
Seth Rollins defeated Sami Zayn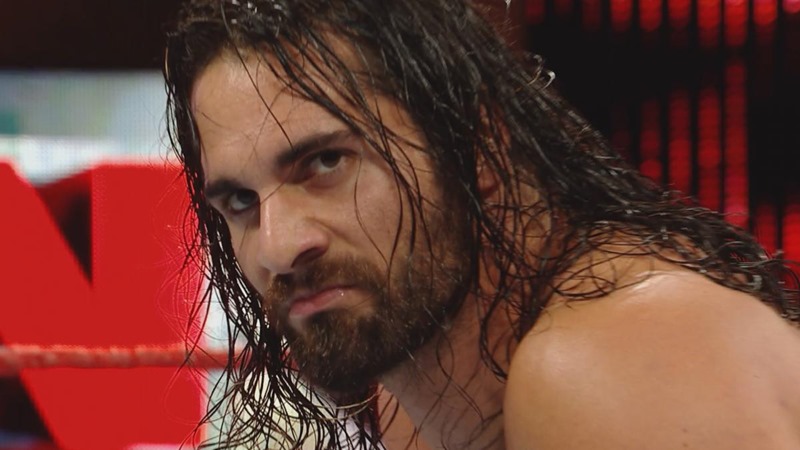 Rollins was in clear control when this match started, but Zayn came back with a spinning heel kick and some nasty chops. The two took the match outside of the RAW ring, with Rollins back in control. Said control was short-lived however, as Zayn came back with a clothesline, piledriver and a Blue Thunder Bomb to come this close to victory.
On the match went, with both superstars landing big attacks, but when Zayn missed a big boot in the corner he only found Rollins waiting for him with a Pedigree to end the RAW main event for the night.
Brock Lesnar returned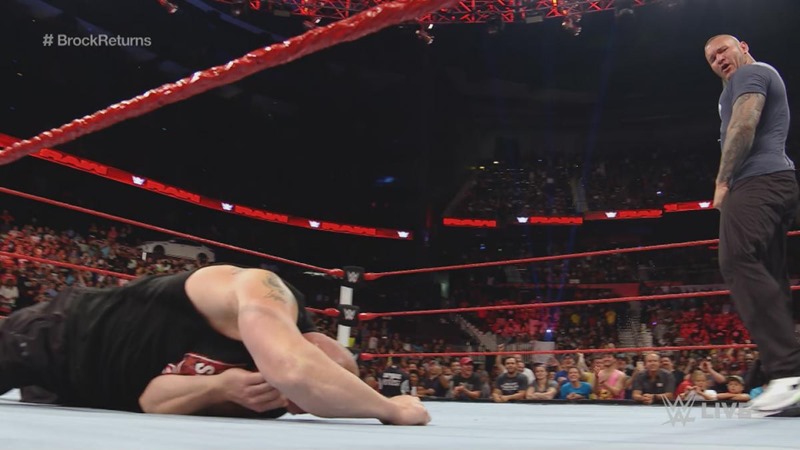 Paul Heyman is in the ring to introduce his client BUUUUURROOOOOOOOOCK LEEEEEEZZZZZZNAR, and to tell everyone just how great he really will be at Summerslam. Heyman decided to mock Randy Orton, poking fun at his entrance music and saying that the voices in his his head should tell Orton that an ass-kicking is on the way at Summerslam.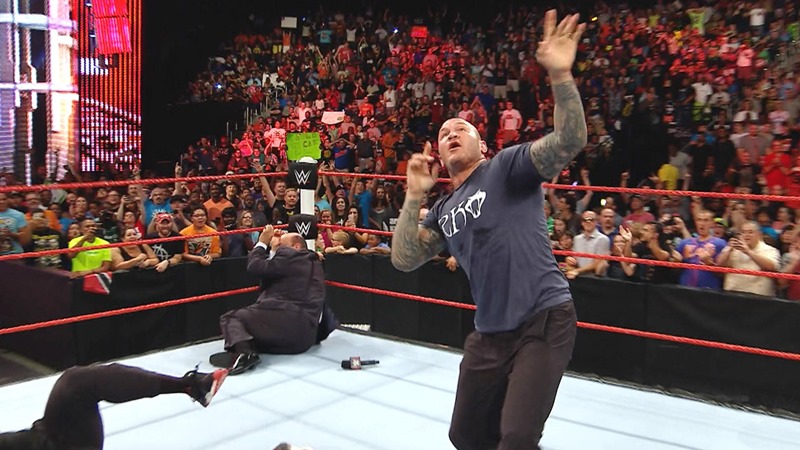 Heyman said that the only thing that Orton has in his arsenal of moves that can give him a chance against Lesnar is the RKO, which the beast is well prepared to defend against at Summerslam. And then on that note, Orton appeared…with an RKO out of nowhere. Orton made his way through the crowd, Brock was livid and that was RAW for the night!
Last Updated: August 2, 2016