WWE Monday Night RAW took place from the Century Link Center in Ohama, Nebraska. Here's all the action that went down.
John Cena def. Jason Jordan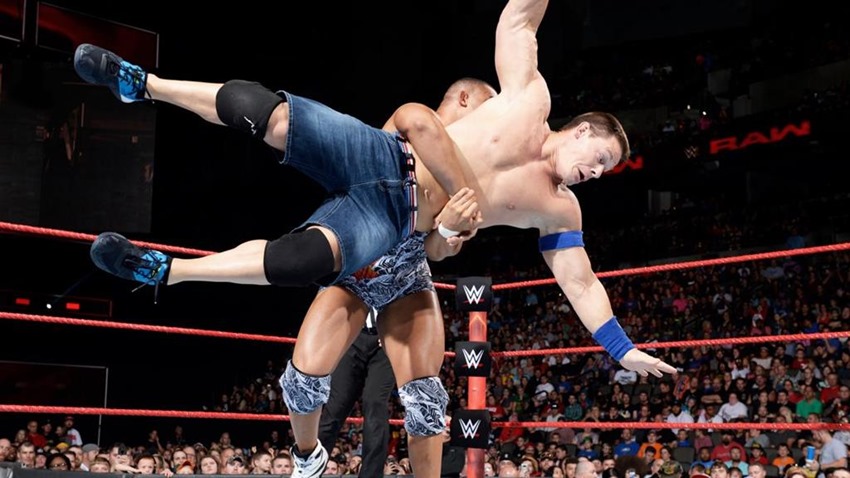 When John Cena debuted in the WWE, it was against none other than Kurt Angle in a bout of ruthless aggression. History kind of repeated itself when RAW kicked off last night, as Angle's son Jason Jordan unleashed some aggression of his own against the former world champion, giving Cena a run for his money with some old-school wrestling techniques and some mat-shattering suplexes.
Jordan's momentum was eventually halted by an Attitude Adjustment from Cena, scraping in a win to start the night. Just in time as well, because Roman Reigns arrived with a few choice words for Cena.
Roman Reigns confronted John Cena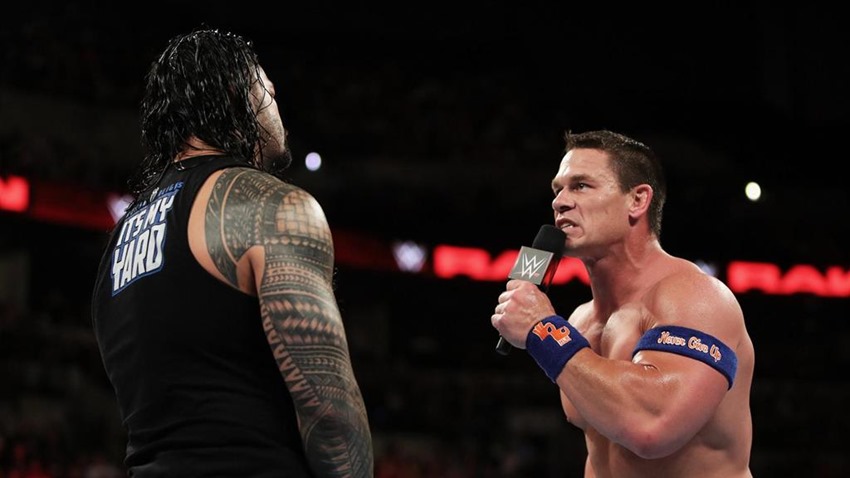 Having already confronted each other last week in the ring ahead of their No Mercy match, Roman Reigns still had something to say when he grabbed a mic and claimed that the Cenation leader had become rusty, judging by the amount of effort it had taken to put Jordan down for the count. Cena was having none of Reigns' verbal jousting, instead claiming that he was keeping his best offense saved for the right moment in the ring. Just like he was going to do when the two collide in a few weeks.
Deciding to put Reigns in his place, Cena told the big dog that unlike Jordan, the Miz or Chad Gable, Reigns hadn't yet earned his way into the spotlight. Deciding to skip out on having a fight in the ring right then and there, the two No Mercy opponents departed on disrespectful grounds for the night.
Cesaro and Sheamus def. Heath Slater and Rhyno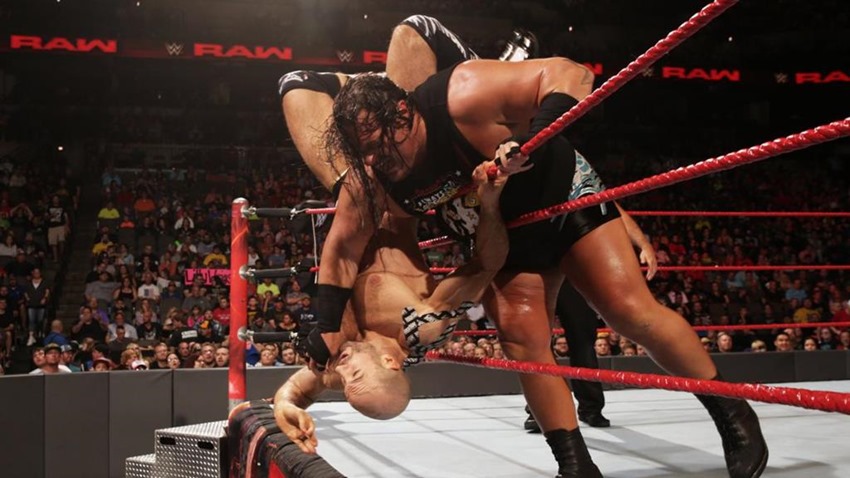 They may no longer be the RAW tag team champions, but Cesaro and Sheamus have been on a rampage as of late in an effort to retain their gold. Heath Slater and Rhyno fell afoul of the duo in a tag match, and while Rhyno proved to be more than a match for Sheamus in the ring, some meddling from Cesaro saw the man-beast gored by a Brogue Kick from the Irishman and vanquished.
Intercontinental Champion The Miz def. Jeff Hardy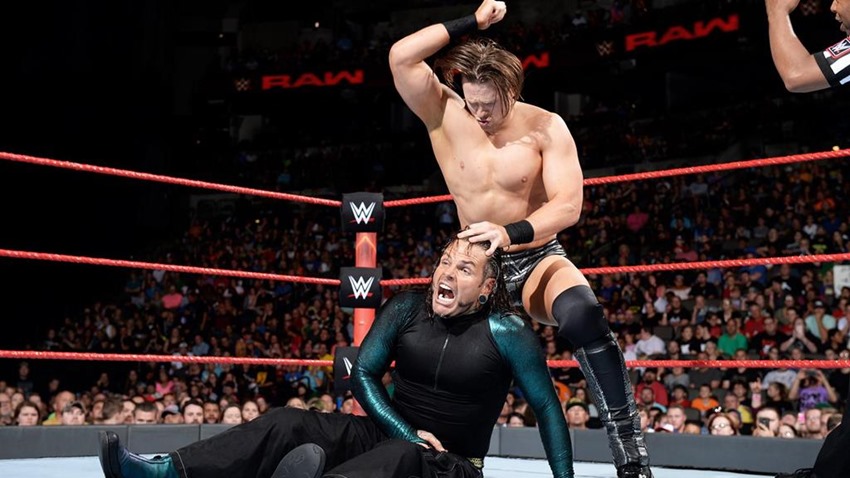 Years from now, The Miz might just be considered the definitive Intercontinental champion thanks to his numerous reigns with that white belt around his waist. Thing is, The Miz feels that nobody respects him as champion and that's something that the A-Lister is looking to change ahead of his clash for the title against Jeff Hardy at No Mercy.
In a non-title match, The Miz took the charismatic enigma to the edge after his Miztourage and Maryse were ejected from the ring. Countering the younger Hardy's moveset and dodging his high-flying offense, The Miz sealed the deal with a Skull-Crushing Finale to send brother Nero a message that definitely was worthy of some respect.
Enzo Amore, Cedric Alexander and Gran Metalik def. Noam Dar, Tony Nese and Drew Gulak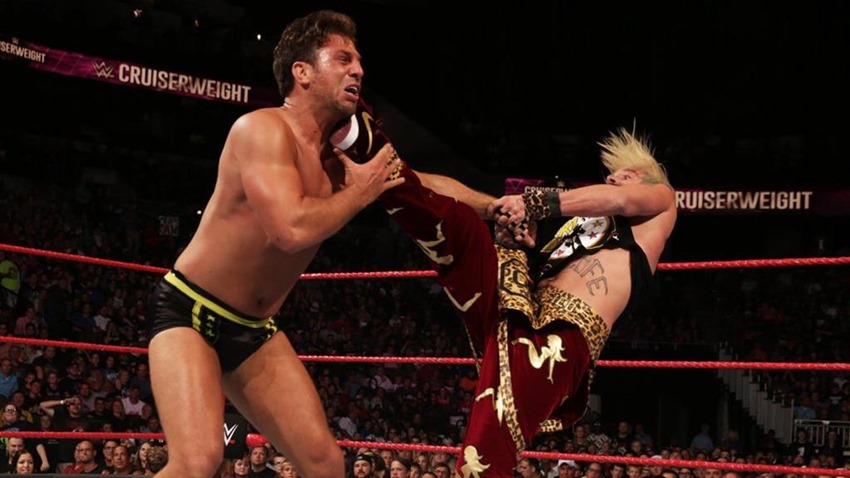 In cruiserweight action, Enzo Amore continued his hot streak in some tag team action. A six-man match saw Muscles Marinara made good use of a smarter moveset to leave his foes befuddled and senseless, as a thumb to the eye set up Drew Gulak for the finish and the win for team loudmouth.
Bray Wyatt challenged Finn Bálor to a match at WWE No Mercy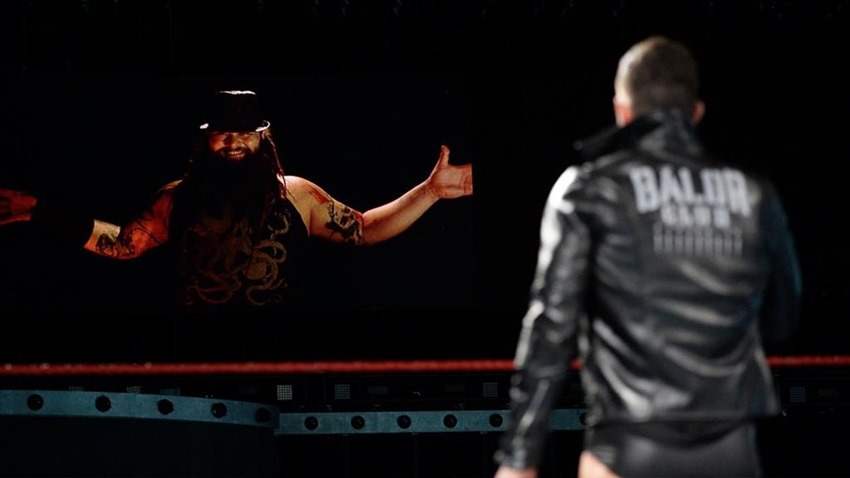 The Eater of Worlds has returned, and he wants another shot at the WWE's first Universal Champion, Finn Balor. Having battled one another in a series of matches that has so far resulted in a draw, Wyatt challenged Balor to a match at No Mercy. The catch here, is that Wyatt wanted Balor himself, not his demonic alter-ego as claimed that the former champ was nowhere near as much of a threat without his persona in his pocket.
A challenge that Balor accepted without pause. Oh it's on.
Nia Jax and Emma def. Raw Women's Champion Alexa Bliss and Sasha Banks to add themselves to the Raw Women's Title Match at WWE No Mercy
Looks like the women's division is also heating up, as Alexa Bliss will have her hands full defending her title at No Mercy. While Sasha Banks invoked a rematch clause to secure a match, Nia Jax and Emma managed to earn a spot in the ladie's main event with a win over the two in tag team action. While Emma proved that she was no slouch in the ring as she dished out as much damage as she received, it was Jax who tagged herself in to deliver a match-ending offense that Emma took advantage of to steal the pin.
Jax had the last laugh though, as her partner felt the full brunt of a Samoan Drop after the match that sent a definitive statement to her competition.
Raw Tag Team Champions Dean Ambrose and Seth Rollins def. Luke Gallows and Karl Anderson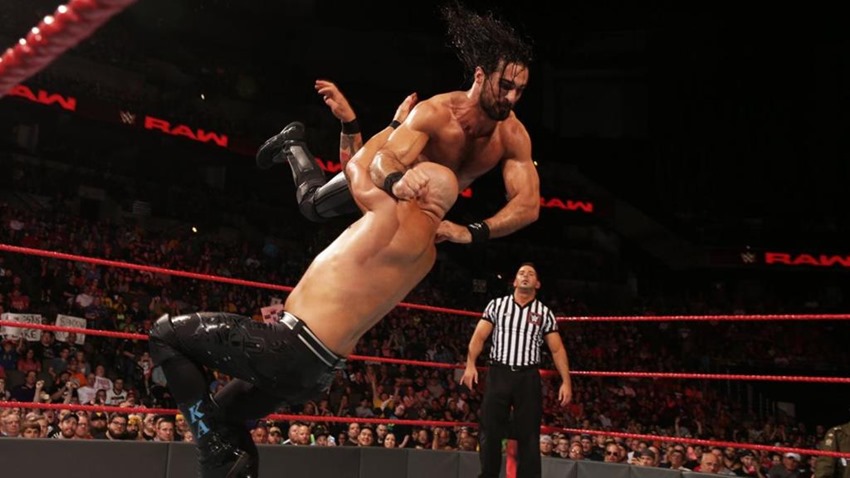 With Cesaro and Sheamus hot for a rematch, Seth Rollins and Dean Ambrose decided to remind the challengers who the champs really were as they took on the good brothers. A quick victory saw Anderson and Gallows not only defeated, but used as human barricades against the sudden intrusion of Sheamus and Cesaro and the supposed Bar being set even further with a brouhaha outside the ring on the Suntan Biker Man and his cohort.
Long story short, it was not a good night for Anderson and Gallows.
Braun Strowman def. Big Show (Steel Cage Match)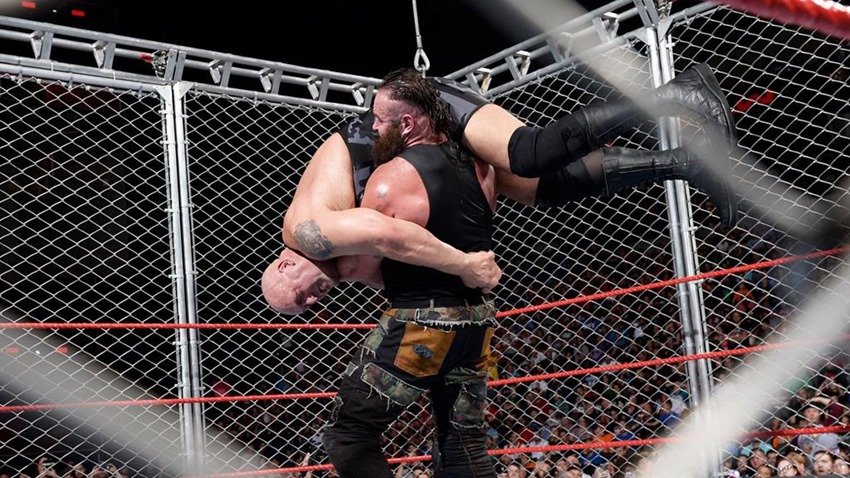 Braun Strowman promised to send Brock Lesnar a message, and that he did when he entered the steel cage that housed none other than the Big Show. Two titans locked eyes, and the carnage that followed was nothing short of vicious as the gift of destruction applied his strength to the giant. While the Big Show had plenty of weapons in his arsenal, nothing seemed capable of putting Strowman down as he bounced back every time to deliver more pain in the cage.
A top-rope superplex almost broke the reinforced ring when Strowman locked it onto Show, but the structure survived the titanic impact and made the monster amongst men readjust his strategy. Deciding to finish Show with a Running Powerslam, Strowman's rampage had yet to begin even after he had been declared the victor. Slamming Show through the cage itself and out onto the concrete floor below, Strowman's message to Brock Lesnar was certainly heard loud and clear.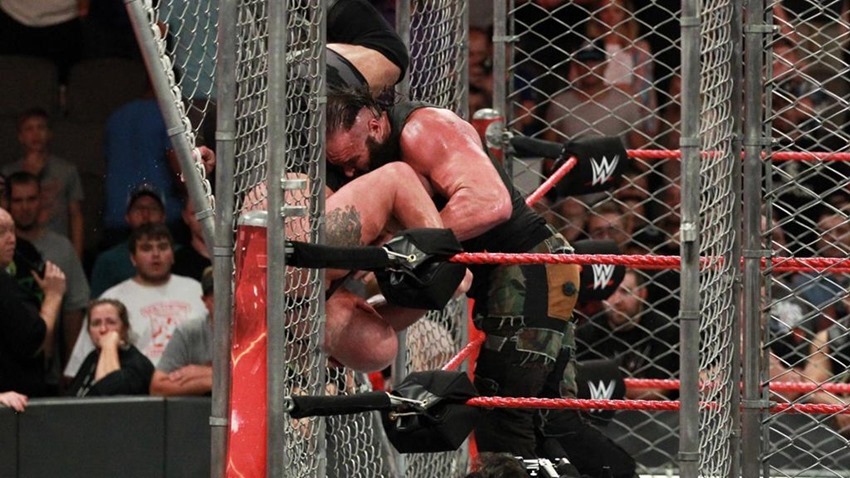 Last Updated: September 5, 2017